Key Takeaways
Managing guests' needs can be complicated and time-consuming
Good communication creates great guest experiences
Know what your guests need from you
Technology will help you automate the time-consuming tasks
Tech will help you exceed expectations
Software will reduce the risk of fraud on your business.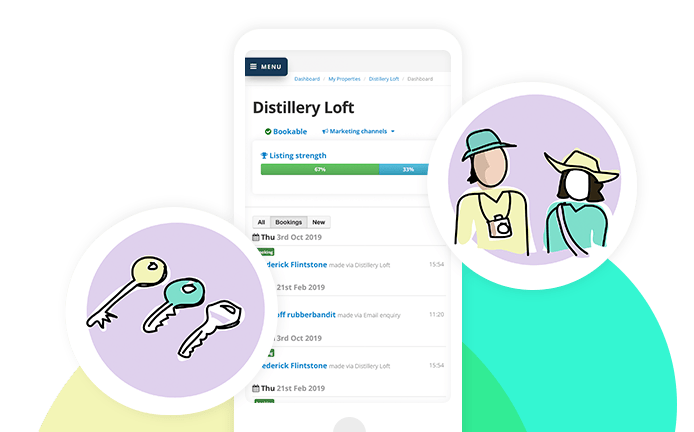 ---
At Bookster we focus on tools and services to help you in your tasks to manage guests.

Take a look at how we support you!
---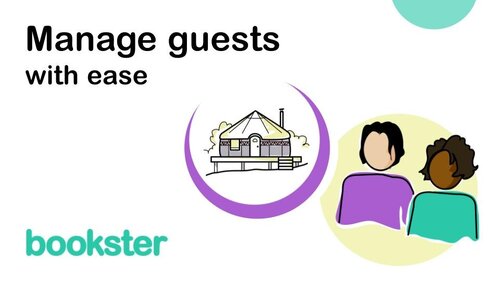 The tasks involved in handling bookings are becoming more and more complex as guest expectations change. So we provide automated solutions and a team on hand to help you manage your bookings, without the pain. (Robin Morris, Director)
Manage guests' needs for holiday let properties
Managing guests for a holiday lettings business is essential, yet can be time-consuming and complicated.
Our team develops solutions to help you to Attract bookings to your holiday lets, Manage bookings and Manage guests.
So how do you support guests relationships in your holiday lettings properties?
---
Advice to manage guests' needs
♥ Communication with guests
Good communication with your guests can make all the difference in their entire guest experience.
What's important is that you are providing the right information to your guests.
You could manage this through automating emails for your holiday homes.
Many property managers choose to use email marketing to automate emails, and we cover 10 reasons why you should use email marketing.
Once you're convinced, take a look at these 4 essential guest emails we recommend you send.
We've always believed it, but email marketing is too powerful to ignore.
♥ Preventing cancellations
One outcome of good communication is preventing cancellations.
Sometimes guests cancel, but there are steps you can take that will help you reduce cancellations and retain your revenue.
♥ A warm welcome
A common misconception is that you simply need to advertise, take bookings and then schedule a cleaner for the changeover.
Eddie Harper of Harpers Concierge shared with us his concierge tips to managing holiday rentals.
Being aware that your guests may have additional needs is key, and knowing your obligations, the law, and what you can proactively do to support these guests is important.
Do you know how to support assistance dogs in self-catering properties?
Have you planned your Welcome Pack items for when guests arrive? What will be attractive to your target guests, and provide a warm welcome and perhaps create a wow factor?
---
Using tech to manage guests' needs
Managing guests' ever-changing, and ever more demanding needs is hard.
Using tech can help, automating procedures and sharing information with your guests to provide a world-class guest experience.
Let us show you how.
We dedicate resources to making developments to help you achieve your goals.
♥ See your guests' status
Do you know at a glance what is happening with your guests?
We provide peace of mind, with calendars and views so you can see at a glance when guests have booked, paid, arrived, and left your property.
♥ Confirm to guests that their bookings are received
Do you contact your guests to confirm that you've got their booking, and what they have to do next?
This can take hours per day.
So we have automated the whole process with automatic notification emails, as well as emails to OTA guests, which direct guests to their personal Guest Area for holiday rentals.
Now your guests know that their booking is in safe hands.
♥ Take payments
Do you spend time taking 1st and 2nd payments from guests?
We automate your payment processes, so you don't have to spend a moment longer on this.
♥ Take and refund damage deposits
Do you take damage deposits to protect your properties?
This can be a time-consuming task, but Bookster will automatically collect, refund and part refund the damage deposit, keeping the guest informed along the way.
♥ Vet guests for fraud
Do you worry about bad guests coming to your homes?
Bookster has partnered with SUPERHOG, which arranges biometric recognition, ID verification, screening technology, and up to £1 million protection.
♥ Have a sparkling clean property on arrival
Do you tell your cleaners when to clean the property?
We do this for you with secure log-ins for your team, cleaner departure reports and arrival reports too.
♥ Arrange your Meet and Greet
Do you schedule a personal welcome at your properties?
We'll do this for you.
This process is automated so your concierge or Meet and Greet team will be notified automatically of bookings, and can securely log-in to their own view to check their calendars.
♥ Arrange Arrival and departure requirements
Do you contact guests to tell them when they can arrive and leave, and what they need to do at each moment?
Again, Bookster will do this automatically, so you won't need to.
These are included in the automatic notifications, and you can create your own automated messages in our Email Marketing suite.
What a game-changer.
♥ Collect feedback
Do you remember to contact guests to ask for a review?
You won't need to remember, as you can create a journey in your Email Marketing suite, and your emails will automatically go to your guests after departure.
You can also work with Feefo to automatically collect and manage your reviews.
Easy.
---
If you manage self-catering properties, then we're here to support you.
Register now for a free account and check it out.