Attract bookings to your holiday lets
Key Takeaways
Attracting bookings can be hard
Different seasons require techniques to attract bookings
Targeting the right guests is important
Use Technology to attract Direct & Channel bookings
Bookster can provide tips and techniques to help your business grow.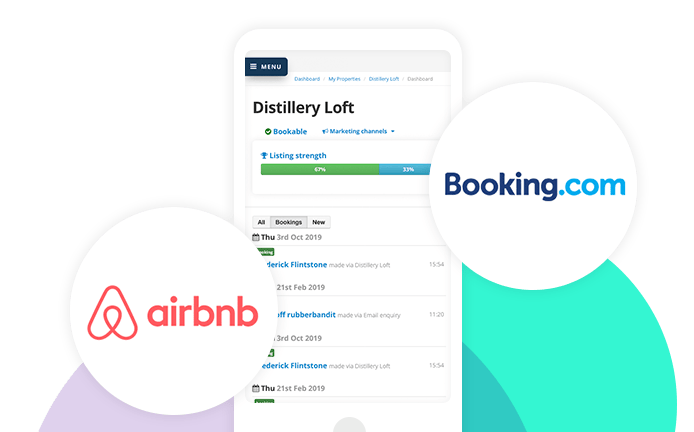 ---
At Bookster we focus on tools and services to help you in your tasks to attract bookings.

Attracting bookings is a fundamental yet complicated part of running a holiday rental business.
---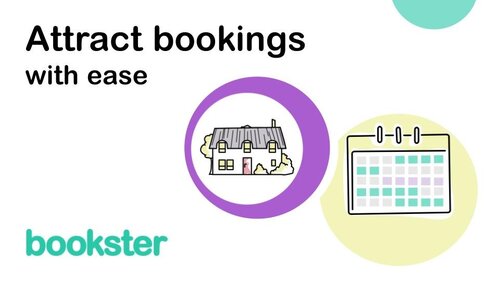 Attracting bookings is time-consuming and can be a real headache. We're here to help reduce that workload!
- Robin Morris, Director
At Bookster we focus on creating tools to help you to Attract bookings, Manage bookings and Manage guests.
So how do you attract bookings to your self-catering properties?
---
Advice to attract bookings
Booking trends are changing faster than ever before following a significant period of upheaval. We track booking trends to help make solid business decisions for your rentals.
♥ Seasonal bookings
All bookings are not equal.
Summer season bookings are easier to come by. All too often this means that property managers don't worry about the strategy to optimise summer bookings as the calendars are full. We suggest applying thought and planning to maximise revenue rather than filling the calendars with low-value bookings.
But Summer isn't the only season of interest.
There are special moments during the year which offer the potential to attract high revenue, by considering a change in your marketing strategy. Take a look at our recommendations for attracting Christmas guests, Valentine's Day guests.
There are periods of the year that feel more difficult to attract guests, so focusing on strategies for low season can reduce the worries of empty calendars.
♥ Identifying target guests
A key part of attracting guests is understanding who is right for your property, and how you will reach them. We cover two target audiences for you to consider, business travellers and domestic tourists.
♥ Prevent bad guests
Not all business is good. Sadly there are people out there who may abuse your terms and conditions, behave fraudulently, or cause damage.
We take a look at how to prevent bad guests from booking a holiday in your home.
---
Using tech to attract more bookings
Running a holiday let business is complicated.
It's no longer a time of putting a note in the window and running an ad in the local paper.
Using tech can release you from managing the tasks and connect you with your guests in ways that were never previously possible.
Let us show you how.
We dedicate resources to making ongoing developments to help you achieve your goals.
♥ Attract guests to your own website
Do you attract direct bookings through your own website?
We can support you with template websites, custom websites, or book now buttons for your non-Bookster website.
Adding Matterport videos will help provide a better experience for guests and boost bookings!
♥ Take bookings through channels
Do you list your properties on channels / OTAs?
We provide direct 2 way API connections with channels like Booking.com as well as iCal connections with even more channels.
Add your rates in Bookster using Smart Rates, and uplift/increase rates on a channel by channel basis. This will help you achieve the most revenue per booking, no matter which channel you use.
♥ Increasing your website visitors
Do you spend time improving your visibility on search engines like Google and Bing?
We offer Seach Engine Optimisation (SEO) services for holiday lets websites to help improve your position and attract more visitors to your site.
♥ Email potential and past guests
Do you contact leads and repeat guests through email marketing?
Our Email Marketing suite will help. Whether you want to advise your contacts that you have new properties in your portfolio, or you want to build relationships with your guests after departure to request reviews and create opportunities for repeat bookings, this is the tool for you.
♥ Build relationships with suppliers and 3rd parties
Do you build relationships with 3rd parties, like local businesses?
Whilst we can't be there in person, we provide support through our blog posts filled with tips, as well as interviews with experts across the industry, including other self-catering property managers like you.
It's a valuable exercise to take the time to learn from other experts and experienced professionals, both in and outside of the holiday rentals industry.
Attracting new business can be daunting - where to start?
At Bookster we have 3 pillars, and we work hard to meet and talk with our clients for feedback on how we support them.
We believe in being fully transparent, so you are welcome to read our latest customer questionnaire of 2021.
No matter how you choose to attract bookings, we'll present your properties and your business professionally, to maximise your opportunities.
If you manage self-catering properties, then we're here to support you.
---
It takes time and effort to attract new business to your holiday rentals.
Take time on a regular basis to consider how you can make improvements to your processes to grow your business and attract more bookings.