Prevent bad guests booking holidays with you
Key Takeaways
Not all guests are good guests
Reduce noise and damage with your T&Cs, technology, software and partnerships
Reduce heating and air-con misuse with technology solutions and your software
Prevent guests booking who plan to cancel by reviewing cancellation policies
Use tools to prevent fraud, such as SUPERHOG, and your software services
Bookster offers a number of services to help you prevent bad guests.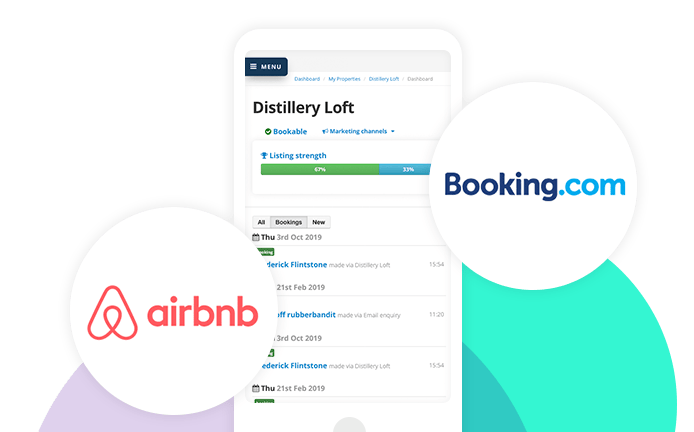 ---
Bookster wants to help you attract bookings, of the right guests. Our partnership with SUPERHOG helps prevent bad guests, fraud, and damages to your vacation rental.

Find out more!
---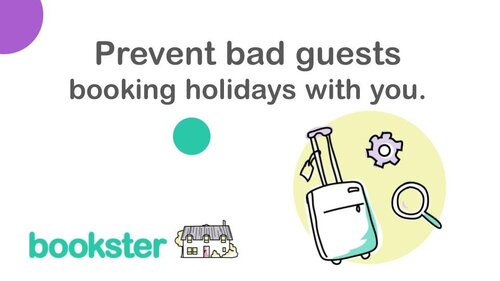 Prevent bad guests from making holiday bookings in your property
In this industry, property managers love attracting bookings to your holiday lets and guests.
But not all guests love and respect your holiday rental properties.
They can create noise which disturbs the neighbours.
Bad guests can damage the property damaging the next guests' experiences, and costing you time and money to fix.
They can run the air-conditioning and heating at full power, even when not in the property, wasting money and damaging the environment.
Bad guests can book several properties for the same period, cancelling them at the last moment, creating financial loss for the property manager.
So what can you do to prevent bad guests?
---
1. Prevent excessive noise and damage
Terms and Conditions
Detail your house rules within your Terms and Conditions, and ensure that the guest sees your T&Cs at the time of booking. If you don't want any parties or events, include this clearly.
Third-party tools
The need for third-party companies to create tools that monitor noise within the holiday property was sparked by new regulations, complaints, and problem behaviour.
These tools offer the option to:
Monitor noise levels inside and outside the property without intruding on guest privacy
Alert the property manager if excessive noise is detected
Alert the guests if excessive noise is detected.
Email Marketing and Guest Area
Build relationships with guests for opportunities.
You can use your good relationship to remind guests of your noise and damage rules, either through your Guest Area, or by Email through Email Marketing.
Work with Associations
Your holiday rental associations are actively working with local councils and governments to shape future legislation surrounding holiday home activity in your area.
Join, get in touch with and monitor your local associations, for up-to-date guidance on how to prevent noise and damage.
In the UK this is the ASSC, HHA and STAA, and in Europe this is the VRMA.
Check guest identification documents
Explain to guests before they make the booking that you check guest identification (ID) documents.
This can deter bad guests from making a booking where they intend to party or cause damage.
It can also improve behaviour of good guests as they know that their identification details have been taken.
Work with guarantees
Sadly, there is no guarantee that your guest will not cause damage, either accidentally or on purpose.
Check out the third-party tools which check your guests ahead of the booking, and provide guarantees to reinstate any guest property damage.
2. Prevent inconsiderate use of heating / Air-Con
Third-party tools
There are a number of tools now available that support your need to monitor heating and air-conditioning usage.
These work in a number of different ways:
Manage your heating / air-con externally from the property, giving you full control of when these features are provided.
Indicate when these features are being used, triggering responses, such as messages to the guests to ask them to turn off the features, or over-riding controls.
Email Marketing and Guest Area
Build relationships with guests for opportunities to express your house rules. You can do this through your Guest Area, or using a tool like Email Marketing.
3. Prevent guests from booking multiple properties for the same period
Cancellation policies
Cancellation policies are an important part of managing your guests' expectations, whilst protecting your own business.
Your cancellation policies need to be attractive, yet protect your business from unnecessary risk.
During COVID, many property managers moved to extremes.
Some chose high flexibility cancellation policies to attract more bookings, whilst other property managers selected extremely strict cancellation policies to prevent loss of income due to cancellations.
By offering high flexibility cancellation policies, guests are able to book multiple properties for the same period and cancel at the last minute. This allows the guests to take advantage of last-minute offers, or leave the decision-making until the last moment.
Good for the guest.
Bad for the property managers who find themselves with empty online calendars with just days to go until the booking.
Review your cancellation policies, and ensure that you have built-in sufficient protection to deter guests from making these multiple bookings on your property, and protect your business.
4. Prevent fraud
Third-party tools
The tourism industry is a hotspot for fraudsters, with credit card crime on the rise.
To prevent your holiday property from being the target of professional thieves, use a third-party company to check and vet your guests, including an ID check.
---
How can Bookster help you?
SUPERHOG
We work with SUPERHOG, with a full integration designed to seamlessly manage Identification (ID) Checks, research, and vet the guests with two results, it deters bad guests and protects your business against damage.
Guest Area
Your Guest Area tool provides sections on your House Rules and a reminder of your Terms and Conditions.
Email Marketing
You can send personal (and automated) emails through the Email Marketing suite, to clients who book direct, and book through channels / OTAs.
Cancellation policies and Terms and Conditions
Add your cancellation policies and Terms and Conditions into your property management software listing, which every guest will see at the time of booking.
---
If you'd like more support with your holiday rental business, just drop us a note, or arrange a demo, and we'd be delighted to talk further.