Vacation Rentals Managers event ASSC 2019
Key Takeaways
The ASSC regularly holds and attends events for the self-catering industry
In June 2019, Fiona Campbell shared the latest news on governmental changes
The ASSC proposed a number of adjustments to the governmental changes.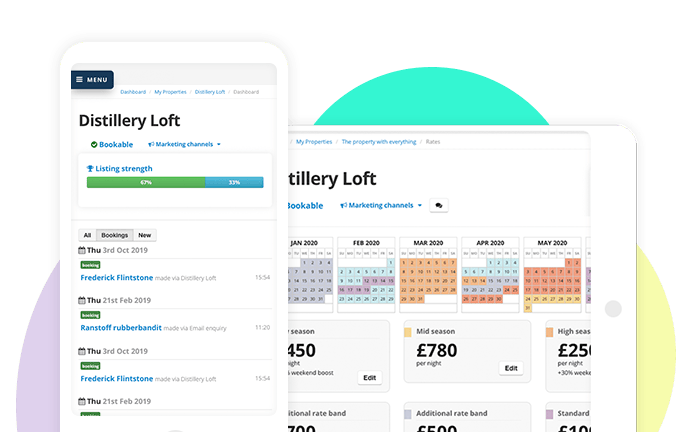 ---
Fiona Campbell, Chief Executive of the Association of Self Caterers of Scotland attended the Bookster event in June 2019 to highlight the proposed legislative changes for holiday rentals.
---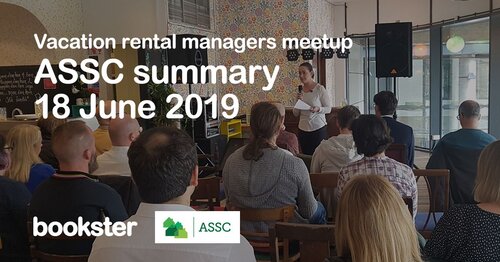 For this reason that the ASSC has proposed a regulatory framework that is proportionate, sensible, and evidence-based.
Bookster Vacation Rental Managers Meet-up
In June 2019 we were delighted to again welcome Fiona Campbell, Chief Executive of the Association of Self Caterers of Scotland to the Bookster Meet-up.
Bookster is a long-term trade member of the ASSC.
---
The ASSC is the leading source of knowledge on short-term letting and holiday homes in Scotland, representing over 660 members and 7,000 properties.
Founded in 1978, a group of individuals got together to address the quality of holiday rentals in the industry and formed the Association of Self Caterers of Scotland.
Now the ASSC is working hard to maintain standards in the short-stay and self-catering industry, as well as working with the government and policymakers to support the industry.
The video of this presentation is available on Bookster Youtube channel.
Commissioned Independent Report
The Association of Self-Caterers Scotland commissioned a report to look at anti-social behaviour, loss of housing stock, etc. It's called Far More than Just Houses, and this is now available on their website.
ASSC Economic Impact Assessment of Short Term Lettings on the Scottish Economy
Self-catering holiday-makers bring £723 million to Scotland each year, and £50 million to Edinburgh each year.
This report is downloadable from the Members Area of the ASSC website.
ASSC Code of conduct for self-catering in Scotland
ASSC works with the Government to demonstrate that the industry follows self-regulation.
Scottish Government Response to the Expert Advisory Panel on the Collaborative Economy
The Scottish Government's response to the Expert Panel was published in Summer 2018.
As an association, the ASSC welcomed many of its recommendations and the Scottish Government's commitment to an evidence-based approach.
Scottish Government Short Term Lets Delivery Group
As part of their response to the Expert Advisory Panel on the Collaborative Economy recommendations, the Scottish Government created a Short Term Lets Delivery Group.
The ASSC works with this group and they are expected to publish their recommendations by September 2019.
The planning bill, amendment bill 45
This was largely targeted at controlling short-term rental in Edinburgh.
It is the opinion of the ASSC that no planning permission is required, and therefore no material change of use is required.
Across Scotland there are 5 times more empty properties than holiday rentals (over 7000 in Edinburgh alone).
Rachel Hamilton has submitted an amended amendment, which offers a better solution to the current proposition.
This is based on 'Long term solution to short term rental', a Policy recommendation the ASSC published in February 2019.
This would mean in areas where short-term housing is linked to shortage of housing can be proven by actual data, they would be able to make alterations in the local area, which won't impact the entire industry.
This is being voted on by Friday 20th June 2019.
City Edinburgh Council Planning Authority
There is little clarity and consistency, and the ASSC is continuing to work with them to find a solution.
Short term let consultation
In March 2019 Nicola Sturgeon launched a consultation.
If this is unchallenged there is a high risk of legal implications for businesses in the holiday rentals.
There are 23 questions to be answered, and the ASSC has provided a crib sheet that gives information to help you answer those questions. This is available on the ASSC Members Area, or if you contact Bookster, we can also send you a copy.
Should short-term rentals be part of HMO licensing consultation?
A consultation has recently closed into whether holiday lets, hostels, or B&Bs should be licensed as HMOs when the contract and transient workers are residing in these and special arrangements have been made for them.
The ASSC believes that this is not possible due to a number of licensing and tax aspects and has fed back on this.
Tourism Tax
The Scottish Government has requested that Fiona is part of the group which looks into the Tourism Tax.
ASSC members are also invited to contribute to this, so if you are interested, please contact Fiona directly.
According to a recent ASSC Membership Survey: nearly three-quarters are opposed to the introduction of a levy.
Code of Conduct
A Code of Conduct was published in 2017, and has worked closely with Airbnb and the STA to put them in alignment.
This helps operators know that their guests are safe, that their businesses are safe, to protect the guests, owners, and the industry as a whole.
It is self-regulatory, in the same sense that the Highway Code is: signposting operators to legal compliance and best practice.
Long-term approach to short-term letting
In February 2019, the ASSC published a policy paper: Long-Term Solution to Short-Term Letting.
The outlines proposals that would see short-term rental properties come under a mandatory registration scheme in order to provide local authorities with as much information as possible.
The paper also outlines the ASSC's support for the introduction of rent-pressure zones which would allow local councils to limit the number of holiday lets in areas that meet certain conditions by bringing in a licensing scheme, only if there is a demonstrable link between STR and loss of housing stock.
This would allow the local authority knows what properties are being used for what across Edinburgh, in real-time.
City of Edinburgh Council's proposed licensing scheme includes limiting Short Term Rentals to 45 days and refusing Short Term Rentals in tenement buildings etc.
For this reason that the ASSC has proposed a regulatory framework that is proportionate, sensible, and evidence-based.
Memberships of the ASSC
If you're not already a member of the ASSC, please consider joining them. They work to support the industry and rely on this membership to help them work.
Thank you to Fiona, and all other presenters who have come to our Monthly Meet-Up for Vacation Rental Managers. We have also published a summary of the Visit Scotland event.
---
The ASSC is heavily involved in working with the governmental bodies to create informed policies for the self-catering industries. It creates independent reports on social issues and feeds these to the government to influence policy.