Vacation Rental Event Summary: VisitScotland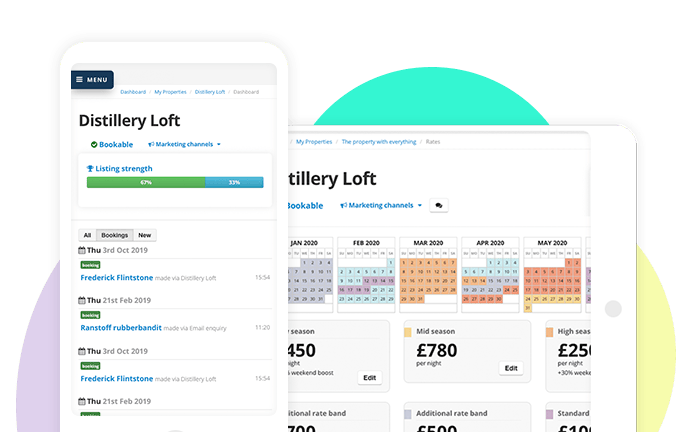 ---
Bookster is committed to supporting the self-catering industry to attract bookings through our regular events.
---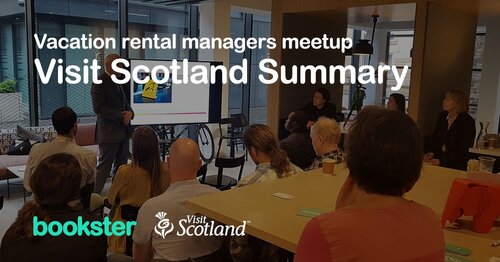 Guests don't come to your location to only look at your property. They are here to visit the local area.
Each month Bookster organises a Vacation Rental Managers Meet-up for professionals working in the holiday rental industry.
We invite a Special Guest, who is an expert from the industry - this month we were delighted that Alasdair from VisitScotland presented their insights on a number of topics.
Bookster has partnered with VisitScotland since 2016, and our clients can already connect their properties onto the highly regarded VisitScotland channel.
The event covered:
Why obtain a Quality Assurance certificate
How to be inclusive, catering better for people with disabilities
Visitor Experience
Destination Sell
The importance of online presence
How VisitScotland can help your business.
Check out the video of the Bookster and VisitScotland event on YouTube.
How to obtain a QA certificate of professionalism
Professionals in the holiday rental industry can obtain a Star Grading for properties, to signal to potential guests the quality of the stay.
The Quality Assurance assessors will provide impartial guidance, advice and review your properties. They look at guest reviews and how they are responded to, safety certificates, quality of the establishment, facilities, etc.
There is a cost for obtaining these certificates. For more information on this, please contact the VisitScotland website.
How to be Inclusive to cater better for people with disabilities
A fifth of people in the UK population have a disability. The biggest issue is hearing, and these represent hidden disabilities.
Often people with disabilities don't travel as it can be difficult to find accommodation that can suit them.
When we think of disabilities, immediately there are thoughts of wheelchairs, however, this only relates to 7% of visitors to Scotland. People with disabilities who need support include people with dementia, autism, deafness, or rely on guide dogs.
By considering disabilities and what the people living with them could need, you could open up a new market as discussed during the roundtable of the ASSC Conference of 2018.
Being more attractive to people with disabilities and their travel partners opens a large profitable market for your business.
This may require adjustments to your property or a change to the services and processes that you have.
It helps to provide clear information on what can and cannot be done in the property, for example, if there are steps to the front door, it is useful to explain this.
VisitScotland has an Access Guide and an Online Guide related to service, which are useful resources. There is also a website called Euans Guide as they can give you useful information on this.
Guest experiences in your holiday rentals
Alasdair explained that the key to finding a profitable path in holiday rentals is to identify what makes your properties so individual and special.
This is a key factor that separates holiday rentals from hotels and should be marketed for their individualism.
He suggested some points to consider:
How do you add value to what you offer?
What local companies do you partner with and promote?
Talk about the locality surrounding your properties?
Do you offer any services which are different?
Is your property located in a special place?
Destination Sell
Guests don't come to your location to only look at your property. They are here to visit the local area.
So in your property listings, on your website, on the channels, you can promote what is going on in the local area.
Talk about the local area
Check the Events guide on VisitScotland.com
Consider what drives international tourists to Scotland and promote your property locations in this way, there are Country profiles on VisitScotland.org
Use the free images from the image library of Scotland.
The importance of online presence
75% of people are online every day, and technology is now available for instant booking. It's essential to have your properties online and bookable to maximise the number of guests.
In particular, online bookability will attract international guests, who tend to stay longer.
There are various ways to attract guests:
Word of Mouth
Online Travel Agents, or Channels such as Booking.com and VisitScotland.
How VisitScotland can help your business
Every business can have a free listing on VisitScotland.com which you control. Bookster has integrated with VisitScotland, which means that you can appear for specific date searches, which accounts for about 50% of traffic.
VisitScotland takes no commission for this promotion of your holiday property, whether it is a holiday cottage, apartment or castle!
There are a variety of toolkits on VisitScotland.org to help you with your business.
If you would like more information on the VisitScotland and Bookster partnership, or you would like a copy of the presentation, please get in touch. If you're interested in future meetings, just come along to the next holiday rentals events.