How to attract guests for Valentine's Day
Key Takeaways
54% of Valentines Day bookings were made in the first 6 weeks of the year
Changes to property listings can attract Valentines Day guests
Decorate your home for Valentines for a wow experience
Highlight local events to attract guests
Create ideas to attract repeat guests
Review your cancellation policies to create booking confidence.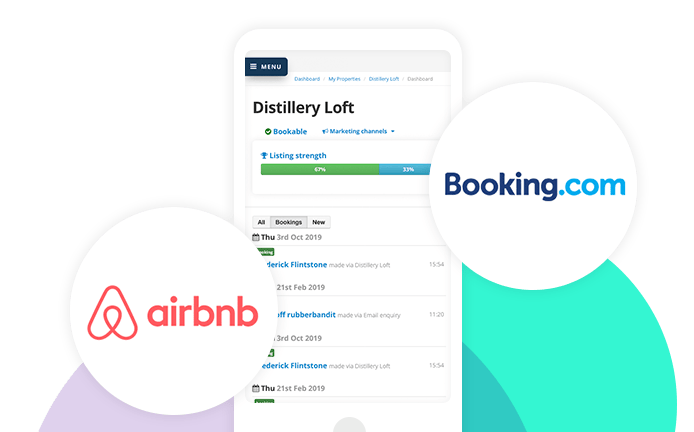 ---
At Bookster we care about helping you attract the best bookings for your properties.

Read on to find out tips on how to fill those calendars!
---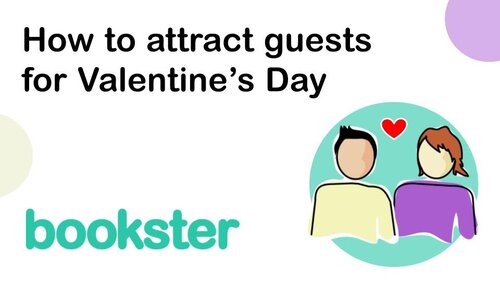 Persuading quests to return to your holiday home can be a challenge
Our data shows that you need to be making plans in December to attract bookings to your holiday lets by marketing to profitable Valentine's guests.
We all know Valentine's Day can be a busy time and romantic couples are looking to get away for the occasion.
Bookster data from 2019 showed that 54% of Valentine's bookings were made in the first 6 weeks of the year; split 32% between January and 22% in February.
So what can you do to attract more guests this Valentine's Day?
How to attract Valentine's Day guests
This article will cover how to attract guests during this occasion.
We'll focus on:
Managing and Marketing your property listings.
Holiday home decorations.
Local event information.
How to encourage your guests to return.
Cancellation policies for COVID.
1. Managing / Marketing your property listing
Making changes to your property listing can be simple and yet effective!
First and foremost check your listing's availability is up-to-date before the occasion.
Check your prices - this is a peak moment of the year, do your prices reflect the income you want to earn?
Update your holiday images to help guests visualise staying there. Focus on aspects that may add to the romantic experience; the views, the balcony, the garden, the local area, the coffee machine.
Many couples look for hot tubs this time of year. If your property has a hot tub, you should make this very clear in your listings and include high-quality images.
Ensure you have updated and displayed security information to put guests' minds at ease.
When you are marketing through social media about how you're adapting your properties for Valentine's Day, don't just market to couples; explore your options eg. families, singles, etc.
When changing the photos on your property listing and describing your property, think about how this can represent the 'story' you are trying to create about your guests' stay.
You're not selling a stay in a holiday home.
You're selling an experience which they will remember forever.
This story can and should be communicated on your social media and in your automated emails and newsletters to your contacts.
If you're unsure about how to create imagery on your social media, check out companies like CANVA, which have lots of free templates already in sizes adapted for social media, that you to use.
The key to a great marketing strategy is to remember to engage, talk and share posts around the occasion.
Remember to also link back to your website with each social media post!
Consider SUPERHOG as part of your security measure to protect you as well as your guests!
2. Decorating your holiday home for Valentine's Day!
Your holiday home is going to leave a lasting mark on your guests, so make it a good one!
Creating a wow moment when your guests arrive will start their stay on a high.
Create some romance in your property to give it that special feeling; such as soft furnishings for comfort.
Add a personal touch, such as a hand-written message.
If your holiday home can provide a hot tub, now is the time to add it!
Provide spa-inspired products such as quality local soaps, bath products and extra, beautifully folded towels.
Create a welcome package for your guests. You can create a standard welcome basket and include this for all guests, or create a special romance basket that can be added to the rental price for extra income.
This could include;
Bottle of champagne or wine (depending on the license laws in your country)
Assorted high-quality chocolates
Scented candles
Bouquet of flowers.
A great takeaway is to not overdo it with decorations but still make it feel special for your guests.
3. Highlights local events!
A lot of guests don't want to self-cater 100% of their time on holiday.
Most guests will want to explore the area for places to spend Valentine's Day! They don't know what's on so it's time to tell them!
Provide a list of recommended restaurants in the local area for a date night out! These could be places that past guests have enjoyed, or you know personally.
Provide any places that are providing speed-dating events for any singles who have come to your holiday home.
Provide or create a guide of places to go such as nice walks, wine bars, restaurants, spas etc.
Try and secure discounts for your guest to local spas for a couples massage.
Use your knowledge to attract guests telling them about what there is to do within your area!
4. Encourage your guests to come back!
Persuading quests to return to your holiday home can be a challenge - how can you achieve this?
Provide guests with a Promo Code discount to use next time they come to stay at your holiday home.
Provide a parting gift such as a locally sourced item to help add value to your relationship.
Start taking bookings for next year! Simple but effective.
5. Cancellation policies
We're not out of the COVID woods yet, and the latest changes of December 2021 may have an effect on guests' confidence to book a self-catering property.
So what can you do?
Check your cancellation policy reflects guests' needs in the case of COVID restrictions.
Communicate your cancellation policy on your website, social media and in your newsletters.
Reassure guests that they can book safely and securely with you, and you will support them if government regulations change or illness strikes.
Create a plan to attract domestic guests by marketing to domestic guests.
---
All booked up for Valentine's Day?
Fantastic. So what's next for you?
Check out our guides on how to: