How to attract Christmas guests to your holiday home
Key Takeaways
Christmas is a highly profitable period for property managers
Attracting Christmas guests can be part of your plan to attract direct bookings
Adjusting your website can create a Christmas vibe
Decorating your holiday home can create a memorable guest experience
Tell your guests what Christmas events are happening nearby.
When you make changes, communicate the changes with potential guests.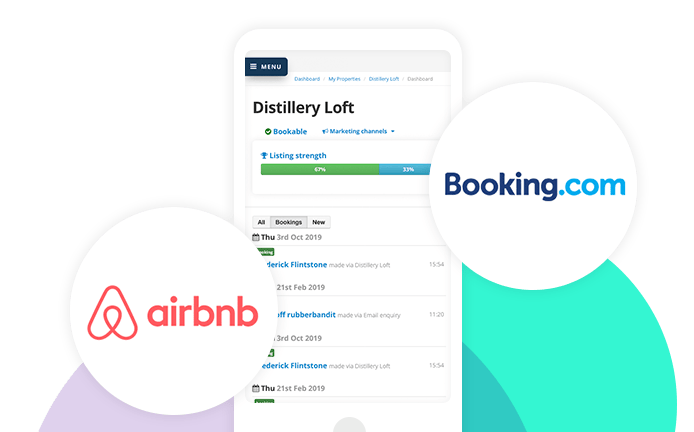 ---
We focus on supporting you to attract new bookings and filling your calendars with the right bookings.

Read our tips on how to fill festive calendar dates.
---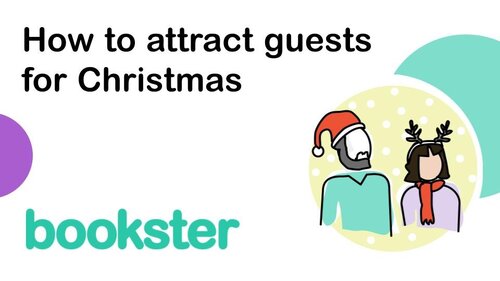 Attract Christmas bookings
The strategies to attract bookings to your holiday lets can change from month to month or season to season throughout the year.
Christmas is an attractive time of year as many guests are looking to get away for the holidays.
We can see that guests are making Christmas bookings right now!
From 1 September-15 October 2021, 21% of bookings for Bookster clients have been for the Christmas period, checking in from 17th December until 25th December.
So what can you do to attract more guests in this festive period?
How to attract more direct guests
There are a number of different strategies to attract more direct guests to your holiday home.
If there is one piece of advice that you should take away from this article it is this: You can't do everything.
So here are our suggestions.
Look at your options
Prioritise what you'd like to do
Break it down into small tasks
Take it one step at a time.
Some techniques to attract guests are more difficult, and a lengthier process than others.
For example, you may choose to attract guests by ranking well on the search engines like Google when people are searching for holiday homes during the festive period.
This can be through 'Search Engine Optimisation' (SEO) or even paid for advertisements 'Pay per Click' (PPC).
There are a lot of different ways to achieve this and they don't have quick results so if you're interested in SEO, check out the basics of Holiday Letting SEO here.
But today we'll cover simpler and quicker tips, that you can achieve right now.
How to attract Christmas guests
This article will dig into our tips for attracting festive guests.
We'll cover:
Website adjustments
Holiday home decorations
Event information.
1. Adjust your website to attract more festive guests!
Making adjustments to your website can be simple, yet effective.
Temporarily add a simple change of logo with a festive element.
Showcase Christmas and stunning winter photos from previous years. (If you also use Channels like Booking.com, change the order of your photos, so the Christmas image is first.)
Offer special offers for this time of year for a competitive advantage.
Add a gift extra free of charge with your Christmas bookings; from a hamper, refreshments, or even a small locally made item!
No matter what changes you make to your website, remember to back up that conversation on your social media channels.
Ask guests if they like the festive logo.
Ask if they would prefer free gift A or free gift B.
Ask if they would like to visit your home during the festive period.
Display the winter photos and ask which is most appealing.
The key here is to engage, talk and share with your potential guests, past guests, and partners, and remember, link back to your website!
2. Decorate your holiday home to attract Christmas guests!
Your holiday home is going to be part of your guest's Christmas memories that will last forever.
Create some of that festive magic in your property to add to that special moment.
A simple decorated Christmas tree in your main room can have a great effect in keeping the festive fever alive.
A wreath, holly, mistletoe, and other festive foliage on the door of your holiday home set a great example that you are welcoming of the festive period.
Fairy lights are great to present a cosy feel to your holiday home.
Setting up your tables with crackers, festive napkins, and festive tablecloths can go a long way to making your guests feel welcome.
If your holiday home has a fireplace, stockings can go a long way to making guests feel excited/special at this time of year.
A great takeaway is that simplicity is key for your holiday home.
Simple decorations which fit with your brand and decor can go a long way in creating a memorable experience for your guests during the festive period.
3. Highlight seasonal events to your guests!
Most guests are not coming on holiday to be inside a self-catering property.
Most guests will be staying at your home whilst doing something amazing in your local area.
But what's happening?
They don't know, so use your local knowledge to your advantage.
Let your guests know about any Christmas markets around your holiday home.
Advise when your town's Christmas lights are being turned on.
Share your previous guests' recommendations for popular local shops for some last-minute gifts and try to secure exclusive discounts for your guests.
Provide a list of recommended restaurants for a Christmas Eve or Christmas day dinner.
Is anything else going on? Festive concerts? Parades? Best places for hot chocolate with marshmallows? Investigate what's happening, and share it.
Use this opportunity to attract Christmas guests during the festive period by shouting loud about what's happening in your area.
How to communicate these changes
For the majority of property managers, it is not enough to make changes on a website to see a difference.
You need to go out there and communicate what you've been doing.
But how?
Here are some techniques to try:
Use your Email Marketing list.
You should have a list in your property management software of contacts and past guests who have given you permission to contact them.

Use this list and get in touch!

You don't need to send massive corporate newsletters, a simple, personal message with useful information will be well received.


Maximise the effect on Social Media.
Your potential guests will be on social media, so reach them.

Identify which social media channels your potential guests use, and start to build relationships by sharing and communicating (not sell, not sell, not sell).


Build relationships with local attractions.
Other local businesses will also be working to attract customers during the festive period.

Identify companies that reflect your values, and attract customers who are your ideal guests too.

Get in touch with local businesses, activities, and attractions to build partnerships.

This way you can promote each other's businesses to bring festive guests to the area.


Talk with your friends, family and contacts
Share your changes with people you know.

Do not be afraid to talk about what you're doing, because the more people that know about your amazing holiday homes, the better.

You have nothing to lose, and best case scenario they may book for themselves, or share the information with their friends and contacts.
Already full for Christmas?
Amazing.
So what's next?
Check out our guides on how to: