Increase summer season revenue
It's easier to get summer bookings. Here's how to attract higher revenue for them.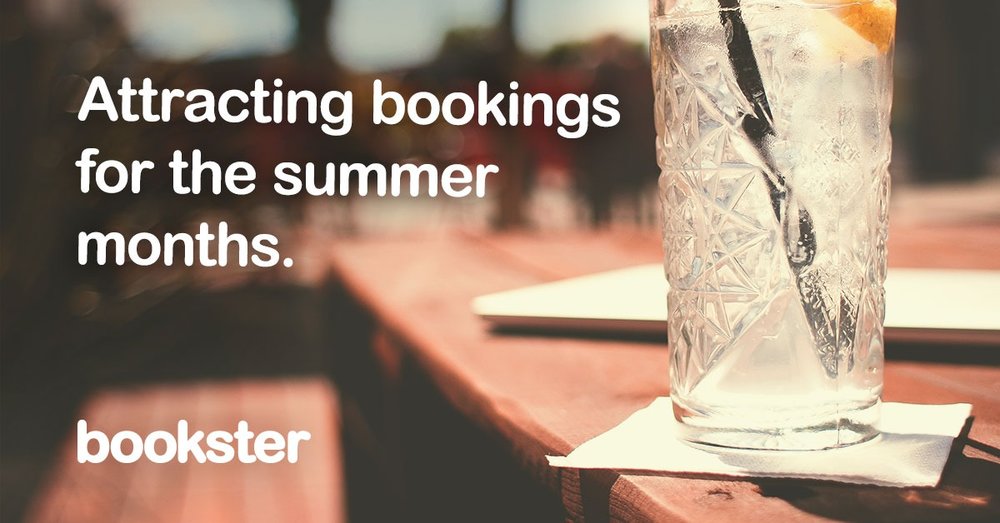 Summer bookings are certainly easier to come by than other seasons, so many property managers don't actively plan for how to make the most of them.
The web is filled with articles about increasing reservations during the shoulder periods. We even wrote one!
But although summer bookings can be plentiful, there are strategies to increase summer season revenue with more profitable bookings for your holiday rental property. These are important, as they will give your holiday rentals company a significantly higher revenue during this time.
For many property managers, January is when many properties are booked for the summer season, as people make their plans for the warmer months ahead. So we've detailed below what you can do now, to boost your holiday rental revenue this summer.
How to increase summer season bookings revenue
Property latency (or lead time)
Before you get started you should fully understand the latency of your holiday properties, which is how far in advance guests book your summer vacancies. You will then know when the most important time is to promote your summer season.
In the Bookster holiday rental software this latency information is easy to locate, simply check in our Insights tool. If you don't use Insights, check your bookings for previous summers, and identify when each guest booked.
Identify your profitable guests
Not every booking brings the same revenue.
The type of guest you attract at different points during the year will make a big difference to your profits.
Let's look at a couple of different type of guests.
A lone business traveller may stay midweek for 4 days, with gaps at either side of the stay and providing a lower income. In contrast a group of 2 retiree couples could stay for 2 weeks, making a single rental payment for a longer period, with no gaps and creating reduced cleaning, payment gateway and concierge costs.
So out of summer season, corporate guests are very attractive for filling mid-week gaps, and you may wish to attract business travellers then. However in the summer season it is worth trying to attract other types of tourists.
The type of guests you attract depends highly on your properties; suitability, size, number of beds, and features.
If you have a property which has the facilities to support a group booking, by providing the extra guests a sofa bed or day bed for example, then you could actively promote this feature. Or if you have rooms shut off during the shoulder season, consider opening these up.
Both of these strategies could attract a group booking, or a family with increased 'Additional guests' revenue.
How will these guests see themselves in your properties? Simple. Put the the features they will use and most value in your property photos (see below).
Summer property photos
The photos of your holiday home, apartment or cottage should reflect the summer season, and be filled with sunlight, sunsets and vibrancy. Take a look at the photos you have of your property with summer activities in mind - kids sandals in the hallway, carefully placed towels next to the pool.
Don't have a pool? Don't worry! Have a think about what can be enjoyed at your holiday home during the summer. For example, a photo of a couple of fruit smoothies on the garden table overlooking the view. Or create the scene for a place to read whilst enjoying the view from the balcony. These can really inspire the imagination of your guest.
Adding photos of the summer activities that can be done near to your property will help guests get a feel for what they will be able to do during their holiday too, like walking to the local beauty spot, cycling in the mountains, swimming in the sea.
As Google will recognise the photos of your properties, rename the photos for Google with what the photos actually are, don't leave the name with the code comes out of your camera! This will help any holidaymakers find your website if they are browsing summer locations in Google images and help you rank higher in Google and Bing.
Property listings descriptions
Property listings are much forgotten. Many managers upload their property description and then forget about it.
This is an oversight.
Showing Google that your website has fresh content will help it rank better on the search engines.
But there are other benefits to create season related content. Re-writing the description with content for the summer months will provide a greater opportunity to rank for these locations for Google searches such as 'Carlisle summer holiday flat with garden'.
Painting a picture of the property and location during the summer months can really capture the imagination of holiday-makers looking at your property listing. Whats more, it can really help you stand out from your competitors.
Take the time to consider what your ideal guest will need, make sure you have it, and then highlight these features to attract this type of guest.
Blog articles on summer activities
Linked to updating your listings, your blog is an ideal location to attract your ideal guests to your holiday rental website. Use summer holiday keywords to promote summer activities and local events, giving a locals insider viewpoint on what to do, and remember, link back to your properties which are nearby.
Set-up your business rules
Don't get caught out by a lone booking in the middle of the week, leaving difficult to fill gaps.
Consider the type of customer you can attract, and what they are looking for in their holiday. You may wish to consider adjusting the following business rules:
Minimum stay rules to attract longer stays with extended minimum stays
Price increases during your peak period or local events
Discounts to fill any last minute gaps
Cancellation rules and refund terms.
---
The summer season is usually more attractive. But applying these techniques can make a big difference to overall revenue. The features of Bookster holiday home software have been designed to help you maximise your profits and grow your holiday home business. Get in touch if you would like to know more.
Everything you need to grow your holiday rental business.
Setup a demo