Short Stay Homes: Marketing to Domestic Guests
Key Takeaways
Watch the replay!
To minimise guest fear: Understand it, Address it, Communicate the solution
To reach domestic guests: research your target guests thoroughly
There is no single channel that attracts domestic travellers
Be flexible and creative in your efforts to attract domestic guests.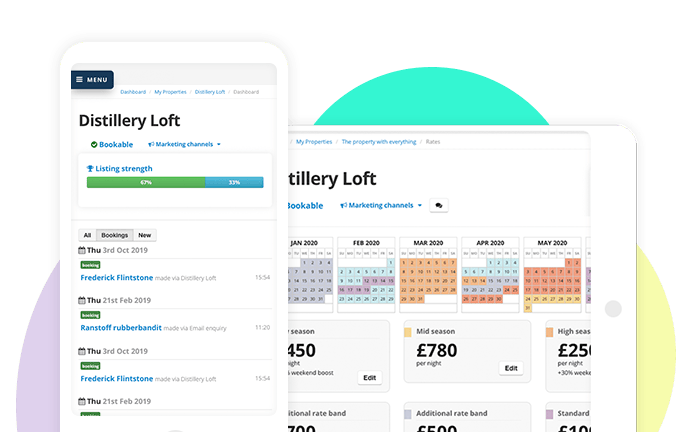 ---
Bookster regularly meets with other experts across the industry to present and discuss strategies to help your holiday lets business grow.

Find out what we discussed to attract domestic guests.
---
You need to research to understand the mindset of your new market
BookingPal Webinar - Insight from Experts: Why marketing to domestic travelers will be key to your COVID-19 Recovery plan?
In May 2020 Bookster was invited to participate in the webinar by BookingPal.
The topic was to discuss marketing to domestic travellers, with a particular focus on recovering from COVID-19.
Thank you to all the team at BookingPal for arranging and managing a very professional webinar.
The presenters were from across the globe, from Japan, the United States, the United Kingdom, and Europe.
They represented a cross-section of experts from property managers, marketing directors, and associations, each with insight into the strategies to move forward.
---
To listen to the webinar, please follow the link https://lnkd.in/gzDdtMr, with the password Bookingpal1!
---
Bookster answered 3 questions, which have been detailed below.
Any ideas or thoughts on how to minimize the fear factor of traveling right now to our clients and to get them to trust our unit sare safe to stay at?
"When addressing fear I would recommend breaking down the task into 3 parts.
1. Understand the fear
2. Address the fear
3. Communicate the solution
---
1. Understand the fear
There are many different fears that guests may have. Each of these fears may vary in intensity depending on the guest, who they are travelling with, their experience, health and history.
It way also depend on the location of the property, if it is in an area highly affected by COVID-19, rural or in a city.
Fear of getting sick at the property
Fear of travelling to your property
Fear of being very close to other people near your property
Fear of the property not being cleaned.
2. Address the fear
Once you have identified what fears your guests may have, you can start to identify what will reassure them.
This could be through providing services in your property, undertaking extra activities, providing extra information, or adding new features.
This list could include (but is not limited to):
Cleaning processes
Providing services during the stay such as shopping
Information on nearby or in-house activities which reduce social contact eg Seating on the patio
Providing sanitiser / fresh towels / cleaning materials in the home
Working with property verification companies and associations to demonstrate professional business.
3. Communicate the solution
Consider every touchpoint you have when you communicate with your guests both before and after they rent your property.
Reinforce your message at each point to reassure your guests of your stance.
Logos of associations, property verification companies
Images of the solution in the channel listings and on the website
Content in the homepage of the website
Social media messages with links to your page
Targetted pages on your website to explain a particular point
Content in the footer of your emails
Include content in your pre and post-sales messages
Emails to previous clients
Your guest area.
---
2. How to switch to the domestic market when you have been entirely dependent on the international market?
A recommendation to anyone when changing markets is to thoroughly understand the new market.
Research your market
To do this, you need to research to understand the mindset of your new market:
who your target market is going to be
understand what makes them tick
what incentivises them to book
what influences their decisions
what captures their attention.
Why research?
This research will provide a foundation to understanding what makes your guest tick. This knowledge will help with every aspect of tailoring your marketing.
It will help you when you want to make a decision on:
what to say
how to say it
what's going to persuade them
where to say it.
Using Personas
Some use personas to help understand the customers. They can help provide a guide on the sort of questions to ask when researching your new market.
There are lots of persona templates on the internet, we particularly like the examples in Hubspot. They don't have to be super complicated.
Review personas regularly
If you already have personas completed, then remember to review these personas regularly, especially now.
Opinions, fears, and concerns have changed dramatically in the last few months, and this will affect their decision-making processes.
3. What will be the best channel used to market to domestic travelers?
"There is no single channel that attracts all domestic travellers.
The domestic travellers that visit you will depend on your property.
The channels that best suit you can only be discovered with individual research to:
guests
your property
your area
how your guests book.
Who are your domestic travellers?
Domestic travellers is an umbrella term for many different markets, all who are travelling domestically.
eg single women, yoga groups, families with small children, couples no children etc"
Who is suited to your properties?
Couples or families, singles or families with older children? Each group may use a different channel to search and book.
What channels are there?
Each of these guest types may use different channels to research and book.
There are new types of channels which have been emerging over recent years:
Specialised family channels
Travellers with pets
Travellers with special needs
Global channels
Social media - Instagram / FB
Direct Mail.
Research past guests and your property
Who booked
How did they book (compare each type of guest, and compare international as well as domestic travellers to identify trends)
You may see that there are groups of guests that are suited to your property, that haven't been coming. You should also research this group to find ways to attract them.
PreCOVID /PostCOVID mindsets
There may be a difference between people who travelled domestically before COVID and those who are travelling now.
Pre COVID domestic travellers: already have knowledge and expectations of domestic travel.
Post COVID domestic travellers: don't normally travel domestically, but have had to change their plans. They may have different experiences and expectations than those who usually travel domestically.
Post Covid views
There are likely to be changes that we are unlikely to see and understand for a period of time.
Some travellers may drift to larger channels for the protection of their insurance/cancellation, and perceived professionalism. Others may actively seek specialist channels to support their needs.
Some travellers may have lost deposits or their full holiday, and this may cause them to change how they normally book and search for more flexible cancellation policies.
Others may have had their deposits and payments refunded, which will reaffirm their commitment to using that channel, as they felt they were protected.
Be flexible
The key is to research and be flexible to analyse what is going well, and what is not, and change tack and try new techniques."
---
Bookster is here to support you in 3 core areas: to attract bookings to your holiday lets, manage bookings, and manage guests.
---
Throughout the event we covered why marketing to domestic travellers will be key to your COVID-19 Recovery plan.
Domestic travellers will play an ever-important role in attracting guests to holiday rentals in the future, even once COVID has passed.
This guidance will be key to growing self-catering businesses revenue.