Providing information to guests
Key Takeaways
Property managers need to understand guest needs to attract new guests
Communicate with guests to provide the right information at the right time
Consider: Cancellation policies, Places to visit, Cleaning, In-house facilities,
Also consider: Health & safety facilities, layout, delivery companies, extras,
And finally, plan how to build confidence in your company.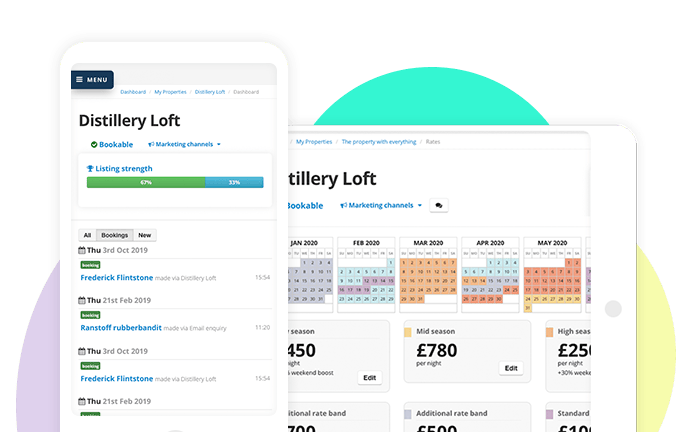 ---
At Bookster we provide tools and services to help you manage your guests' needs.

Read on to learn how we help!
---
Guest needs are changing, and although COVID has played a part in changing guest expectations, this is a natural event as the industry matures and society changes.
We can see that guests' needs are changing. This article looks at how they've changed, and what you can do to support your customers.
The good news is that we've entered a new stage.
Bookings have restarted in most locations following COVID.
What information can we provide to guests to give them the confidence to book?
Providing Info to Guests: The new normal
COVID19 has changed the face of tourism, perhaps indefinitely.
Guests have new sets of needs, new priorities, and new concerns.
It's our job, as property managers, to provide the information that guests require, to give them the confidence to book and travel.
This has always been the case. That's why listings show customer reviews, parking information, and maps.
But COVID has created a need for new information. And guests need it all, right now.
We'll break down what information we know that guests will need right now.
But this may change. It may lengthen. So if there is only one point to take from this article, it is this:
Listen to your guests' worries, and work to alleviate them.
This will be the way to successfully attract new guests, whether they are international or domestic guests.
1. Review your cancellation policies
Some channels place properties with flexible cancellation policies higher on their page.
They are also encouraging guests to book with rental companies with flexible policies.
So rental companies with tight, inflexible policies are likely to see a reduction in bookings through channels. Time will tell.
There are options.
Offer flexible policies
Offer tight policies and analyse if there is a reduction in bookings
Look for other channels and/or direct bookings through your own website to attract guests.
2. Communicate cancellation policies
But being reviewing your policy is not enough. There is another trend.
The spotlight has been shone onto cancellation policies and this is unlikely to be switched off any time soon.
Unfortunately, some guests had to cancel bookings as they were unable to travel due to flight cancellations, new government rules or illness.
Some lost their deposit and in some instances the full payment for their holidays due to strict cancellation policies.
Those who didn't lose deposits are likely to be aware that this money was refunded as some channels applied force majeure, or property managers offered additional flexibility.
Future guests are likely to be much more aware of cancellation policies and will actively search out rentals that offer flexible cancellation terms.
Being absolutely clear on what your terms are will reduce problems should the guest need to cancel.
3. Quiet places to visit
Do guests still want to get into the hustle and bustle of the local neighbourhood, rub shoulders with the locals, and find the most popular bars?
Most likely..no.
And with good reason.
So you need to talk through what are the safe options for them.
Think about what is in your surrounding area that is fun, but maintains social distance.
For some, being close to deserted moors, mountain paths and secluded empty beaches may make this an easy task.
Other property managers may need to dig deep into their local knowledge of the area to find the hidden treasures and secluded spots.
Think off the beaten path - and include photos on your property listing to incentivise bookings.
4. Cleaning, cleaning, cleaning
It's obvious that a lot of guests are suddenly going to be very, very interested in your cleaning processes.
It's not enough that it looks clean.
It has to be anti-virus clean.
A lot of this will come down to communication, processes, and trust.
Dedicate time with your cleaners to come up with a cleaning plan, and follow recommendations for your country by professional health organisations.
A spate of illnesses from guests staying at a vacation rental can destroy a company, and damage the industry.
Consider, plan and communicate:
Who cleans your properties. A neighbour, or a professional cleaning company?
What protective equipment do the cleaners use?
What steps are followed on arrival and departure

Cleaning materials including

Special cleaning products
Disposable mops, sponges, and cloths for each clean

Cleaning processes including

Which areas are deep cleaned
Which items are steam-cleaned
What dishes and utensils are re-cleaned after every guest
Cleaning and disinfection processes

Buffer

What Cleaning buffer between guests is included.
This is a hot topic and heavily debated. You need to review legislation and communicate whatever you do.
5. In-house facilities
Many guests will be looking to escape their city lives and the stresses of the last few months.
Ensuring that your home feels like a haven away from the chaos is important.
Take some time to look around your properties, and consider the needs of your future guests - with a particular focus right now on domestic guests.
What will attract guests to your property?
What will delight them when they arrive?
What will make their lives easier?
Set aside a budget to make improvements, and photograph them to include in your listing.
This doesn't have to be expensive. Small details can make a big difference.
Games for children
Games for adults!
A Netflix account
A quality coffee machine
A hairdryer
Home comforts such as a soft blanket on the sofa
A reading nook, with a cosy chair and some books.
6. Health and safety facilities
Some guests will have a heightened fear of getting sick on their trip.
So providing information on local health facilities is now as important as that list of must-visit restaurants.
This information can be in your listing as well as your emails and guest area.
Access to cleaning materials, including hand disinfectant
Doctors surgeries
Hospitals
Pharmacies.
7. The layout of the indoor and outdoor space
Guests may spend a higher period of time in your property, so it's important to show your guests what space they will have.
There are options:
Professional photos of every room, taken from different corners of the room
3d videos
Floor plans.
If you have open space outside or a balcony, it's more important than ever to include this too!
8. Local delivery companies
Local businesses have been affected by COVID, and need your support.
Working together with local restaurants and services can add value to your guests' experience, and support your community. A double win!
Provide details of:
Restaurant and takeaways which deliver
Local companies which deliver food, such as ice-cream, fresh fruit & baked goods.
If you can partner to offer a small discount for your guests, even better!
9. Confidence in your company
Put yourself into the mind of a guest.
What type of company will they want to book their next holiday with?
We'd put our money on guests wanting to find legitimate, professional companies who keep their customers at the front of the business.
Build confidence by communicating your legitimate and trustworthy points
Work with companies like i-PRAC, who verify vacation rental companies across the globe
Promote your membership of professional associations
Add reviews on your website from your own guest book or independent companies like Feefo, and encourage guests to leave reviews on the channels.
It's not enough to be good. You have to show it.
10. Extras provided to reduce physical contact
We've saved the best for last.
There is an opportunity to increase revenue by providing extra services to your guests.
Identify the tasks that guests undertake, and where they come in face-to-face contact with others.
Could you provide a service to do these tasks on their behalf to reduce their concerns?
Our clients shared with us their plans:
Supermarket shopping provided
Mid-stay shopping
Masks and gloves pack
Cleaning products pack.
Do you have anything to add to this list? Just get in touch and we'd be happy to share it with the community.
---
We provide the tips and tools to help your business attract bookings to your holiday lets, manage those bookings and manage guests' needs.
A key part of our focus is on helping you understand your guests' changing needs, and providing the tools and techniques to meet those needs.
Guest needs are changing, and although COVID has played a part in changing guest expectations, this is a natural event as the industry matures and society changes.