7 Holiday Home Cleaning Tips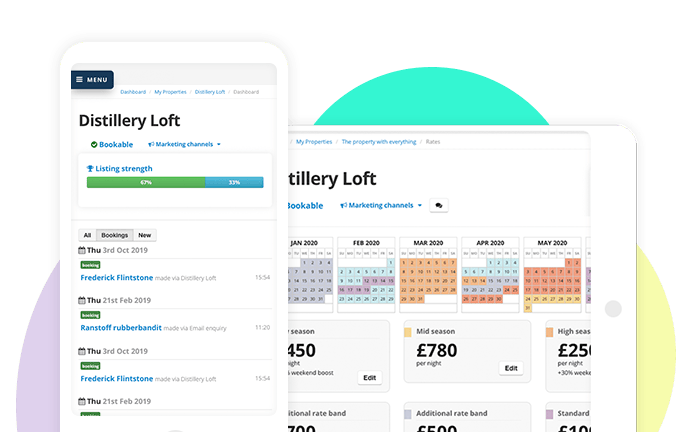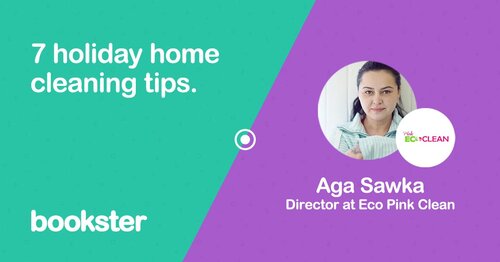 It can be challenging to find the right cleaning company that fits your needs.
To continue reading this article Register for an account - it's free!
Register now
Already have an account? Sign in
An important and completely undervalued aspect of managing self-catering and holiday home properties is the cleaning.
The quality, efficiency and price of this task can have a significant effect on your business. It is important to get all these aspects correct from the start.
Pink Cleaning Aga is a friendly cleaning company that can offer not only holiday home cleaning and additional meet and greet but also can rent out towels and linen as well as wash them. They can supply, coordinate and schedule trusted carpet or window cleaner and other maintenance professionals.
We spoke with Aga Sawka, director of Pink Cleaning Aga for invaluable tips for new clients thinking about contracting a cleaning company for holiday homes and self-catering properties.
---
"The cleanliness and tidiness of your holiday home can be the difference between a great review and a complaint.
Some of the most common negative reviews of holiday homes and Airbnb rentals are due to the guest's dissatisfaction with the standard of cleaning.
There are plenty of companies providing cleaning services with different price ranges. Cheap almost always is reflected by the quality. Quality is not something to compromise on if you want good reviews and happy self-catering guests.
Companies that provide and combine services like Pink Cleaning Aga are the smartest choice as they provide several coordinated services. It speeds up the process and ensures better task coordination and flow.
1. Pre-rental self-catering tasks
Before the first rental is scheduled there are a number of tasks are required:
A deep clean
All maintenance work
A full check
Inventory and restocking
A detailed stock of all linen and towels.
Schedule the deep cleans at least 4 times a year.
Deep cleans are important and keep the property in good shape. This will be reflected by the shortening of the time needed for cleaner to do regular service in high season.
All the procedures and preparations taken before you start your renting adventure allow you to spend less time on it afterward. It will lessen the stress and allow you to meet guest demands and expectations smoothly and comfortably.
2. Arrange the cleaning schedule
The cleaning service should be provided on the same date as the checkout. This means anything misplaced, broken or unusual can be reported the same day, and pictures taken as evidence.
Forgotten personal things are better reported sooner rather than later.
3. Linen management for holiday homes
Labelling of linen and towels in your holiday homes is also good practice.
Make a list, add photos and hand a copy to your cleaning company.
4. Contingency plans
Make a list of permitted actions in case you are out of reach and swift action is necessary. This could be arranging a plumber or replacing an essential item for the holiday home.
Choose a spending cap and supply the list to your cleaning or managing company.
5. Provide sufficient keys
Provide at least 2 sets of keys for the cleaners, or a minimum of 3 if you want them to provide meet and greet.
6. Cleaning turnarounds
Turnaround timescales
High season may require faster turnarounds, giving less time for the cleaner between the guest's bookings.
Cleaners should have a guaranteed 3-hour window for a cleaning turnaround, although this depends on the size of your self-catering property. You should agree with your cleaner how much time is required for a cleaning turnaround.
Minimum tasks if less time
Make a list of minimum cleaning tasks for your cleaner to use if there is a reduced cleaning window between guests.
Parking
Remember to factor in difficulties and cost of parking, both time-wise as well as cost-wise. Depending on the cleaning company the price may reflect additional parking cost.
Early check-ins
Create a strict policy for check-in and check-out time.
If the holiday home is not vacant by check-out time the cleaner will not have enough time to provide quality service.
Early check-in requests are also common, however these can shorten the turnaround time for the cleaning company. It will be reflected by the quality or the service.
7. Communicate with your cleaners
Please remember to enable smooth communication channel with your cleaning company, it can really make things easier for all parties involved."
---
If you are considering making the move into the self-catering industry, check out our series of invaluable advice for holiday home rentals from other industry leaders.