How to reduce cancellations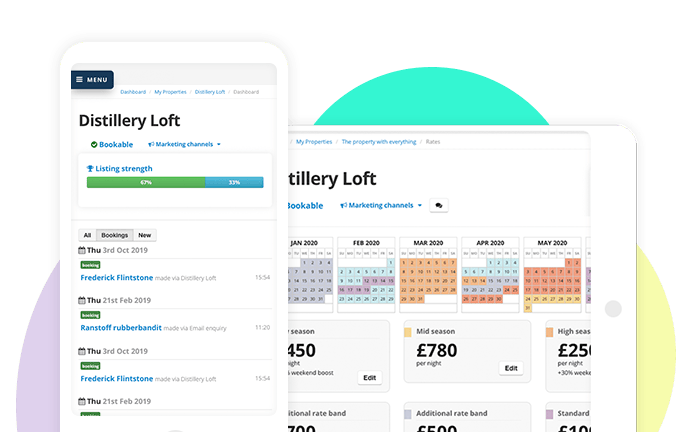 ---
We provide support for holiday rental professionals on how you manage your holiday let business. We've been here throughout COVID to provide support, tips and new tools to manage a new era in holiday rentals.

Read our tips on managing your cancellations.
---
Decisions made now can have a significant effect on whether a business can survive and the reputation of the business in the longer term.
Reducing & Managing cancellations
COVID-19 has had a devastating effect on property managers' income, and although the first waves have passed, the ripples continue to take effect.
Increased health risks, governmental guidance and flight cancellations have all contributed to large numbers of booking cancellations.
This is a scenario that few property companies had considered or prepared for.
How property managers deal with this situation requires a delicate balancing act.
Decisions made now can have a significant effect on whether a business can survive and the reputation of the business in the longer term.
So what are the different options to reduce the cancellations, and manage those that come through?
1. Review cancellation policies
Guests will be searching for holiday rental companies that offer flexible cancellation policies.
They know that there is an increased risk that they won't be able to travel due to COVID-19.
Setting out clear, flexible policies will help you rank higher in the channels, and attract more bookings.
If you have your own website then you may wish to relax or tighten your cancellation policies, which are more under your control.
Whichever direction you choose, there will be an impact on your bookings.
2. Increase contact with guests from day one
Guests who are making bookings, or have already booked need reassurance that they will be looked after.
From the first contact or the moment the booking is made, it helps to start building relationships with guests and looking at managing guests' needs.
This can be time-consuming, but worth investing time to do this.
Setting up automated emails for some messages will save you time, and you can communicate new updates to all guests at the same time too.
Key points for pre-arrival communication:
Build a warm professional relationship
Confirm your cancellation policies and how you'll help them if they need to cancel
Stay in frequent contact, especially if anything changes
Consider their fears, and do your best to reassure them
Communicate your cleaning practices.
3. Discuss cancellation options
It may be frustrating, but there will be an increased number of guests who will need to cancel.
But property managers who have built a good relationship with guests are now in a better position to discuss options and find a solution that works for everyone.
There are a number of options available which benefit both the guest AND the property manager:
Move the booking to a later date, even as far as 2021
Offer a voucher to use at a later date
Refund the monies, with a discount code to use when they are ready to rebook.
4. Contact cancelled and previous guests
This is the time to contact previous and past guests to encourage them to return to you:
Offer a discount code to sweeten the offer
Provide clear cleaning information
Provide cancellation information
Ensure you have rates in your property management system for 12-18 months ahead.
---
Looking after the needs of your guest during this period can reduce cancellations, increase positive reviews about your business, and encourage return visits.
We've seen 5-star reviews for clients who are following these processes.
The reviews praise their support and care during the COVID19 crisis - which will make a big difference in bookings when they return to normal levels.
If you have tips on how to mitigate and manage cancellations, please share them with us. Let's work together to get through this.
If we can help you with any aspect of your holiday rentals, please don't hesitate to get in touch.