Holiday Booking System Updates 2021
Key Takeaways
Bookster focuses on the constant evolution of its services
2021 is the year of security for added business protection
We have committed to reducing our environmental footprint
PMS developments have been created to make it easier to run your business
A number of channels have been added to the Channel Manager
Custom and Template Websites offer more options to attract direct bookings.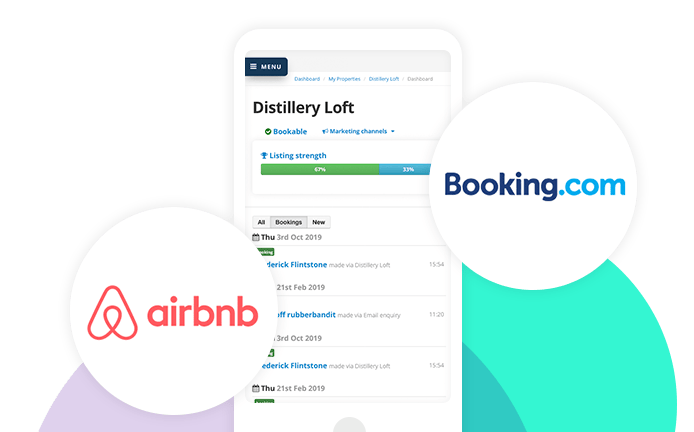 ---
We are constantly evolving our software to help attract bookings, manage guests and manage bookings with ease.

Read on!
---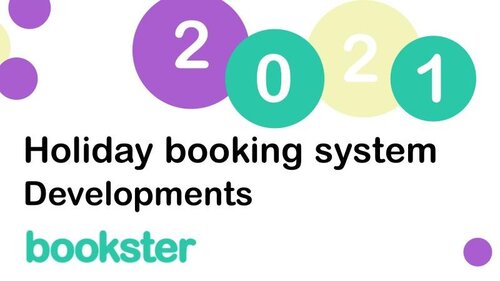 We recognise the importance of providing websites and services for guests with additional needs.
Throughout 2021 we were working closely with you, our clients, to build and develop Bookster features and services to help you attract bookings to your holiday lets, manage your guests, and manage bookings.
To see changes from previous years, take a look at the property management system developments of 2019 and developments of 2020.
Holiday Booking System developments of 2021 affecting all our services:
1. Security
2021 has been the year of security. The security of your business, properties, and guests is a significant aspect of our developments and the design of Bookster services.
In 2021 we implemented a number of extra security protocols for added protection, with more to come within the coming weeks.
2. Tourism Declares
Bookster signed up to Tourism Declares in 2021. This is to formalise our commitment to the reduction of global carbon emissions.
In 2021 we implemented a number of strategic changes to reduce our footprint;
reduction in the size of our office,
offsetting international flights,
travelling by rail or electric car to domestic events,
reduction in travel to international events.
Part of our commitment is to help our clients and those in the industry to reduce their impact. In Q1 2022 we'll be announcing an exciting opportunity, watch this space!
Holiday Booking System developments 2021
1. New! SUPERHOG and Bookster
In response to client feedback on rising damage deposit costs and concerns of guest vetting, Bookster has teamed up with SUPERHOG.
SUPERHOG is the leading global digital trust platform to provide biometric recognition, ID verification, screening technology, and up to £1 million protection.
Bookster is the first software in the industry to integrate the process of automatically vetting guests and providing protection on guest damage automatically, from right inside your Bookster account.
2. New! Smart Rates Pricing Suggestions
With increased competition and changing demand, it can be complicated to select the right pricing strategy for your properties.
So we have partnered with AirDNA to provide Smart Rates by AirDNA.
This feature is used from within your Bookster account, to view groundbreaking AirDNA pricing suggestions based on demand, availability, property data, and trends.
3. Automate emails for OTA guests
Our Email Marketing tool is one of our most popular tools for our clients.
It offers the flexibility to contact your guests with personalised marketing messages, either as newsletters, emails, or automated journeys based on booking information.
And now, in response to client requests, we have updated the Email Marketing tool so you can send Automated Emails to guests who book through OTAs and channels like Booking.com and Airbnb.
4. New! Currency: AED
As requested, The United Arab Emirates dirham currency (Emirati dirham) has been added to the list of currencies, for clients in the United Arab Emirates.
5. Quote Bookings
Quote bookings were added in 2020, and have been a huge hit. We've added new options to this feature, including an override to set your own timeout duration (which was previously fixed at 72 hours).
6. Worldpay
Worldpay is just one of the payment gateways offered through Bookster to help you manage your bookings.
As part of this commitment, we have implemented improved authorisation checks, for added security.
7. Owner Statements
Owner Statements was launched in 2019 following extensive development.
In response to client feedback, we have been making regular adjustments to these, to support your individual needs. The major adjustments were:
Clarify the 'commission offset' in the help text
improve the process of finalising Statements and Invoices
Add a 'State' filter when searching Owner Statements/Invoices
Don't allow editing of automatic line types
Improved styling
8. Book Direct Toolkit
The Book Direct Toolkit was launched in 2020, and if you're using this tool, you'll have seen some great new additional statistics.
These provide guidance on your website performance in the Search Engines like Google. These are visible from your Bookster Dashboard.
9. Arrivals / Departures
Client feedback in 2020 requested a Departures report, which we have improved with a new printed layout style for easier use.
Channel Manager developments 2021
1. Booking.com Connection
Our 2-way API Connection with Booking.com brings in a significant number of bookings each year.
We are dedicated to making regular improvements to all our Channel Manager connections, to benefit all clients who use our Channel Manager.
The most significant improvements for Booking.com users is:
Adapting to the new Photos AP
Checking status of pending uploads before syncing
Ensuring we sync images via the new API
2. New! Vrbo
Client feedback of 2021 requested access to new channels using the 2 way API direct connections.
We have been working hard to lay the groundwork for integration with Vrbo to sync up property details, pricing, availability, and bookings.
Update Jan 2022: The Vrbo direct connection is now live.
3. Virtual credit cards
A number of channels accept virtual credit cards, which can help improve conversion and increase channel bookings.
We have improved how Bookster handles virtual credit cards, to streamline this process.
Web templates and custom web developments 2021
1. Inclusive Holiday Let websites
We recognise the importance of providing websites and services for guests with additional needs.
In addition to a number of events covering this topic, we have worked to make Bookster self-catering websites more inclusive for guests with additional needs.
2. SSL Certificate for Template Websites
Many clients appreciate our template websites as they are easy to set up, and facilitate the process of taking direct bookings.
We now automatically request an SSL certificate when clients sign up for a Bookster Template Websites, to save you time.
3. Bookster Websites
On all Bookster custom websites, the Booking Screens and Guest Area exist on the exact same domain as the Website.
This means that guests don't see the transition from the website to the secure booking area when they make a booking.
Why is this important? There can be reduced conversion due to confusion and uncertainty when the URL of a website changes.
So this change means increased conversions for Bookster clients. :)
4. New! 'Barossa' Template Theme
Adding to the suite of Bookster template websites, you can now choose the 'Barossa' theme.
You can build your website with this fresh, modern style, and bold image style.
5. New! Responsive Calendar Widget
As requested by Web Developers, we have launched a new Booking Calendar Widget which can be used in Non-Bookster websites.
The new responsive design is created as a Javascript-based calendar widget, which will create a fast and slick booking experience for your guests, with maximum conversion.
6. New! Matterport videos
As requested by clients, you can now add Matterport virtual tours to your Bookster template or Custom Websites.
These 3D video tours offer increased sales opportunities with unique views of the properties, as well as highly valued accessibility information such as door widths and steps.
---
For a monthly update on our developments, check our Change Log, which details all alterations made to the holiday rentals software.
If you'd like to know more about Bookster, visit us at one of our holiday rentals events, or drop us a message.