4 essential emails to holiday rentals guests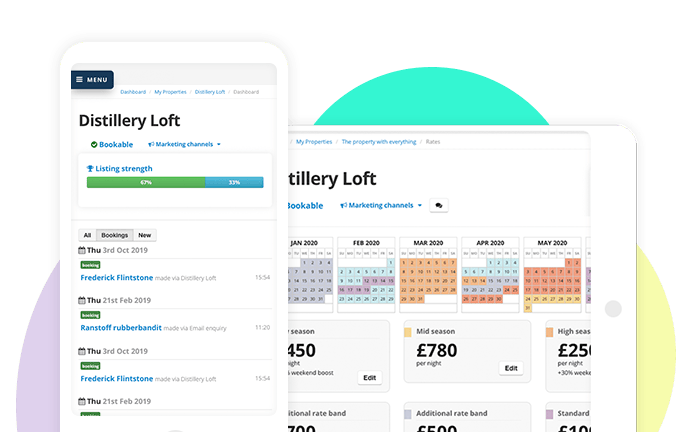 ---
Bookster provides services to help you manage your guests' needs from the first moment they hear of you.

Find out how.
---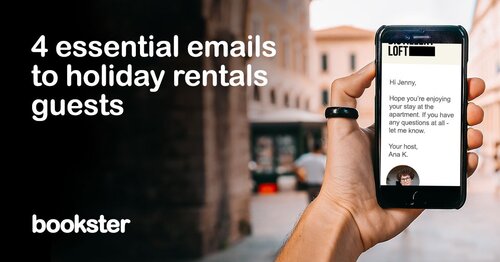 Word of mouth advertising by previous guests is priceless.
To continue reading this article Register for an account - it's free!
Register now
Already have an account? Sign in
There are tried and tested techniques that you can use as part of your strategy to manage guests' needs to build a trusted connection with your guests which will:
Reduce cancellations
Improve guest reviews (to attract new guests)
Encourage repeat bookings.
Bookster already supports your guest relationships as part of our services. However there are techniques you should consider for your business.
Promote your property accurately - setting expectations too high only leads to disappointment, it's better to be realistic in photos and descriptions.
Add value to your guest experience, eg leaving welcome packs in the property.
Extra communication with your guests at key stages of their trip - we'll look at this further below.
---
In this article we look at 4 emails that you can automate and send to your guests - each email will achieve different objectives:
Pre arrival welcome email

Post arrival email

Post departure email (2 options)
---
1. Pre arrival guest email
Objective 1: Reduce pre-arrival cancellations
Objective 2: Build guest relationships
Objective 3: Increase confidence that your property is right for your guest
In the November 2019 event with our channel partner Booking.com, they advised that contacting guests before arrival can significantly reduce cancellation rates.
Turn on the charm
Creating a polite and warm welcome email can have a positive effect on your guests. You'll show you're open, interested and responsive to your guests.
Do you already have a logo? Then use it.
Branding your email will show that you're professional and legitimate, which is reassuring, especially where money is involved.
Let your personality shine
Being personable really helps.
The guest knows that you'll be happy to help them if there is a hiccup - and hopefully in the unlikely event that a problem occurs, the guest will be more forgiving.
Stir up excitement
Adding a quality photo of your property is a good reminder of your legitimacy and quality of your property and the local area. It is also a great way to generate excitement for their visit.
2. Post arrival guest email
Objective 1: Improve quality of reviews
Objective 2: Identify any problems to resolve
Objective 3: Build relationships
Keeping in touch with your guests can work to really help your quality guest reviews, and encouraging those guests to return.
This really works in the vacation rentals industry.
A short but warm welcome to check the guest is happy can identify and resolve issues early on.
Remind the guest to contact you or the property manager if there are problems can iron out any hiccups - leading to a happier stay for the guest, and better reviews at the end.
Important: Ensure that you find a way to resolve any guest issues, otherwise this stage doesn't add any value.
Don't forget to ask for a review at the end of the stay.
3. Post departure guest email (2 options)
Once the guest has left there are two options available:
Encourage repeat bookings from the guest.
Encourage happy guests to leave positive reviews to attract new guests.
Don't try to achieve too much in one email - multiple options leads to inaction.
Choose what is most important to you to do first, and then if you want, send a further email a week or so later.
Email 1 - Increase repeat and new bookings
Soon after departure send an email wishing the guests well, and provide a Promo Code.
Use your imagination to create Promos for your Promo Code that are interesting, exciting and don't eat into your profits.
Your knowledge of your local area could create some wonderful experiences for guests.
Consider:
A fixed or % discount for a specific period to increase revenue in your shoulder seasons.
A discount amount or % discount for a longer visit.
Providing additional value in the property eg free welcome basket or free airport collection.
Offer an incentive that works with a local company eg free breakfast at a local restaurant.
Some property managers restrict this Promo Code for the returning guests only, but we'd recommend re-thinking this.
Why not encourage your guest to share it with their friends and family? Word of mouth advertising by previous guests is priceless.
Email 2: Increase reviews
Customers are increasingly turning to reviews for an independent assessment of goods and services.
This is especially so in the holiday rentals industry. Some property managers use independent review companies like our partner Feefo to collect those reviews, but you can do it yourself too.
Contact your guests after they leave and politely request a review - this could be on your website, or on a channel that you work with.
Remember that it's not the end of the world if you get a review that doesn't reflect all the hard work that you invest in your property business.
Take a deep breath, reply politely and consider how you could avoid that scenario in the future.
The way in which you reply can be more relevant to potential guests than the original complaint.
Bookster provides the tools to help you succeed
10 Reasons Why - Email Marketing. A 60-second video giving you ten reasons why you should get started with email marketing.
Bookster's Email marketing tool comes with direct integration with Campaign Monitor and thanks to its incredible collection of great templates, tracking tools, and other more advanced options (like the ability to split test your emails to help you understand what works best for your subscribers) it provides a quick and easy way to get started.
Video guide - Email marketing. A quick video overview on how to get you up and running using Bookster's Email marketing tool.
There really is no better time to get started.
Make mobile friendly emails
We've all heard that mobile is growing in importance, and this is especially so in the vacation rental industry.
It's highly likely that your guests will see your emails in their mobile device, so it's important to make it in a format that they can read.
Here's some tips:
Make your email title short and attractive.
Break up your sentences so the text is less intense.
Use an image of your property, and name it.
Once you've finished it - send yourself a test email and look at it on your mobile AND your desktop to see how the title and content look.
How Bookster supports guest communications
Bookster is committed to supporting our clients. Therefore we offer:
Additionally, you can create your own emails to automatically send to your guests using our Marketing Email tool.
How to create Automated emails with Bookster
Open the Bookster Marketing Email tool
Create an Automated Journey email
Add triggers to your Automation Journey based on the property id, booking date, arrival / departure date, and time.
Personalise your emails with the guest name and include information specific to their booking, such as the property name and local information.
---
If you need a hand setting up your automated Marketing emails, please don't hesitate to contact us, and we'll be happy to help.