5 tips for more direct bookings
Key Takeaways
It takes time, effort and energy to attract direct bookings to your website
Choose the social media platforms that your guests use
Use hashtags to increase visibility
Review the emails you send and how to use them to build strong relationships
Engage with your potential guests, this is better than the hard sell
Choose a killer direct booking website. Bookster can help you here.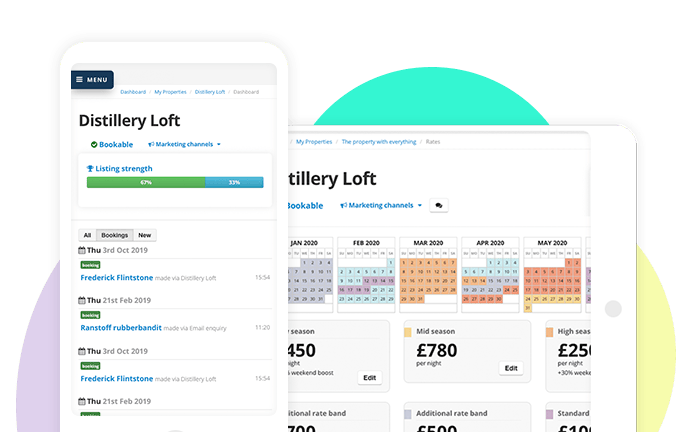 ---
At Bookster we help with direct bookings by providing tools and techniques to set you apart from the competition.

Find out more about how to attract direct bookings!
---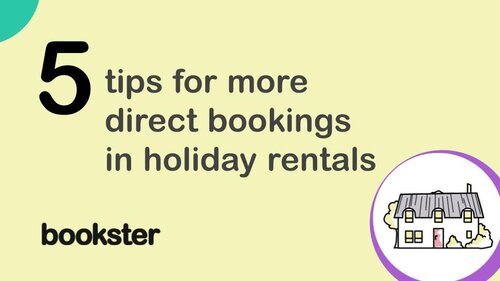 Not all websites are built equal.
A crucial part of your self-catering business is to attract bookings to your holiday lets.
In recent years, more and more attention has been applied to attracting direct bookings. So where do you start?
The first key point is that attracting direct bookings begins with a great website.
The website will educate, inform and encourage your guests to book a stay with you.
But how will guests find out about your website?
That takes time, effort, and energy.
To help, we've broken down 5 steps that you should be taking if you're interested in attracting direct bookings to your holiday rental website.
Let's begin.
---
5 tips for more direct bookings for your holiday rental properties
1. Social media will maximise your impact
Love it or hate it, social media is here to stay.
And there is a good chance that your guests use it.
So if you want to be seen, catch attention, and drive guests to your website, then you need to use it.
I occasionally hear property managers say that they don't like to use social media.
But if your guests use it, this is a business task needed to attract guests.
There are growing numbers of social media channels to use, but you don't need to use them all.
Your guests will probably focus on just one or two, so that should be your plan too.
Consider:
Facebook
Twitter
Linkedin
Instagram
TikTok
---
Action: Identify which social media channels your potential guests use +Plan a daily post to communicate with your potential guests.
---
2. Hashtags to increase visibility
Hashtags can help boost how many of the right people see your social media posts.
Again, some self-catering property managers are worried about using them - there is some confusion about which ones to use and when.
Each social media channel has recommendations for how many to use in each post.
And the hashtags that you use will entirely depend on the specifics of your business.
Here's a quick guide on building your selection of hashtags:
Your clients: digitalnomads, familylife, honeymooners, MomAndPops
Your type of business: self-catering, holidaylets, holidaycottage, vacationrental, cleaning services
Your location: Leith, Edinburgh, Scotland, UK, Europe
Your features or brand: quirky, inclusive, teamwork, romanticbreaks, citybreaks, adventure, beach, holiday
Unique hashtag for your brand: BooksterExperience
The topic if you're writing about something specific: WeekendGetaway, Cleaning, COVID, Valentines
Look at competitors and other industry like-minded people
---
Action: Identify how many hashtags you can use in each social media channel + Create your list of hashtags.
---
3. Email Marketing to stay in touch
So many property managers have lists of contacts, previous guests, and past enquiries, but aren't using them.
These email addresses are a goldmine just sitting there, but it can be tricky to get started. Here's a 60-second video on why to use Email Marketing.
GDPR does impact who you can contact and when, so if you're not aware of these regulations, it's important to brush up on them.
Many Email Marketing tools are available, with varying prices, complexity, and options - Bookster offers an Email Marketing tool within all packages.
There are lots of options for sending automatic emails or sending campaigns, such as:
An e-Christmas card.
A monthly / bi-monthly / regular newsletter
An update on the latest COVID situation
A change in the property or the local area, such as a concert.
---
Action: Check the GDPR guidelines which may affect you + Plan when you can get in touch with your contacts and what you want to say.
---
4. Building strong relationships
Building great relationships with potential clients and advocates for your brand takes time and enthusiasm.
There are several different ways of achieving this, through your interactions on social media, articles in the press, newsletters, your website, forums, and attending meet-ups and events.
The messages need to engage, and they should all be consistent.
There are lots of different ways to engage and build relationships. Here are some examples:
Ask opinions. Thinking of a new coffee provider? Ask on social media for opinions about the different options. Considering adding a Matterport? Talk to your contacts about it.
Ask for advice. Unsure of what to add in your videos? Ask for advice.
Provide updates. When you've made a change, from painting a wall to add new T&Cs, communicate it.
Tell stories. Talk about the history of your property. The local area. Local heroes. How you came to manage it.
Add background to the team. Introduce your individual team members.
Showcase your partners. Your company is strong because of the quality of your sheets, your cleaning standards, your guest welcome basket. So talk about the partners who provide them.
Add photos. Images are powerful. So add images of your properties, the local area, and activities to do whilst at or near the property.
---
Action: Take time to consider how you can build relationships + Put aside time each week to do this.
---
5. Use a website that will rank well in the search engines.
All websites are not built equal.
Your website must follow several rules and guidance to ensure that it attracts the right people, ensures they stay on your site, and book with you.
Bookster provides custom websites that are designed and built to rank well in the search engines like Google and Bing.
We also provide a host of book direct tools and Search Engine Orientation (SEO) services to help your website rank well.
---
Action: Get in touch with Bookster to find out more about how we can support your needs.
---
---
Interested in attracting direct bookings through your website, but concerned about relying on them 100% for your income?
No problem.
Bookster has 2-way API connections with partners with major channels across the globe. This means you can promote your properties and take instant bookings on Airbnb, Booking.com, TripAdvisor and many more.
We've worked hard to build strong connections and now are Advanced Partner with Booking.com and Premium Partner with TripAdvisor.
Frequently Asked Questions
How do I start a direct booking website?

How to start a direct booking website:
1. Choose software that shares your property and bookings information with your website.
2. There are 3 options to build the site:


Build your own website with a tool like Wix or Squarespace.
Employ a web developer's or designer's services.
Use the software's website builder or design service.

3. Set up data tracking tools to oversee visitor behaviour.
4. Register and pay for the Domain address.
5. Share your Domain details with your Hosting company.