Key Takeaways
Build relationships with prospective guests through video and your website
Create a lasting impression of your brand = more bookings
Consider your website speed, content, flow between pages.
Content is: copy, photos, videos, room plans, audio and videos
Video is under-used (no-one likes the sound of their own voice!)
Plan carefully what to say, wear, where you are; but be natural.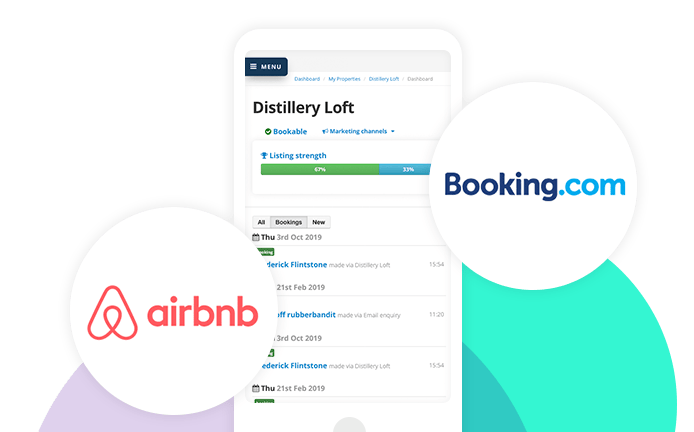 ---
At Bookster we make it easy to add videos to your properties to help you to attract more bookings to your properties.
---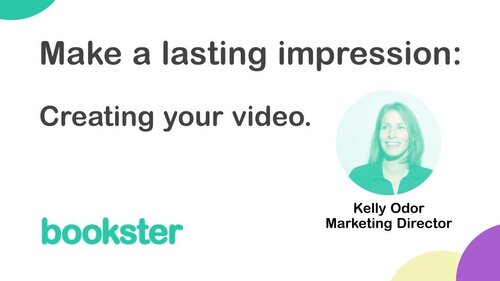 Using your own website means that you have more control over the messages you send to your prospective guests.
Create videos to attract more direct bookings
Have you considered how a personal video could add value and attract bookings to your holiday let?
We cover the importance of creating a personal video and provide advice on what to wear, what to say, and how to create your own video.
---
Script:
I'd like to talk to you about building your relationships with prospective guests through the power of video.
Using your own website means that you have more control over the messages you send to your prospective guests.
These guests will be creating a lasting impression in their minds about the experience that they would have if they booked a holiday home with your company.
So it's really important to think about how you can influence that.
The impression you give comes down in part to the technical aspect of your site - how fast it is, how many pages there are, how it flows, and also your content.
So your content is your copy, your photos, your room plans, your audio, and your videos. It's everything on your website.
Neely Khan wrote a beautiful article on Book Direct called EPIC STORYTELLING: The Key To More Direct Bookings which eloquently described how to write your content, and I'd thoroughly recommend you check that out.
Photos are also important and we'll come back to them in another video, but the medium I'm going to focus on today is video, a medium that is still massively underused.
Why is it so underused? For me, I know it came down to a fear factor; I didn't like to hear my own voice, never mind the cringing experience of watching myself on video.
But it's worth overcoming this fear, as a personal introduction video of you, your team, and your properties can really add value to your guests' experiences.
As social creatures, we benefit from social interaction.
The development of technology has eroded some of that interaction, through booking online with no need to see or speak to anyone at all...And that has its benefits... but it also creates a gap in building relationships, which is super important in our industry.
So I believe that videos go some way to plug that gap and create a bond between your guests and your company in less than a minute.
You don't need to be a digital expert to video yourself - this one is being done from my laptop, and I'll probably add a logo on something simple like Powtoons.
Before you jump into your first video, you need to do some planning to ensure your video creates a coordinated impression, the content and style is sychronised with the rest of your brand, to maximise the effect.
So let's talk firstly about what to say. I'd like you to think about the type of guests that you currently attract, and those you'd like to attract - what would they want to know about you? and what will attract them to your company? - what are their influences?
Then consider what you know, as the expert on your holiday homes. You'll have insights that they may not even think about consciously.
And what would you like to know about a company when you're searching for a holiday home?
And merge it all with you - the kind of person that you are, the type of experiences you offer and the services that you offer. Why does your company stand out from your competition? Is it your home-baking? The views from your properties? Your warm and friendly personality?
Emphasise this in your videos so your guests really know why they should book with you.
My final point is what to wear, and I know clients worry about this.
As a company we thought long and hard about this too. You can see we've got branded polo shirts because we wanted to be professional but not corporate, relaxed but still smart. And we wear them in every video we make to reinforce our brand consistently.
Take time to think about how you'd like to represent your company, but above all be yourself, You don't have to dress up like you're going to the proms, just be natural.
Oh, and one more thing I'd like to mention.
Making videos doesn't have to be a one-off experience, and realistically, it shouldn't be. Your message may change over the year, with different seasons.
You may adjust who you attract and need to say something different.
And there are more than one place to put a video on your site. So consider different messages in different places.
But above all, videos can be fun, and it can be very influential on your guests' decision on whether to book with you, or book with your competition.
So give it a shot.
It won't be right the first time, believe me, but you'll get into the rhythm of making them, and it will get easier.
Have fun.
Attract bookings on your holiday home website
Attracting direct bookings on your holiday home website isn't easy.
It requires property managers to dedicate time and resources to consider how best to attract potential guests to their website, and how to convert those potential guests into paying guests.
Bookster actively supports our clients to attract direct bookings through a number of industry-leading Book Direct tools and custom services: