How can I advertise my holiday accommodation for free?
Key Takeaways
There are many free (and paid) options to advertise holiday accommodation
Set up a website with Instant Booking for best results
Use social media, but be wary of the time you spend on it
Meet your audience in travel forums, but always follow the forum rules
List on free directories
Research free listing sites (also known as Channels or OTAs)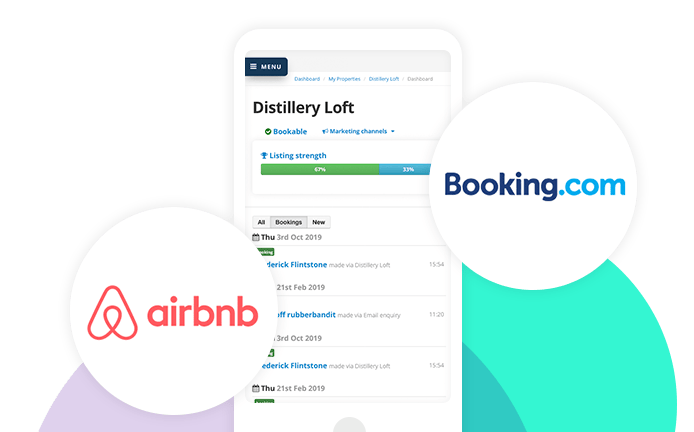 ---
So you've got your holiday rental accommodation, and you're ready to start promoting it to your potential guests.

But where to start? There are lots of options out there that will help you fill up your calendar and grow your revenue.

For many holiday rental managers, this can be a daunting moment. So we'll walk you through some of the popular options to advertise your holiday accommodation for free.
---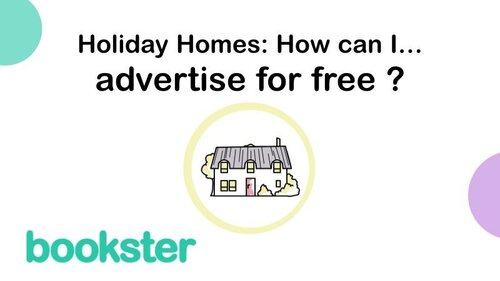 There are lots of options to advertise your holiday let and this needs to be taken into consideration when you are thinking about the costs of running your holiday let.
Advertise Your Holiday Accommodation for Free
To be a successful business, advertising your holiday accommodation in the right place is important.
As a property management software company, we have spoken with many property owners and managers who are looking for the right places to advertise.
If you're new to Bookster, our UK team provides software services to help holiday rental owners and managers to attract bookings, manage bookings and manage guests needs.
We can help with some solutions to help you attract bookings, and guide you in the right direction with other strategies, so you can really excel in your vacation rental business.
The first question we'd always recommend considering is, where are my perfect guests going to be looking for their next break?
If you're advertising on three different places, but your potential guests are searching elsewhere, then the time and effort you put into advertising is wasted.
How to advertise your holiday accommodation
There are lots of options to advertise your holiday let and this needs to be taken into consideration when you are thinking about the costs of running your holiday let.
There are free options to advertise your holiday accommodation that we'll look at below, but remember free is not always the best - there may be other options that work well for you.
Free advertising options for your holiday rental
1. Free guest bookings on your own website
This is the number one option for advertising your holiday accommodation for free.
You can direct all guests and potential guests to your website.
Having your own website, with just the properties you want to advertise will present the best of your holiday homes, with no risk of guests being attracted to your competitors holiday homes.
You have a number of options to create a website:
Create a free instant template website with your property management software company (free)
Create a website using a website builder, like Wix, Wordpress or SquareSpace (can be free)
Work with a web designer or web developer to create a website for you
Ask a friend with some tech skills to create a website for you (free)
Work with the website designers in your property management software to create a custom website.
No matter which option you choose, being able to direct potential guests to your website is invaluable in helping you attract bookings with no booking fees.
Let's talk widgets
If you use a website that has been created by your property management software, the instant booking option is likely to be built in automatically.
A website created by outside of your property management software, you are likely to need to use a direct booking widget or link.
A widget is a bit of code, added to your website that allows potential guests to make a booking.
Without a direct booking option, there is a high likelihood of potential guests leaving your site without ever contacting you. They will then search for a website from your competitors.
This is because guests are now more and more impatient.
Due to the growth of channels like Airbnb and Booking.com, guests now expect immediate bookings and confirmations.
They certainly don't want to wait for a day or so just to be told that the property isn't available.
So what are your widget options?
There are a number of different widgets available, including:
A 3rd party direct booking widget (can be free)
A direct booking widget from your friendly property management software company (can be free).
2. Social Media - attract guests for free
Social media is a golden way to attract new business, especially in the hospitality business.
There are growing numbers of social media channels to use, and this shows no sign of going away.
In addition to the more established channels, such as Facebook, there are some great social channels that are image focussed, perfect for creating a great impression of your holiday accommodation.
There are two important aspects that I would suggest you consider.
A. Your time
Attracting guests for your accommodation on social media channels is no small task.
At some point, you should consider the time you invest in attracting bookings through social media, versus the cost of your time.
B. Which channels to use
I can't begin to tell you how many times property managers have explained that they don't like to use social media. Or they don't use certain social media channels.
Whilst I respect this completely, I would suggest considering this one point - if you don't use social media, but all your potential guests do, are you willing to let those potential bookings go to your competitor?
Perhaps the answer is yes, that's fine.
If the answer is no, then get those bookings into your calendar.
If you're not confident or want to know more about using social channels, take a short course or a refresher in social media channels that your guests use.
Well established social media channels
Not all will suit your business and your accommodation, so don't try to spread yourself thin over all of them.
Choose the best ones for you, and focus your attention on getting the best results.
Not sure how to select the best social media channel?
Consider your guests - are they business travellers? Millenials? Young mums? Retired couples?
Once you know who they are, you'll have a better understanding of the social media channels that they use - and therefore which you should use.
Facebook
Instagram
Pinterest
Twitter
Linkedin.
3. Travel Forums - Get Posting And Promote Your Accommodation
Travel forums are full of people looking for a short break, an annual holiday or the trip of a lifetime.
For a lot of property managers specialising in holiday homes, this is a goldmine of opportunity.
There are 2 pieces of advice to consider:
A. Check, check, and triple check the rules of the forum
Some forums specifically say that you cannot promote your own business - on others you can.
On some you cannot directly sell, but you could reply to questions about your local area, and in some, you could link to a useful blog post on your website.
That's not to say that happy clients can't mention your holiday accommodation for free advertising.
B. Time
It takes time to trawl through the many travel forums out there, to find people looking for a trip to your area.
Again, see my comments above about the cost of your time.
Travel forums we recommend researching
TripAdvisor
Fodors
Travellerspoint
Mumsnet
4. Directories - Get Your Business Listed For free
Listing directories are still alive and well and could help you to attract guests.
These are predominantly online directories of services, such as Yell.com.
Although Yell is widely known, there are smaller directories that can advertise your holiday accommodation.
Top recommendations for your holiday accommodation:
Yell.com
Google My Business
Bing Places
Yelp
These are official directories sources, but think about your guests.
Do they use other directories?
For example, universities often have directories of nearby holiday properties, which is helpful for families visiting students, or surrounding open days and graduations days.
Another example would be local businesses, especially those that run events, or need accommodation for visitors or travelling employees.
To be listed in these directories, you'll need to contact the establishments directly, and demonstrate the value of your accommodation.
5. Free listing sites
The number of listing sites, (also known as marketing channels, Online Travel Agencies - OTAs) have grown substantially in recent years.
The variation provides choice for guests, but also provides complications.
Specialist or global?
Some listing sites / marketing channels specialise in advertising holiday accommodation with an area of specialism.
They could specialise in holiday rentals in a location, eg Scottish in VisitScotland, for larger families eg Vrbo, for specific groups eg MisterBnB.
This means you can target your guests, as you properties are exactly right for that channel.
The alternative is to go global. There are plenty of listing sites / channels that provide holiday accommodation in every location, and rely on the guest to use filters to choose the location, property size and specific style.
Should you advertise on all marketing channels?
In our view, the answer is no.
Channels have their own rules and unique algorithms that you'll need to understand to ensure your listing ranks highly and is seen by your ideal guests.
The more channels you use to advertise your properties, the more time you need to invest in improving its performance.
Are marketing channels free?
Each channel will also have its own structure to pay for its services.
Some listing sites / channels will promote themselves as free, but on digging deeper, there are sometimes fees.
These come in the form of set-up fees, annual fees, booking fees, or withholding guest payments from holiday owners until after the guest arrival date.
Whenever you're choosing free listing sites that suit your holiday accommodation, you will need to read the small print carefully, to ensure you know what service you're receiving.
---
Planning where to promote your holiday accommodation is an exciting part of managing holiday homes.
Always keep in mind the cost of your time. What may look free at the outset, can eat up so much of your time that it becomes an unreasonable way to attract bookings.