StayJam playbook 2021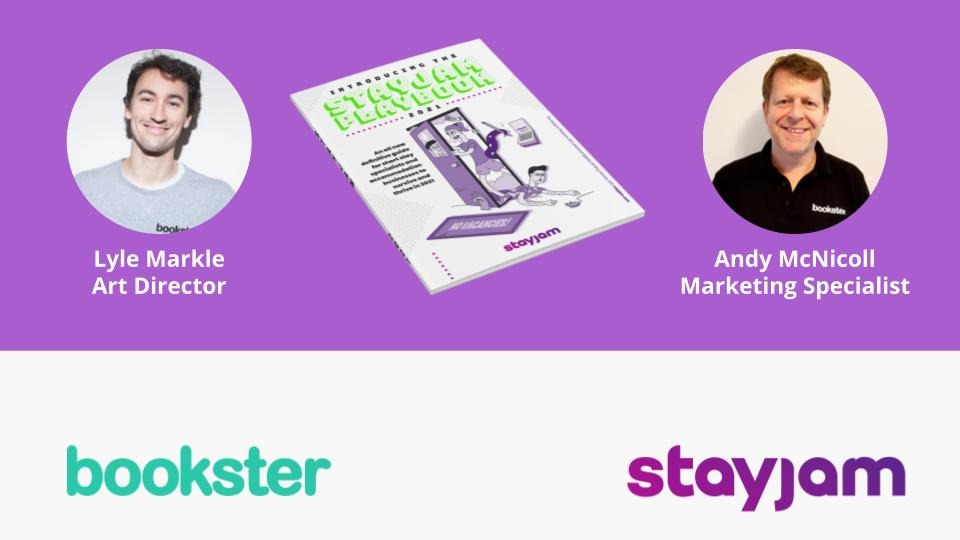 Have you downloaded your copy of the PlayJam 2021 yet? Well, what are you waiting for? We covered two topics, and it's packed with great advice for self catering professionals.
Late in Autumn 2020, the team at Bookster received an interesting email from the team at StayJam, asking if we'd like to get involved in the first-ever issue of StayJam Playbook.
Of course, we said yes.
What is StayJam Playbook 2021?
The StayJam Playbook is 180+ pages of articles to support the growth of your business.
Its stunning design will catch your eye firstly, with a fun, relaxed style, backed up by content that's actually written to support holiday home managers, not sell products.
It's produced in digital format so you can download it easily and read it on the go!
Bookster articles in StayJam 2021
In this edition Bookster contributed two articles on two topics that are close to our hearts:
Turning Website Lookers into Room Bookers (Page 17), Lyle Markle
Lyle Markle, our Art Director focused on his passion, creating custom websites that convert visitors to guests.
In this article, Lyle broke down the main topics that you should consider when creating your website.
Tips for creating an effective website
When creating a website, you have the choice of building your own, working with the web developer of your property management software, or an independent web designer.
No matter which you choose, you should keep in mind some important points for success.
This article covers how to:
Less is more - reduce the clutter
Create an easy to use customer journey
Understand where your guests come from
Create clear fonts and styles to help all users on your site
Increase speed by optimising your images, videos, and pages.
Get your Email Superpowers (Page 105), Andy McNicoll
Andy McNicoll dug into the reasons why Email Marketing is a powerful tool for the holiday home industry.
It creates the opportunity to help your guests recognise your brand, and works really hard to build your relationships with your guests.
Tips for using Email Marketing effectively
There are different ways to use Email Marketing, as we cover in 4 essential emails to send to your guests.
Split your email lists into groups
Keep it clean. Regularly check and update your contacts
Automate your guest communications through email
Use email to drive five-star feedback and reviews
If you'd like more information on how Bookster supports Email Marketing, check out our 60 seconds video on 10 Reasons to Use Email Marketing.
Once you're ready to learn more, we have a short video guide on how to use Bookster Email Marketing.
Who are StayJam?
StayJam has burst into 2021 as the new name for the Short Stay Show, a yearly event bringing together experts in the vacation rental industry from across the globe.
Bookster supports the Short Stay Show, and its local events previously named Be My Guest which brings together professionals in our industry to cities across the United Kingdom.
You can read our presentation at Be My Guest Carlisle which covered How to choose the best holiday rentals PMS software.
Everything you need to grow your holiday rental business.
Setup a demo