Attract holiday rental bookings in the low season and shoulder season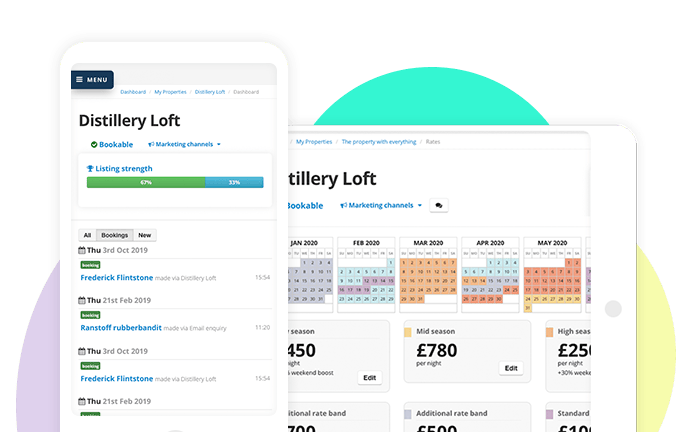 ---
Bookster is dedicated to providing resources, tools and techniques to help you fill your booking calendars throughout the year.
---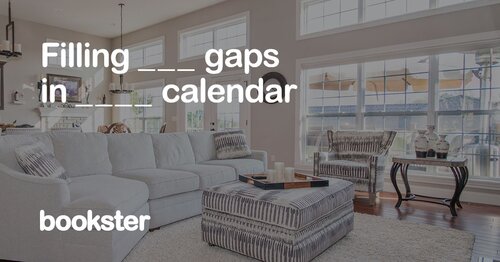 A growing market are guests who have some element of special needs. The extremities of the needs of this market can vary.
Seasonal changes affect almost all property managers, leading to changes in strategies to attract bookings to your holiday let properties.
Unless you are particularly fortunate, you may have one or more properties in your holiday rental portfolio that are not fully booked all year round.
In fact, a lot of property managers and agencies see a significant drop in demand during the low season, with reduced holiday home bookings during the two shoulder seasons.
Off-peak/low season and shoulder season - what's the difference?
Low season is when holiday rental properties experience the lowest level of occupancy. In many northern hemisphere countries this is usually in the winter months.
The shoulder seasons are the periods between high season and low season.
How the shoulder season and the low season affect your holiday homes depends greatly on where your property is located, varing by hemisphere, country, and urban or rural placement.
In most locations during the shoulder period spreads during the Autumn period of September to pre-Christmas and the Spring period of Early January to May.
What is the shoulder season in Ski resorts?
Properties in Ski and winter resorts have reduced shoulder periods in Spring between May and June when the winter season ends, and in Autumn between October and November before the following winter season begins.
Off season can vary greatly in Ski resorts, as some attract high volumes of guests in their summer months who hike and walk in the mountains.
What are low season strategies?
For some property owners and managers, shoulder and low season are times to close the doors of the business.
These property owners may consider this an ideal time to save resources, and instead focus on repairs and attracting bookings for high season.
For other property managers and agencies, this season is still a time to earn revenue, but accepting that it will require more resources to attract them.
Seasonal bookings differences
There are significantly different types of reservations in the low season compared to the high season:
Shorter reservations - long weekends and 3-day breaks
Older clients, and those without children who can travel outside the school calendar.
Business travellers
Last minute or spontaneous reservations
10 ways to increase bookings: low and shoulder-season
Review your channels

Look for partnerships with Channels such as Booking.com or Airbnb which often attract long weekend travellers and city breaks.

If you already have these connections, review that your properties are fully optimised to ensure that you have good visibility in their listings.

Poorly optimised property listings will slide down the listings page and not be seen by holidaymakers!

Be prepared for last-minute reservations

Ensure that your properties are cleaned quickly after the departure of your previous guests, so they are ready if you receive a last-minute booking.

You can also change your settings to attract bookings made on the same day or on the day before the proposed Check-in period.

Offers for long weekends

Consider what incentives you could provide to give extra value to your guests in the form of a reduced price or free product.

Meeting up with local companies could provide an opportunity here to promote the products of local businesses.

Examples include a locally sourced food hamper, locally created crafts or simply a bottle of wine on arrival.

Investigate local events

Write blog posts and newsletters detailing historical and useful information on the events and activities taking place near your properties.

Don't forget when you do this, to provide links to your properties close by.

Attracting people to your site who will be attending these events will increase your visibility to attendees.

Team up with local businesses

Working with other local providers will allow both companies to benefit from a partnership.

Agreements with other businesses can provide added value short-break packages which suit the cooler off-season months, such as Spa days, Cooking courses, or Art gallery tours.

Review your photos

Change the photos of your properties to highlight the beauty of the area during the lower-season months.

The lower light can make for some beautiful local area shots, and images of steamy hot chocolate with marshmallows, autumn leaves, or open fires can evoke positive emotions.

Property descriptions - activities

Review the content of your property details to detail activities that can take place during Autumn in the home, for example, private chefs providing a home-cooked dinner or painting scenery from the bay windows. For synergy, fit these with the photos you add (as above).

Property descriptions - older guests

Review the content of your descriptions to attract different types of travellers.

During the school calendar, you may wish to focus on older or retired travellers who are not constrained by school holiday timetables.

To attract this market, you first need to consider their needs and demands and whether you can meet those needs. These may include more personal service, quality bedding, airport/ bus station pick-ups.

Communicate your services through your property descriptions, photos, messages, and the places where you advertise your properties.

Blog content

Create blog posts on what to do in the local area during fine weather and during the poorer weather, that can occur during the off-season.

This is a great brainstorming activity to do with your colleagues and friends in the local area, listing what locals enjoy! Examples include a professional chef to come in and cook, walks in the local pathways, access to a sledge...

Attract distinctly new markets: clients with disabilities or additional needs

A growing market are guests who have some element of special needs. The extremities of the needs of this market can vary.

Some guests simply need to have a property on a lower level with no stairs or need to bring a guide dog to help with visibility problems.

Other guests may require special access and wheelchair-accessible features such as handrails, lowered units etc.

It's worth speaking to an expert to identify how suitable your property is to this group of clients, and what you can do to make it more attractive to this loyal group of visitors.
Most properties will see a lull in bookings during the slow season, however, a solid strategy to attract new reservations should attract new and return clients to your property. We hope you found this list useful!
Bookster provides beautiful custom websites and a Channel Management tool to help you maximise your properties revenue during the out-of-season months.

If you'd like to know more, just get in touch with our friendly customer service team.