You can now use the Bookster to sync Pricing, Availability and Bookings to Booking.com
the Bookster Channel Manager now connects to the largest accommodation website on the planet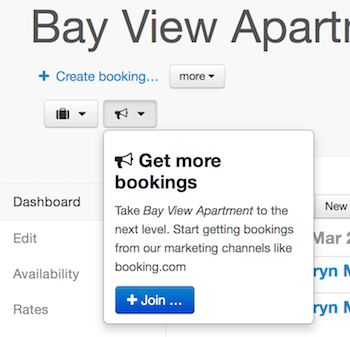 Who are Booking.com?
In the unlikely event that you have not heard of them, the Bookster Channel Manager now connects to the largest accommodation website on the planet.
What Booking.com say about themselves:
"Established in 1996 and part of the Priceline Group, owns and operates Booking.com™, the world leader in booking accommodation online. Each day, over 1,200,000 room nights are reserved on Booking.com. The Booking.com website and apps attract visitors from both the leisure and business sectors worldwide."
Joining the Channel Manager
So long as you have a paid Bookster account, sync a property up with Booking.com or any of our other great Channels within Bookster.
A massive time saving
Pricing: Bookster will update the prices on Booking.com when you make changes in Bookster.
Availability: eliminate double bookings - Bookster will block off dates on Booking.com whenever availabiliy is updated within Bookster AND update availability when you get a booking via Booking.com.
Bookings: no more copy and paste - Bookster will pull all the booking details into Bookster and even try to take a payment for you.
Use Bookster to connect your vacation rental to the biggest accommodation audience you can - Booking.com