Events 2022 Self Catering Rentals
We believe that attending self-catering events and tradeshows help you build up knowledge you may have not known about the industry.

Come meet us!
Key summary
Bookster is attending events in person and online in 2022
You can meet us there, or contact us to arrange a time to chat
Register online for events, or check the pages for the replays.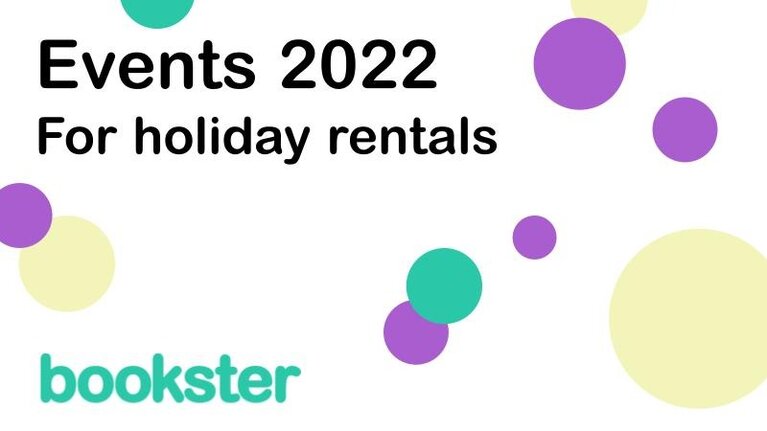 Events 2022 for Self Catering Rentals
Getting ready for 2022 events.
Bringing together experts from all parts of the holiday rental industry to share ideas, advice, and news on how to attract bookings for your holiday lets, manage guests and manage bookings.
How will events take place in 2022?
2021 has shown that more and more people are turning to hybrid events and webinars, and we can expect to see more of these in 2022.
Meet the team of Bookster Holiday Booking Systems!
We'll detail all the events here. Come back regularly to check out the latest planned events.
Holiday Rental Events in February 2022

Holiday Rental Events in March 2022

Holiday Rental Events in May 2022

Holiday Rental Events in June 2022
Holiday Rental Events in September 2022

Stripe Climate (More details to follow)
Holiday Rental Events in October 2022
Holiday Rental Events in November 2022
Holiday Rental Events in December 2022
Events from 2020 and 2021
For summaries, videos and notes from previous events, check out our events of 2021 and events of 2020.
Bookster is dedicated to providing advice and guidance to the holiday rentals industry.
But we're not like the other systems out there.
We work really hard to support our clients.
We answer the phone. We reply to your emails. We listen.
With over 10 years in providing holiday bookings software, the team at Bookster has expertise and knowledge that can help your business grow.
We have created a holiday booking system which is fully integrated into its Channel Manager, and your own direct booking website.
No more clicking in and out of lots of different systems to manage your bookings.
Get in touch, and let's talk about how we can support you, and your self-catering business.