Prepare for 2021/22 bookings
We regularly speak with experts across the industry to help you grow your self-catering bookings.

Watch the replay here.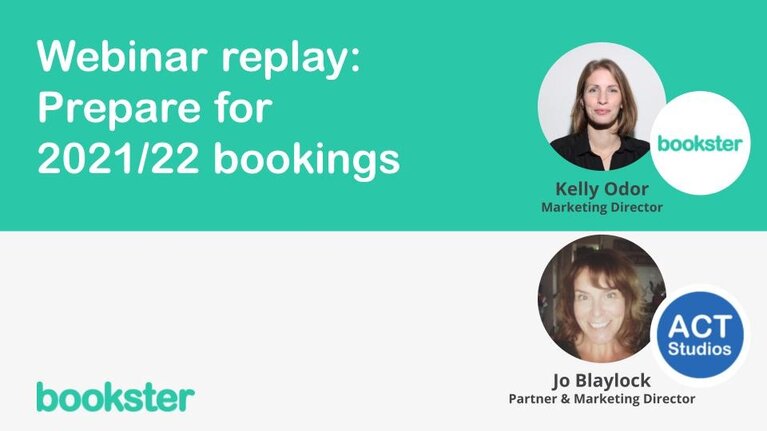 We have seen a 15-20% uplift in bookings, leading to our best financial year ever.
Webinar: Prepare for 2021/22 bookings
With Jo Blaylock of Partner & Head of Marketing at ACT Studios.
For our March 2021 meet-up, we were delighted to welcome Jo Blaylock, partner of ACT Studios.
Jo and her team are experts in providing tailored support for holiday rental owners and managers.
Together they review self-catering and vacation rental businesses, plans and processes, to get them in the best place for attracting bookings to their holiday lets.
Do you manage luxury holiday properties, vacation rentals or quality self-catering properties?
This video is for you.
---
2021 and 2022 bookings for holiday rental and self-catering businesses
We're seeing a surge in bookings for 2021 right up to Christmas 2022!
Jo advised how to build your revenue and help you work more effectively.
She brought her wealth of experience and covered her top 5 recommendations for you, your business, and getting ready for your guests.
Topics covered in the vacation rental webinar
Jo covered her top recommendations to take advantage of the latest surge of bookings.
Pricing: What do you need to do right now?
Social media: Real examples of simple changes that made a BIG difference
New types of guests: Could you earn more revenue from different guests?
Imagery: Spring tasks to add confidence in your property
Being seen: What steps should you take to be seen?
Bookster tools to attract self-catering bookings in 2021
What is ACT Studios?
ACT Studios works with hospitality businesses to drive more bookings and increase overall profit.
They work together with you, to understand your individual needs, and create comprehensive solutions just for you. They focus on:
professional photography and imaging,
expert content creation,
high-end website design,
property management system (PMS),
analysing your guest data
understanding how industry trends will impact you,
optimising your online travel agent (OTA) listings.
Bookster events for self catering and holiday rentals
We have a full year of vacation rental events planned for 2021, so join us!
In March 2022 we were at Tourism Renaissance 2021, covering three topics in attracting bookings this year.
We'll also be presenting at industry wide vacation rental events, so watch this space. If you'd like to check out our previous events, check out our blog covering vacation rental events, and check out the videos.
If you'd like to talk over any topics that we cover, or even those we don't, drop us a line.
Get in touch if you'd like more information on our property management system features, bespoke and template websites and channel manager for holiday rentals.