2019 bookings overview
A dive into the bookings data for any bookings made using Bookster vacation rental software during 2019.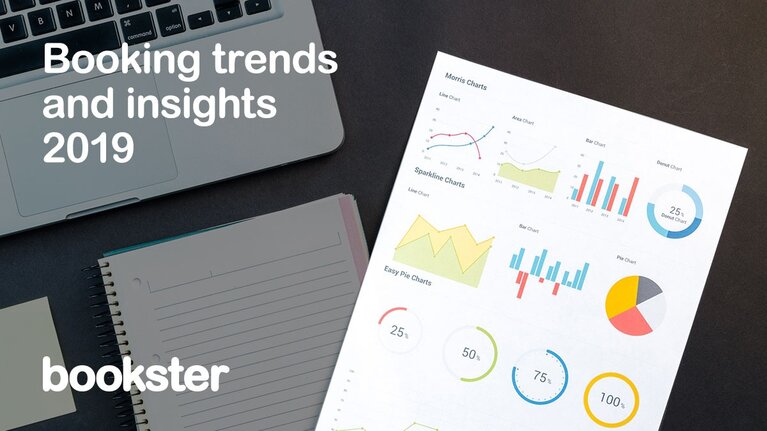 Changes in 2019
2019 saw a year of unrest, with many political influences filling the news.
As Britain prepared to leave Europe, and a change in political leadership, many wondered how this would influence the tourism landscape in the UK and across Europe.
Many new vacation rental companies appeared creating a greater increase in competition.
Some cities across the UK, Europe, and America continuing the backlash against over-tourism and the holiday rentals industry.
But it wasn't all bad. The economies continued to grow, and personal wealth grew in most countries, allowing for expenditure for personal and business travel.
Many vacation rental managers started to look elsewhere for their bookings, in rejection of the fees charged by channels.
This has led to a desire to boost direct bookings through their own websites, which we support with beautiful template and custom websites.
Effect on UK bookings
We've analysed the data of bookings taken from 1 January 2019 to 31 December 2020, and compared them to 2018 data.
Vacation Rental Channels
Booking.com was the biggest single channel with about 51% of bookings - compared to 46% of bookings in 2018.
This accounted for 41% of the booking value for 2019 - the same as in 2018.
Airbnb has increased, with now 11.5% of bookings through Airbnb, which equated to around 12% of the total booking value.
This reflects a continued dependence on channels for attracting bookings and a small increase in the bookings which Airbnb brings.
Booking.com continues to grow in the Vacation Rental market, shaking off its reputation and history for being a hotel only channel.
Our relationship with Booking.com continues to grow as part of our channel manager service.
Length of stay in UK vacation rentals
The average number of nights booked was 4.46 nights, with the majority of guests staying 2, 3, or 7 days. This is slightly lower than in 2018, when the average was 4.68 nights per booking.
This is a strong reflection of the distinct types of holidays booked by guests.
Unsurprisingly, city properties saw high numbers of short breaks whilst rural locations attracted guests for longer periods, particularly by those enjoying the good Summer weather of 2019.
Booking Latency (Time between booking and arrival)
We've reviewed how we analyse the latency data, due to the differences in our property managers and property types.
The median booking was placed 70 days in advance, compared to 81 days in advance of arrival.
The mode booking was placed within 30 days of arrival, and this equated to 41% of bookings.
The difference is due to the large number of guests who book their holidays a year in advance.
This is particularly relevant for longer stays in rural destinations, or in areas with yearly events or festivals.
Booking value and quantity
The average value of a booking in 2019 was £690, up slightly from 2018 (£661).
The average number of bookings taken in 2019 was between 35 and 70.
This is a wide variety, reflecting again the city break and the rural properties owned by our clients. Interestingly some clients received over 100 bookings in 2019.
Compare these with the statistics from 2018 bookings overview and 2017 bookings overview to see changes in the industry.