Meetup April 2020 Summary
Join us in our first live webinar! Martin Sach, Chief Executive of the Holiday Home Association will be sharing his knowledge and advice for property managers across the UK.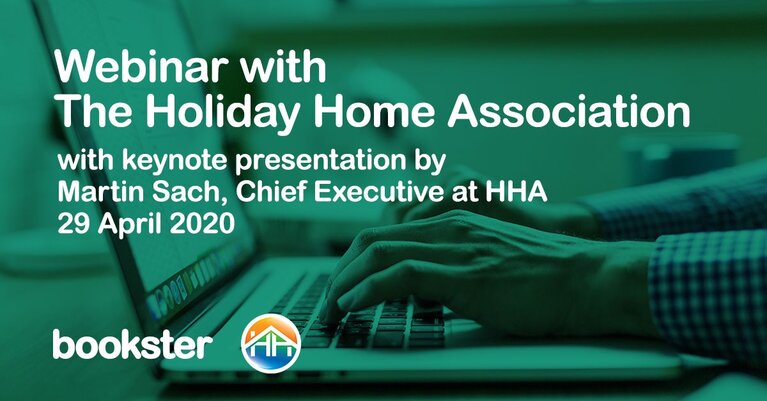 Bookster Vacation Rental Managers Meet-up: April
Update 29 April 2020: Thank you to all the attendees of the event, and a special thank you to Martin Sach for all the advice that you gave.
We'll update this page with the advice and video shortly.
In the meantime, if you enjoyed this webinar, then you'll love our May Vacation Rental Meet-up with special guest Florian Stich from AirDNA. Find out more.
---
We are delighted that Martin Sach, Chief Executive of the Holiday Home Association (HHA) will be our special guest at the Vacation Rental Managers Meet-up: 29 April 2020 at 2pm BST.
The Holiday Home Association has been offering support and advice to holiday home managers for over 20 years!
Exciting new format: Webinar
Due to COVID-19, we'll be bringing this event straight to your doorsteps, through webinar technology.
You won't need to download any software. Simply click on the link in your email at the time of the webinar. You can listen live, or wait for the recording the day after the event finishes.
---
---
Questions for Martin Sach
Martin will be offering advice and support for property managers across the UK, with best practices for holiday property management.
The questions we'll cover in the vacation rental event will include:
An introduction to the Holiday Home Association
Advice for property managers during this turbulent time
How the HHA can help property managers who are having a difficult time
Other resources that property managers can use for support
Add your questions
If you have any questions you'd like to add, please let us know.
How to join the webinar
Simply register for the webinar. You'll be sent an email with a link to the webinar event, which you can click on at 2pm on 26 April 2020. (No need to download anything or enter with a password).
We're looking forward to seeing you there!
We will be holding further events, and you can see a full list of our Vacation Rental events for 2020. If you'd like to talk with us about meeting us, simply get in touch.