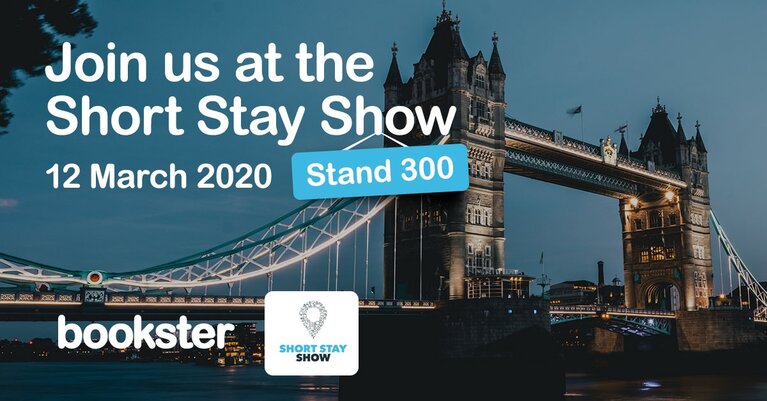 Update 11 March 2020:
Due to growing concerns related to Coronavirus on our team and local community, the team of Bookster have made the difficult decision not to attend the Short Stay Show 2020. For any other information please contact us directly.
Original text:
Bookster is pleased to announce that it will be exhibiting at the Short Stay Show 2020 in London Excel.
Meet us at Short Stay Show - Stand 300
Our goal is to discuss your business needs with you, to see if our tools, features and ethos will be the best property management software to support your self-catering business.
If you would like to meet the team at the Short Stay Show, simply drop us a message and we will arrange a time with you.
We'll be at the stand all day, so please do drop by to say Hello.
Short Stay Show exhibitors 2020
This will be the first year that Bookster exhibits, after the successes of attending the Short Stay Show in 2019 as guests, and presenting at the sister event of the Be My Guest in Carlisle 2018.
Product launches
As always, Bookster will be presenting our newest features and speaking with clients and holiday rental professionals about the industry, the software, and how our services can help companies with holiday rental properties flourish.
Customer research results
By March 2020 we will have undertaken our latest customer research which is a fundamental tool to help our business develop new tools to support our clients grow.
Our Customer Research from Summer 2018 was vital for helping us develop our roadmap for 2019. We'll update this page once we complete the research in Summer 2019.
This combined with our knowledge of the industry has been instrumental for our developments of 2018 and developments of 2019.
Other holiday rental events in 2019
We're planning and sponsoring other holiday rental events in 2019 and events in 2020, so if you can't make it to this conference, please let us know and we can make plans to meet elsewhere.
Short Stay Show 2019 details
This event is in its 2nd year, following great success in its inaugural year of 2019. The event consists of an extensive dedicated exhibitors area and several presentation zones from industry experts.
The exhibitors area is filled with companies working within the self-catering industry, supplying services, products and skills which are essential to build holiday rental businesses.
Thursday 12 March 2020
09:00 - 17:00
ExCel London Royal Victoria Dock,
1 Western Gateway,
London
E16 1XL