ASSC National Conference 2019
Written by Kelly Odor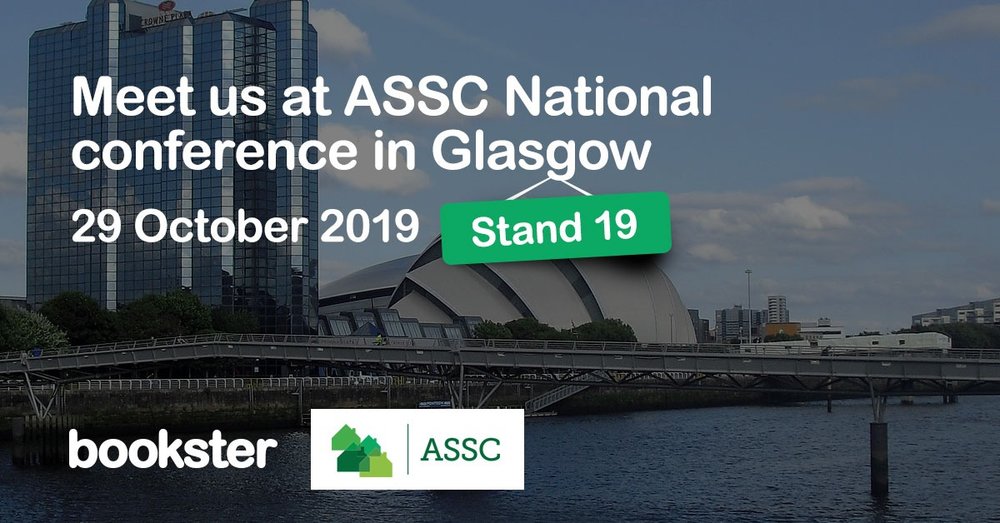 Bookster is delighted to be attending the Association of Self Caterers Scotland National Conference 2019 on 29 October 2019.
Bookster is delighted to be attending the Association of Self Caterers Scotland National Conference 2019 on 29 October 2019.
The team from Bookster attend the National Conference each year, and this year looks to be the best yet.
Bookster presentations
We attended the 2018 ASSC National Conference, where we presented the launch of our latest features, built thanks to the collaboration between Bookster and the feedback from our customers.
Robin Morris, Lyle Markle and Kelly Odor will be at the stand all day, and you can contact us in advance to arrange a private meeting.
We'll be able to answer your questions about holiday home management software and specialised holiday property website design, and how these will help you.
This year we'll be presenting our:
Our Connectivity Partner Booking.com will also have a stand. This channel provides a great deal of guest reservations across the industry.
We would be very happy to talk with you about our latest developments with Booking.com and across our portfolio of services, and how these will support your business whether you manage cottages, apartments, flats or castles.
ASSC events
The ASSC works hard for the short-stay let and holiday rental accommodation in Scotland and each year holds this National Conference for members in the Vacation Rental industry. It also holds a number of smaller local events, such as the Regional Event in Dumfries, sponsored by Bookster.
This short let event provides full day of top presentations, as well as networking opportunities with other self-catering professionals.
ASSC activities
Bookster attends this event each year, as part of its commitment to the work of the ASSC.
They work to support the industry, through promotion of high standards of service to visitors of Scotland. It also works with the Scottish Government and local authorities to ensure that the industry is given representation by lawmakers.
Presentation highlights
The entire conference is focused around the presentations, and we're looking forward to:
The Guest Experience: Exceeding Expectations Simon Lehmann, Chief Executive Officer & Co-Founder, AJL Consultancy LLC
Sustainability & The Circular Economy: Andrea Nicholas, Managing Director, Green Tourism
The event from 2018 included a number of very relevant and interesting presentations, including the Round Table discussion, which covered a great deal of interesting topics.
---
Other vacation rental events in 2019
We're attending a number of holiday rental events during the year, so if you can't make it here, we'll be at a number of other locations too.
Looking forward to seeing you!
---
ASSC National Conference 2018 location:
Hilton
Glasgow Hotel
1 William Street,
Glasgow
G3 8HT
Tel: 0141 204 5555
Everything you need to grow your holiday rental business.
Setup a demo