Applying a long-stay discount
Apply a discount for guests staying at your property for longer periods.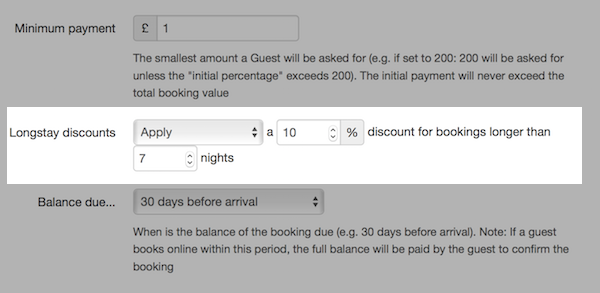 Long Stay Discounts Update December 2019:
The Long Stay Discounts tool was a valued tool by our customers. In December 2019 we updated this feature to apply significantly more flexibility to the options available.
Please see our Long Stay Discounts announcement for 2019 for further details.
---
Original release: September 2017
Bookster can apply a percentage discount for bookings over a specified number of nights.
When logged into Bookster, look in your 'settings' and for the 'long stay discount' setting.
This simple and powerful setting will apply to all your Bookster properties and encourage your guests to book for longer periods.
For more information on this, or any other tool in our property management system, please contact us or ask for a demo.
Everything you need to grow your holiday rental business.
Setup a demo