30 tips for improving your holiday rental business
Key Takeaways
Getting into the routine of making a small change daily can have a big effect
Read 30 tips on how to improve your holiday home business.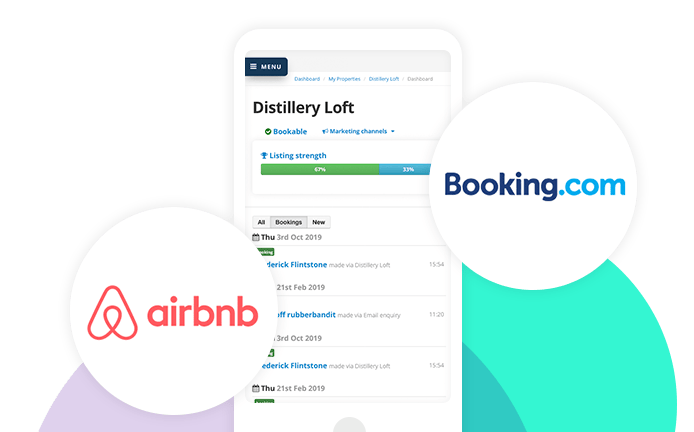 ---
We set ourselves a challenge. Write a tip every work day during May providing advice to holiday home owners. Turns out May wasn't long enough. Read on...
---
Make small changes to your business every day, and watch your business grow.
30 tips of advice for holiday home owners
Whether you have glamping pods, rustic cottages or luxury holiday homes, there will be improvements that you can make to your business.
In the #MayChallenge we posted a tip every work day, and then we did some more in June, because quite frankly, we had more to share.
Make small changes to your business every day, and watch your business grow.
Here they are, all in one place.
TIP1: Go to your website, and try and book your holiday home
What does that booking process look like for your guests?
Was it easy?
Frustrating?
Boring?
If you feel that, your guests will probably look elsewhere.
TIP2: Check all your social media pages include a link back to your website
If they don't, fix that!
TIP3: Check your website for spelling and grammar errors
Use a free tool like Language Tool.
TIP4: Check your Contact Us page
Is it friendly and welcoming with multiple ways to get in touch with you?
If not, time to make a change.
TIP5: Google Business Profile
Update your Google Business Profile with eye-catching photos and your correct details.
I know it's not a sexy, exciting or particularly interesting task, however potential guests may check you're a real business - so your Google Business Profile is an important place to keep up to date.
TIP6: Add names to all photos on your website eg Room + Property Type + Location
No, it's not exciting, but it will tell search engines like Google what's in your pictures + will help people with sight loss.

Try: Living room views over the English coastline, from the holiday apartment in Torquay.
or
Open plan living space with a balcony facing the sea, from the self-catering flat in Devon.
TIP7: Uniforms
Check the uniforms of anyone who comes face-to-face with a guest and in team photos online.

Provide a professional look for every member of your team, especially if they are in contact with guests, or in any photos.
It builds guest trust in you, creates relationships and boosts your brand.

I love this one, as my brand new hoody has just arrived for The Book Direct Show 2023 - in Bookster colours, with the logo on front and a quote from a client on the back.
TIP8: Check your property's first picture on Channels like Airbnb or Booking.com
When potential guests scroll through the Channels, they'll see your first picture.
It has to be your most show-stopping, jaw-dropping, and inspiring photo to get them to click on your property, instead of the 000's of other properties.
TIP9: Leave a welcome note in the property in your brand voice (Part A)
On arrival your guests are actively taking in information:
They're looking for where everything is.
Checking there are no obvious problems.
Looking for reassurance that they've booked the right place.

This is the perfect time to offer a warm welcome, build relationships, and offer reassurance that you're on hand in case of any difficulties.
TIP10: Leave a welcome note in the property in your brand voice (Part B)
To build lasting guest relationships, your business needs a personality, a voice, a style, that is attractive to them.

Consistently use that style in all communications!

Inconsistency creates confusion.

Eg. If you have high end properties, you may communicate in a more professional 'voice'.
Keep that same style whether you communicate in Whatsapp, email, on the phone and in welcome notes.

If you haven't yet considered what your style should be, now is the time!
TIP11: Review your guest bookings
What percentage of bookings come from each channel? Eg Airbnb, Booking.com or direct?

We'll spend the next few days understanding your business, and then you can decide if you want to continue the same way.

The 1st step is to dig into your bookings stats, so get your figures ready!

We'll build on this data tomorrow...
TIP12: Review your guest bookings
How long does each guest stay, broken down per channel?

This will show which channels bring you short breaks, or longer stays.
It may be costing you extra in time + energy to clean and turnover after each short stay - so you may save your time by attracting longer stays!
TIP13: Review your guest bookings
What % of gross and net income comes from each channel?

This helps you compare how much you make both net and gross, which may change how you view your channels.
We'll use this data later.
TIP14: Check your answerphone message.
Do you have one?
Is it the right tone for your guests?

This is part of providing a consistent guest experience.
If you're unavailable to answer the phone, you should have a reassuring message explaining to potential and existing guests that you will get back to them.

If you already have one, you need to listen to it -
Is the sound good quality?
If there is music, is it the right volume and quality?
Is the voice clear, warm, welcoming?
Do you use the same style of language to suit your guests, and consistent with all your other communications?
TIP15: Do you send an email after guests arrive?
This simple email checks that your guests like their accommodation, and irons out any problems (improving that guest review as a result!).
Automate this in your email marketing tool, so it takes none of your time, but creates a big benefit to your guests and your business.
TIP16: Calculate and check your Guest Occupancy Rate
Forget occupancy of 100%!

This doesn't allow for time to refresh and maintain the property, it increases wear and tear costs, and is an indicator that your prices are too low.

It's more efficient to have a lower occupancy at a higher price per night.

Here's how to figure yours out:
Guest Occupancy Rate = (Number of nights booked/total available nights for guests to book) * 100
TIP17: Read all your reviews (The good, the bad, and the ugly!)
Guest feedback is gold.
It tells you with impartiality what is great about your holiday home, and what needs to be improved.

Make a list of everything that your guests liked - the bedding, the views, the coffee maker - as guests value them you should include these in your advertising.

Make a list of everything that your guests didn't like - the noise, the size of the table, the number of chairs, whatever it may be - and find a way to improve them.
Once you've done it, tell everyone on your socials what you've done, and why. It shows you care!
TIP18: Spend a night in your rented property as if you were a guest (take luggage too!)
If you have a family apartment - take the whole family, including the fussiest of travellers.
If it's for relaxing breaks, go with plans to be quiet and relaxed.

Now put yourself in the shoes of your guests -
How did you feel when you opened the door?
What could you smell / see / hear?
Is it really clean in the bathroom?
Are there enough spoons for a family?
You're looking for the bits that you love - so you can tell future guests about that view from the window in the morning.
But.
You're also looking for the bits that could be improved -
Would a seat by the door be helpful?
Do you need more seats?
Does the bed need better sheets?
Is the fridge making strange noises?
TIP19: Use your data to understand your bookings from the channels
In tips 11-13 we recommended you retrieve booking data from the channels.

Now it's time to evaluate:
Which channels bring longer bookings (longer bookings = less turnover = lower admin)?
Which channels bring most gross revenue?
Which channels bring most revenue once you have removed their fees?
Which channels bring you guests that make the most complaints?
What else can you compare?
Use this data to decide:
Do you want to keep working with all the channels?
Do you want to change your prices on some of the channels?
Do you want to spend more time optimising your listings so you can get more bookings from certain channels?
TIP20: Review what you leave for your guests in the property
Gather together the toiletries, condiments, welcome basket, toilet + kitchen roll, tea towels, towels and anything else you leave.
Is this the impression you want to give your guests?
Could it be presented in a better way that suits your guest profile?
Could it be more environmentally friendly to reduce the impact of your business on the environment?
Is there anything useful that you haven't provided?
Would something additional create a better guest experience?
TIP21: Note down all the tasks you do
This is a 3-part series on evaluating and optimising how you spend your time (automating the repetitive tasks, giving you more time for the good stuff).

The first part is just to break down your tasks
Do you answer guests pre-booking enquiries?
Post booking enquiries?
Update content on Channels?
Write advertising for social media?
Whatever you do, make a list (and we'll come back to this later)
TIP22: Count how many hours a week you spend running your business
The second part is to time how long you spend on each of your tasks per week.
Use your list from TIP21.
TIP23: Evaluate your work. What do you spend most time on?
The third part is to evaluate your time (from TIP22).
How long do you spend on each part of your role?
Are there tasks that take up a lot of time, that could be automated?
Are there aspects that another person would be better doing?
This is an ongoing process, so look at this at the end of the week and make choices that will improve how you spend your time.
TIP24: Take a good look outside your property
When a guest arrives, the first impression really counts.

Take a fresh look at the outside area of your home.
Is it clean?
If it's painted, is it to a good standard?
Clear of clutter?
Clear of rubbish?
Attractive?
Smells pleasant but not over-powering?
And finally - can you improve it? If you can, now is the time :)
TIP25: Don't 'we' on your holiday home description and website
We'll spend the next few days looking at your content.

I first heard this expression in a presentation by friend and writer Neely Khan.

She explained that the content you use with your guests shouldn't be all about you.

It should be all about your guests, your guests' needs, your guests' experiences.

So take a look at all the places where you communicate with guests (your property listings on channels, emails, website, social media) and check your language.
Are you focused only on yourself?
Or on your guest?
TIP26: What incentives do you offer for repeat guests?
Repeat guests are gold.
There's no charge for using the channels, and you know from experience that these guests will treat your holiday home with respect.

So how will you encourage them to return?

TOP TIP: It doesn't have to be a discount!
An email or a letter inviting them to return is a good habit to get into.
Offer an attractive extra that adds value to their trip
Breakfast included on the first day
Add a promotional extra day at no cost
Late check-out
An upgraded welcome basket
Something that you can source locally makes this even more special.
TIP27: Communicate regularly with your past and future guests.
Do you have an email list of past, present and potential guests?
Ensuring you follow GDPR rules, use this list to keep in touch with your guests - and stay in their minds.

You can provide:
Updates to your home, like new decor or a new sofa
Local events that are coming up
Special offers
Last minute availability
Things to do nearby.
A question we're often asked is how often to be in touch.
This is entirely down to you and your guests.
Some of our clients are in touch monthly, some bi-monthly.

If in doubt, ask your guests how often they'd like to hear from you!
TIP28: Review how you manage your bookings.
Using TIP23 you should know how long you spend on managing your bookings.

Could you reduce this time by improving your processes?

If you manually update bookings on paper / on spreadsheets / in antiquated booking systems, there are a number of options for you, that can dramatically reduce the time you spend managing your bookings.

As the holiday rentals industry has grown, so have the number of software solutions that can save you enormous amounts of your time, and significantly improve your business.

Take a look at your processes and research what improvements you could make for a better 2023.
TIP29: Review how you automate emails.
Spending time on crafting beautiful emails can be satisfying, but there are easier ways that create the same effect but save you hours per day!

Create automated emails that answer your guests questions before they've even asked them.

There are lots of email software available, including Mailchimp and Campaign Monitor, and if you use a Property Management Software they may also have an email software built in.
TIP30: Share your most special aspect.
During these last 30 days we've recommended reading reviews and stay in your property. This should tell you what makes your property really stand out for your guests - so it's time to use that information to attract new guests.

Use that special point (the view, the coffee maker, the comfy bed, the local walks) and put it up front in your listing descriptions, in your photos, in your social media.

Tell people that your guests love this aspect...and that they will too.
---
Every day of May we shared a tip to help you improve your holiday rental business.