Acronyms in the Short Term Lets Industry
Key Takeaways
There are lots of acronyms in the short term let industry
They are for software, associations, properties, pricing and associations.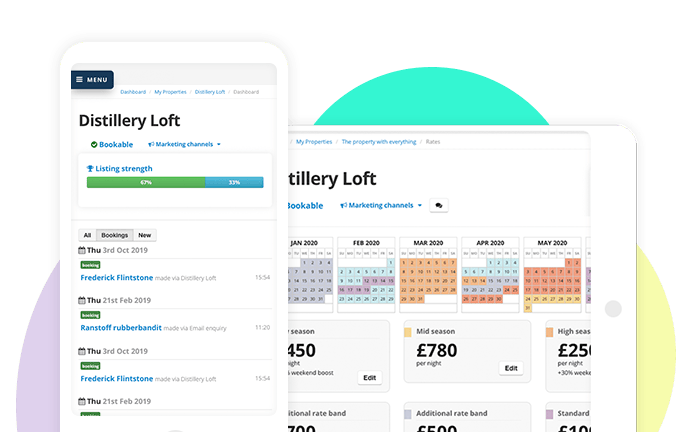 ---
The short term let industry is full of acronyms. Ever wondered what they all meant? Look no further.
---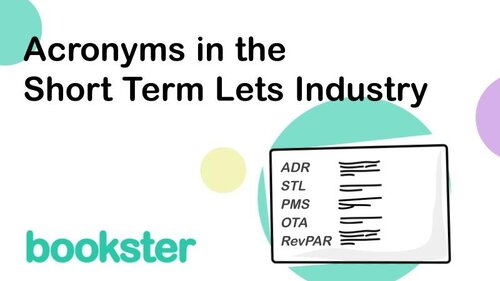 Acronyms in the Short Term Lets Industry
There are an increasing number of acronyms used in the Short Term Lets Industry, and the list is growing as the industry matures.
As a property management software provider, we're here to help you grow your business through providing tools to attract bookings, manage bookings, and manage guests' needs.
To help you understand the tools we offer and the tools across the industry that will support you, we've noted here the most common acronyms.
We'll update this list as and when there are new ones!
Property type acronyms
HR
Holiday Rental
HL
Holiday Let (This includes Self-Catering Home / Apartments / Cottages / Castles / Boats)
STL
Short Term Let
VR
Vacation Rental
Holiday Rental Software acronyms
PMS
Property Management Software (e.g. Bookster)
Software that helps you run your vacation rental business.
Holiday Let Pricing acronyms, commonly used in Dynamic Pricing
ADR
Average Daily Rate
The amount of money on average that is received for a booking in a property during a fixed period of time.
ALoS
Average length of Stay
The length of time that a guest stays in a property on average during a fixed period of time.
ARI
Average Rate Index
A comparison between the property's Average Daily Rate (ADR) and the competitors ADR during the same period of time. This is one piece of data that helps you to evaluate if you need to adjust your pricing.
CMA
Comparative Market Analysis
A report that evaluates similar properties in a pre-determined area. This helps you evaluate the value of your holiday rental property.
RevPAR
Revenue per Available Room
According to AirDNA, "RevPAR is the Revenue Per Available Rental and is calculated by dividing the total revenue earned by the number of available listings.
Eg If the total monthly revenue (daily rates + cleaning fees) for all available listings is $200,000 and there are 100 active listings, then RevPAR would be $2,000."
Book Direct tools
Direct Booking Widget
A Direct Booking Widget is a nifty bit of code, that you add to your own website.
This provides potential guests with a method to book their dream stay. The most common options are:
a Book Now button that sits on a single property listing
a Calendar that sits on a single property listing
a Multi-Property Search Engine which is a standalone page.
This page displays a Search Bar to search by date and guest numbers, or filter by property feature, such as a Swimming Pool or Suitable for families
Multi-Property calendars which are on a standalone page.
This page displays each property and the availability calendar for each property alongside it.
Holiday Rental Association acronyms
ASSC
Associations of Self-Caterers in Scotland (Scotland) Bookster is a long-standing member and supporter of the ASSC.
ASTRHO
Association for Short-Term Rental HomeOwners (North American based) Bookster is a member of ASTRHO.
EHHA
European Holiday Home Association (Europe)
HHA
Holiday Home Association (England)
HOA
Homeowners Association (North America)
ISCF
Irish Self Catering Federation (Ireland)
Fevitur
La Federación Española de Asociaciones de Viviendas y Apartamentos Turísticos (Spain)
PASC
The Professional Association Of Self Caterers UK (Predominantly England + Wales)
STAA
Short Term Accommodation Association (England)
VRMA
Vacation Rental Managers Association (North America)
Marketing Channel acronyms
OTA
An Online Travel Agent. For example Airbnb or Vrbo. Websites used to attract bookings for holiday rental properties.
API
Application Programming Interface: something that allows two software applications to talk to each other.
In short term rentals, APISs are often used to connect a software such as Bookster property management software with a channel software, such as our Channel Partner Airbnb or a cleaning software, such as our partner TurnoverBnB.
The connection will then share information from one software application to the other, such as booking details, calendar availability, cleaning schedules.
iCal / iCalendar
A digital calendar format for sharing calendar and scheduling information.
In holiday rentals it is commonly used for sharing property availability. Can also share booking arrival and departure dates which is useful for cleaners and property owners.
---
There are many acronyms in the short let industry, but don't be confused. We're here to help.