Turno and Bookster partnership
Key Takeaways
Automate cleaning tasks and checks
Pay cleaners for their work
Communicate with your cleaners
Bookster ⇄ Turno: Sync Properties and Bookings
Bookster and Turno are partners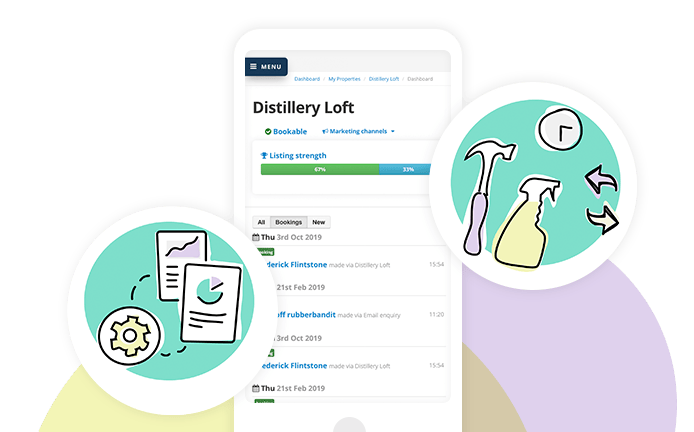 ---
Bookster and Turno have teamed up to provide extensive cleaning tools for your holiday rental business.
---
Bookster and Turno have teamed up to reduce the time you spend overseeing and managing your cleaner and maintenance tasks.
Use Turno and Bookster
Bookster is committed to supporting your business through three core areas: attracting bookings, managing guests and managing bookings.
An important aspect of managing your bookings is ensuring that your holiday homes meet your guests' expectations.
This starts with providing a clean self-catering home, fully stocked with all the necessary supplies such as toilet rolls and towels, with no damage left from previous guests.
If you provide a welcome basket, you'll want this to be there when guests walk through the door.
To do this, you need to support your cleaners and maintenance employees.
Your team needs to know exactly what they have to do in order to provide the best service to your guests.
Introducing Turno
With a Turno account, you can automatically manage all the important cleaning and maintenance tasks to provide a 5-star clean for your guests' arrival.
With Bookster and Turno, this is automated, saving you time.
What could you do if you had hours freed up every week?
Who can use Turno with Bookster?
Any Bookster client can use Turno.
Create your account with the amazing team at Turno
Synchronise your Bookster account with Turno
Turno will import bookings to automatically generate cleaning projects associated with guest check-in and check-out dates to be shared with cleaners.
That's it! Easy.
What is Turno (Previously TurnoverBnB)?
Turno is a software service that helps you schedule, pay, and find vacation rental cleaners for your property listings.
It automatically synchronises with your bookings in Bookster to collate everything for your cleaning and maintenance into one central location.
Turno is a single app to schedule cleanings with automatic assignments, delegation, and acceptance.
No more waiting to see if your property will be ready for your next guest.
You'll be able to use their extensive features:
Inventory Management

Keep Track of Inventory
Customize Item Quantity
Get Instant Notifications
Avoid Extra Trips

Real-time Problem Reporting

Address Damage
Coordinate Repairs
Share Problem Details
Stay Organized

Photo Checklists

Manage and Update Tasks
Track Cleaner Progress
Easy Image Upload
Ensure Consistent Quality

Auto Scheduling

Sync Your Calendar
Find and Invite Cleaners
Automate Your Cleaning

Auto payments
Cleaner Marketplace
Why do cleaners and maintenance teams love Turno?
Your cleaners and maintenance staff will have their own App on their phones.
This will detail:
Work scheduled
Check-lists for each property
The option to upload photos demonstrating the completion of tasks.
This gives you the confidence of cleaning inspections, from your desk.
The option to upload photos of damage or degradation.
This will help you schedule maintenance repairs automatically.
Updateable inventory checklists.
This will notify you when stocks are running low and require attention.
Why use Turno with your self-catering properties?
Save time with managing your tasks, and worrying if the cleaning has been completed to the high standards that you and your guests expect.
The team at Turno can take away the day-to-day cleaning and maintenance tasks that take up your time, leaving you free to spend your time on the more enjoyable aspects of your life.
---
Bookster and Turno have partnered to extend the services you provide your guests through extensive automated cleaning and maintenance tools.