Attract self catering guests
Key Takeaways
Bookster offers training and support to help you attract more guests
Step 1: Research your properties and guests
Step 2: Put the learnings into action
Bookster is by your side as you grow your business. Ask us for support.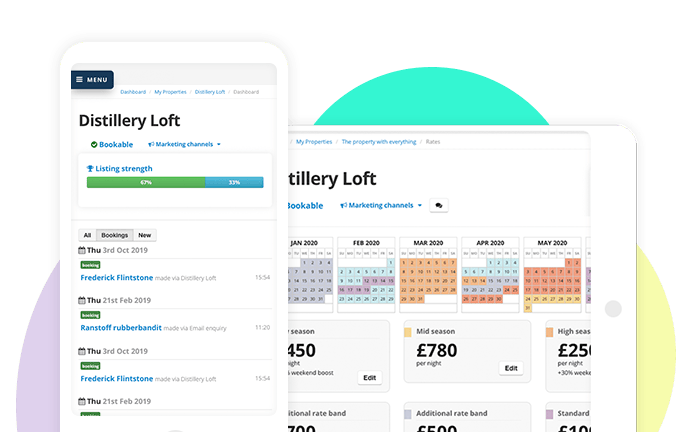 ---
Learn the techniques and use the tools at hand to attract self-catering guests to your holiday rental property.
---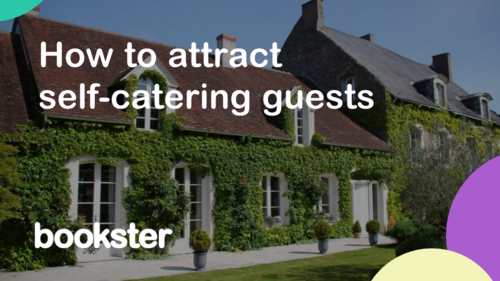 Once you have an understanding of your guests and their needs - you can take action!
How to attract more self-catering guests
Attracting guests to your holiday rental involves learning and applying new skills.
These skills are in planning, understanding your guests, and analysis of your results.
The key aspect to remember here is that not all guests are the same.
Who is the ideal guest of your self-caterings property?
The first step in attracting more guests is answering this question; "who is your ideal guest?".
From this you can create your strategy and build a stack of technology to help you provide great guest experiences.
---
Phase 1 - The research
It's time to start investigating.
Who are your properties suitable for?
1. Your property style
The nature of your property lends itself better to some groups than others.
Entrances with no lift and a heap of stairs may be unsuitable for families with younger children and prams, but great for younger couples.
Properties with fenced-in secure gardens may be particularly attractive for those with young families.
This can be a broad definition, such as families, but broken down further e.g. families with small children, families with older children, larger families with multiple generations etc.
Other groups to consider include, but are not limited to:
Corporate travellers.
Couples.
Small groups.
Remote workers
Retired travellers.
Guests with a form of disability or those who require an assistance dog.
Retreat groups.
2. Your property neighborhood
Your neighbourhood also provides information.
Is it a lively, noisy location?
Are there special events nearby that may attract certain types of guests, eg music, business, or sporting events?
Are there activities close by, eg bars, family amusement parks, sports arenas?
3. The history of your self-catering bookings
A good place to look is at your previous guests.
Look at the history of your bookings, and the reviews they left.
Who booked your property in the past?
Were they happy with the location and property?
---
You now know who you want to attract to your property.
Now you need to understand how to reach them.
Where do your guests gather information?
Now that you know who your guests will be, you need to understand:
Which social media they use eg Facebook.
Who influences their decision.
How they book their holidays.
This will help you understand:
Which social media channels to use.
Which global portals / channels to choose from your channel manager.
What style of website to create.
What messages to include.
What do your guests like?
All guests will be different, it almost goes without saying. They'll:
Want different features in a holiday rental.
Have different service expectations.
Need different information.
Be attracted by different information about the property and local area.
Use this information to decide:
What photos to include.
What to include in your property description.
What to write on your website.
What to add to your social media.
How to communicate with guests.
Once you have an understanding of your guests and their needs - you can take action!
Phase 2 - Put it into action
The next plan is how to drive potential guests to your website and provide the best possible experience.
Property management platform
Use a platform or property management software that allows you to manage your guest requirements within the booking platform.
Check out these tips for choosing a property management software and our guide on how to choose a PMS.
Channel Manager
Use a channel manager software that will support you reach your target customers on local, specialist, and global channels.
There are different options available that provide different levels of benefits and costs.
iCal connections share calendars and availability.
Full API connections share property data, prices, availability, and bookings.
Everything in between.
---
Clients who search for properties may not book immediately. There are many factors in play, which may add a delay between searching and booking.
So keeping in touch with potential clients is vital.
There are lots of techniques to build relationships with your clients, we've listed a few here.
Website
Create your own branded self-catering website to attract guests, and pay no commission on your bookings!
There are a number of options available.
Create your own site on a basic website builder.
Create a specialist template website designed to boost self-catering bookings.
Work with a designer to create a custom website.
Check out our tips for creating a vacation rental website.
Newsletters
Sending regular newsletters is a great way to communicate and stay in touch with potential and previous guests. These must be only for people who have registered for marketing.
Use the information about your guests to tailor what you'll write, and how often to contact them.
Review the success of these newsletters using your Email Marketing tool and Google Analytics.
Social media
Choose the social media accounts to attract your guests based on your research.
Many property managers find success on Instagram, Facebook, and Linkedin. Remember this is not about your preferences, but how to attract your ideal guest.
Use the information about your guests to decide on the messages and images for your social media campaign.
You should review the success of your social media actions regularly to ensure that you use your time wisely. This can be used in specialist Book Direct tools and Google Analytics.
SEO
Rank your website well on Google and other search engines, like Bing.com using Search Engine Optimisation (SEO) techniques.
Undertake an SEO plan yourself or employ search engine optimisation experts to help you.
Review the success of your efforts using Google Analytics and Book Direct tools.
---
Let us help you
For support in setting up your self-catering business, don't hesitate to use the resources around you.
There are vacation rental events held regularly, which can provide a wealth of knowledge and tips from other property managers.
Read through blogs for self-catering managers and owners that provide tips and techniques for managing your holiday rental business.
And we are here to help. Simply drop us an email or call us for a chat about how we can support you.