Meet-up: AirDNA Summary
Florian will be joining us live from AirDNA to talk through the future for holiday rentals in the UK during our May Webinar. Join us!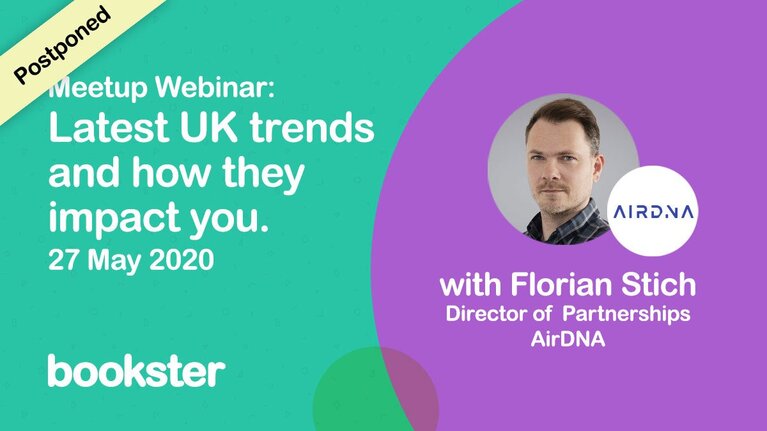 Update: Event Postponed - more information soon.
________
Bookster Vacation Rental Managers Meet-up: May
Florian Stich, Director of Partnerships of AirDNA will be our guest at the Vacation Rental Managers Meet-up: 27 May 2020 at 2pm BST.
Who is AirDNA?
Holiday home data is essential for valuable insights into holiday rental performance.
AirDNA collects this data and applies its unique analysis to 10 million vacation rentals across 80,000 cities worldwide.
Why is it important to analyse booking data?
This data is vital to analyse trends to predict behaviour, for bookings, availability and price.
This is essential to shape sales strategies and get the most out of your holiday rental income.
---
---
Points for AirDNA webinar
The industry is changing rapidly, and a lot of the changes are being directly influenced by Governmental decisions.
As we write this, the UK legislation doesn't allow for holiday rentals to be rented as 'holiday accommodation'.
However, there is some flexibility about the properties being used by NHS and in other extreme circumstances.
As we approach the event, AirDNA will analyse the market to identify trends and review how these will affect UK holiday rentals.
Add your questions
If you'd like to add questions to the event, either contact us beforehand with your questions or ask them during the event in the questions section.
Webinar format
Following on from the success of our webinar with the Holiday Home Association in April 2020, we'll be presenting this event via Webinar.
You can either listen live and ask questions directly to Florian, or listen to the recording which will be available the following day.
How to join the webinar
All you need to do is register online.
We'll send you an email with a link to the event. Just before 2pm on 27 May 2020, you'll be able to click the link to join us. (No need to download anything or enter with a password).
We're looking forward to seeing you there!
For details of all the other places we'll be during 2020, please check our events 2020 post.