Bookster Events 2019
Written by Kelly Odor
Meet and learn with Bookster.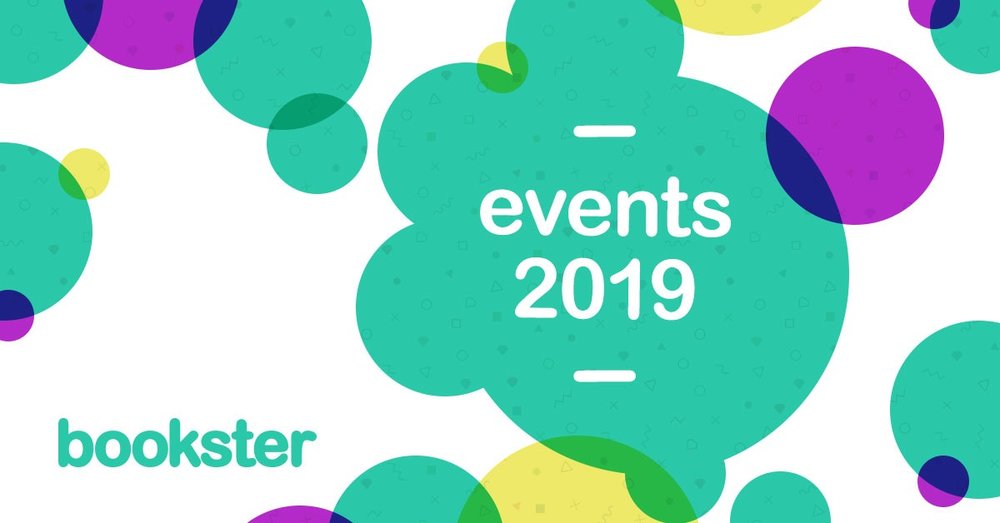 Meet with the team from Bookster! Find out more about new developments, and top tips that will help your business grow.
We'll be attending holiday rental events, conferences and tradeshows all over the globe in 2019.
Will you see Bookster at events in 2019?
Are you are working in the vacation rental industry, as a property owner or manager, concierge, or in any other role within this exciting industry? Get in touch, we would love to talk with you about how Bookster can help your business.
We also run the Edinburgh Vacation Rental Meet-ups, bringing together a knowledgeable group of individuals working in the vacation rental property industry.
The Meet-up event starts with Special Guest Presentation from an industry expert, followed by a relaxed networking session.
The goal is to learn from each other and share stories and experiences. There's no cost to attend, simply register on the Meet-up site, and come along. All welcome!
What we'll cover in our events 2019
In the 2019 events we'll be talking through our developments of 2018, as well as launching our new developments.
This includes the option to:
These developments came directly as a result of evaluating our customer research from 2018. We've got lots more new features and enhancements underway, which we will present shortly.
Upcoming holiday rental events in 2019
Holiday Rental Events in October 2019
The speakers this month are Robin Morris and Lyle Markle from Bookster. They'll present insights on how to get more direct bookings through top tips, software tools and web design.
We attend the ASSC National Conference in Scotland each year, and were delighted with the turnout and the quality of presentations at the ASSC National Conference 2018.
This will be the first time that this event has taken place, and we're delighted to be taking part.
Holiday Rental Events in November 2019
We are very excited to be returning to WTM in 2019, after the launch of the newly branded Travel Forward 2018 tradeshow in WTM 2018.
Last year we presented the launch of the Online Bookings Calendar and Owner Statements, which were very well received by our clients.
Holiday Rental Events in December 2019
No events planned.
---
Past events and tradeshows of 2019
These events have already passed, but we'll be there again next year.
Holiday Rental Events in January 2019
Safehost presented the four key methods to ensure that your holiday let properties have the appropriate legal certificates.
Holiday Rental Events in February 2019
Meet-up with Google Digital Garage
Google Digital Garage presented the variety of ways to get your holdiay let business visible on Google.
Holiday Rental Events in March 2019
We attended the Short Stay Show 2018 as guests, and will be delighted to visit again for the Short Stay Show 2020. This was the first event of its kind, and was filled with stands, presentations and meetings with vacation rental experts from across Europe.
ITB 2019 was an event attracting global vacation rental experts from across the world, and at this event we presented our latest developments.
Holiday Rental Events in March 2019
Bookster has been a partner of Booking.com since 2017 and we're delighted to welcome Lucy Aitken from Booking.com to present as our special guest on the changes of the industry in Scotland.
We've recently been making developments on our Booking.com connection, to make it even easier for property managers to use this channel to rent holiday rental properties.
Holiday Rental Events in April 2019
We are delighted to invite Google Digital Garage along to discuss techniques to gather the data we need about our websites, to find ways to attract new visitors.
Holiday Rental Events in May 2019
Meet-up with Visit Scotland: 21 May 2019
Visit Scotland are part of the Bookster Channel Manager, and we are happy to have them as special guest presenters at our event. They will be presenting how to use the uniqueness of your property and local area to attract guests. Unmissable!
Update 1 June: Read our Summary of the VisitScotland Meet-up here.
Association of Self Caterers in Scotland Regional Event in Dumfries: 13 May 2019
Aimed directly at the people and businesses who operate short-term let and holiday rental accommodation in South Scotland.
There will be a Q&A session with an industry panel and plenty of networking opportunities with refreshments provided.
Update 16 May: Read our Summary of the ASSC Regional Event here.
Holiday Rental Events in June 2019
Holiday Rental Events in July / August / September 2019
No events planned.
---
Bookster is dedicated to growing a property management software for the holiday rentals industry.
Our goal is to provide a comprehensive property rental system. It supports teams working in rental businesses, without over-complicating processes and definitely doesn't require long training sessions.
If you would like to know more about Bookster property booking software and all the cloud-based tools we offer, please ask us for a demo.
Everything you need to grow your holiday rental business.
Setup a demo