Press Release: For immediate release
Do new Traffic Lights indicate the end of Staycations?
+44 (0)131 510 6946
www.booksterhq.com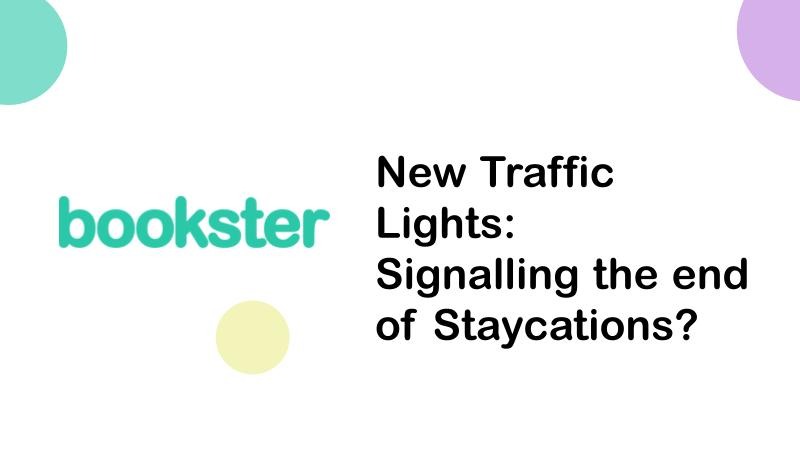 October 2021 brings a new traffic light for travel change in the UK, leaving just Red and ROW (Rest of World).
"It's been crushingly difficult for businesses across the UK, and the survival of some companies through this crisis is thanks to the boost of Staycations."
A future for Staycation holidays?
Edinburgh October 2021: From 4 October, the UK Government implemented a simplified system for travel. The Red, Amber, Green system have gone, leaving just Red and ROW (Rest of World).
But what will this mean for Staycation holidays in the future?
2020 and 2021 saw unprecedented highs in UK Staycations, benefiting UK businesses from caravan clubs to holiday rentals, shops to tourist attractions.
Bookings revenue for UK holiday rentals from June to August 2021 increased by 3% compared to the same period in 2019 (pre-pandemic)*
(AirDNA data, October 2021).
This increased revenue to UK businesses may not compensate for two years of disruption, but for many, it has provided an urgently-needed boost of income.
So what will the new Red or ROW system mean for UK businesses? Will all holidaymakers be scrambling to book a warmer foreign break?
Managing Director of Bookster, Robin Morris said "After a long period of restricted international travel, we are delighted to see more flexibility for holidaymakers wishing to travel further afield.
In the 14 days since the 17 September announcement, we've seen UK holiday rental bookings increase by 12% compared to the previous 14 days*, and UK bookings are already filling up for 2022. This reflects that although holidaymakers can embrace the opportunity to travel abroad, the trend of Staycations is here to stay."
If you are interested in talking further about Bookster's insights on travel and tourism, contact kelly@booksterhq.com
*Compare this to 2019 when the bookings made during 17-30 September reduced by 1% compared to 3-16 September.
---
About AirDNA.
AirDNA turns industry-savvy, short-term rental data into strategic, actionable analytics. As the world's leading provider of short-term vacation rental data and analytics, they track the daily performance of over 10 million listings in 120,000 markets globally. Vacation rental hosts, property managers, hoteliers, and real estate investors all rely on AirDNA's vacation rental insights to optimize their listings, find lucrative properties and outperform the competition.
END