Press Release: For immediate release
NHS Workers supported by Self-Catering Industry
+44 (0)131 510 6946
www.booksterhq.com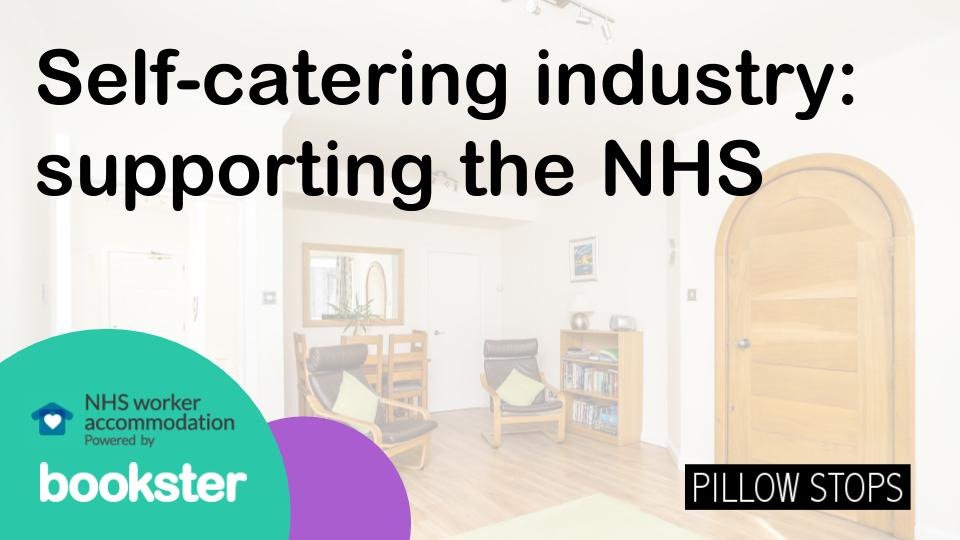 The self-catering industry delivered much needed support to the NHS in COVID19. We talked with Derek Gibb of Pillow Stops, and his NHS guests, to talk about their experiences.
The self-catering industry is part of a wider network of professionals who provide high-quality services to guests. They pulled together to provide a much needed service to the NHS, and we're proud to be a part of that.
Elation as local self-catering owners provide NHS workers a home during COVID19.
Self-catering industry delivered much needed support to the NHS in COVID19.
Edinburgh, 28 September 2020: Many NHS workers were left in urgent need of accommodation during the COVID19 outbreak.
Bookster, the Holiday Lettings Software company responded by building website 'NHS worker accommodation', and appealed to UK property managers to support the NHS.
Many property managers got involved, including Derek Gibb of Pillow Stops, who offered his property on the Royal Mile.
He told us "I saw the appeal to offer vacant properties to the NHS and decided that it was something I could easily do to help the NHS and signed up there and then. It was good to be able to do something positive to help."
Many self-catering properties were vacant during lockdown, and property managers were keen to help.
Derek added "The flat has its own private door and small turnpike staircase directly off the High Street so ideal in these Covid19 times!"
We spoke with one guest, an NHS junior doctor who was graduated early to help with the crisis.
She told us "My old flat lease had ended therefore the offer of Derek's place came at the perfect time for me and enabled me to carry on working."
"It would have been very difficult for me as I would have had to find somewhere to rent short term. Because of lockdown, no estate agents were doing tours of their properties and offices were closed. It would have been a very stressful time trying to rent a place on top of getting used to a new job."
She added "His kind gesture made our year!" and she was "elated" to find accommodation during an uncertain time.
Managing Director of Bookster, Robin Morris said "Helping the NHS during this difficult time was our goal, and I'm ecstatic that so many NHS workers benefited thanks to our NHS Worker Accommodation website."
He added "The self-catering industry is part of a wider network of professionals who provide high-quality services to guests. They pulled together to provide a much needed service to the NHS, and we're proud to be a part of that."
About Pillow Stops
Pillow Stops is a family self-catering business with properties across historic parts of the capital city of Edinburgh.
stay@pillowstops.co.uk
www.pillowstops.co.uk
END