The Book Direct Show / VRMA 2022
Key Takeaways
Watch the video from live event: Short Term Rentals: Planning for 2023
Legislation is coming like a tsunami
Build your toolbox
Automation is the answer
Home tech is the future now
Run your business, your way.
Kelly Odor of Bookster pms presents her top 5 takeaways: The Book Direct Show and VRMA 2022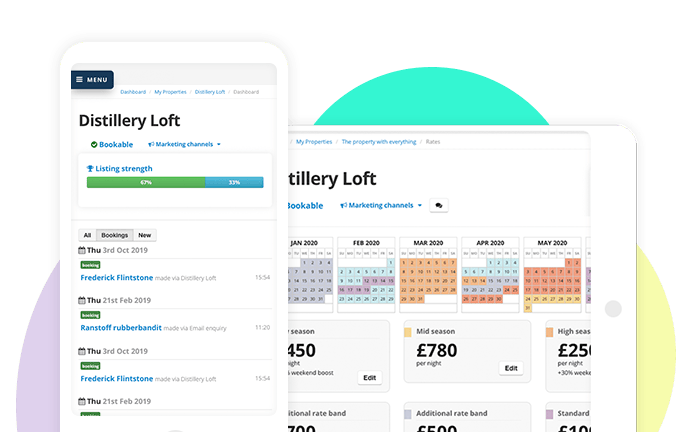 ---
Kelly Odor of Bookster property management software presents at the Scale Rentals + Bookster event in November 2022
---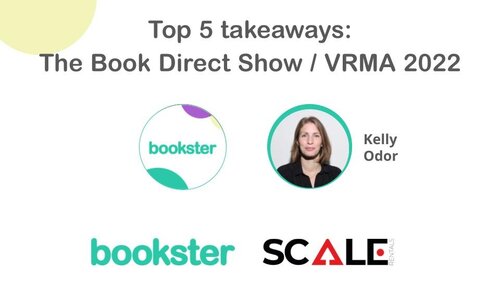 Don't be afraid to try something new.
Don't be afraid to be adventurous because it's your business.
Put your heart and soul into it, and I hope it goes well.
Top 5 takeaways: The Book Direct Show and VRMA 2022
Kelly Odor, Marketing Director of Bookster property management software presents her Top 5 takeaways from The Book Direct Show and VRMA of 2022.
This presentation is part of 3 live presentations at the Short Term Rentals: Planning for 2023 event.
Other presentations from this event:
Script:
My name is Kelly Odor and I'm the Marketing director of Bookster. Bookster is a property management software company.
We're based here, this is our office.
And as you know, in this industry, there's lots of very time consuming, repetitive tasks that you have to do for your guests and for your bookings and so on.
And that's our job, to try and help you to manage your or your bookings to attract new bookings, whether it's on your own custom or Instant website or maybe if you decide to use the channels that way and to help you manage your guests' needs.
So if you want to talk to me or anybody, you're more than welcome to do so.
The reason why I'm here today was because I was very fortunate last month to go along to the Book Direct Show organised by Damien and also the VRMA in the States, because we really wanted to understand what's happening in North America.
What are the similarities between there and here?
And what could we learn that would actually help us support our clients here as well as over there?
1. Vacation Rentals Legislation hits like a tsunami.
You will be surprised to hear that the first thing that we learned, and every single property manager that I spoke to over there talks about legislation.
Every single one.
It is genuinely coming like a tsunami and it's just wave after wave.
California is obviously majorly hit, but there are other sectors as well that are seeing changes and that's very much like what we're seeing here in Scotland.
The advice that was given to me by property managers over there who have been going through this process now for years, is to be proactive.
So I know some of you are here from Edinburgh andI know some of you here from the Highlands, but for those of you who are not, this is coming.
So you need to be proactive thinking about what you can do to defend your business and look after your guests.
So I would like to give credit to the person who gave me this bit of advice, but I actually can't remember.
Maybe Damien will remember, but he said to me, if no one is talking about legislation with you, then they're talking about it without you.
And it's true.
And it's so relevant because Fiona is here and Fiona is going to a lot of meetings.
She is representing you and your businesses, but ultimately she can't be everywhere.
She is just one person and there are lots of meetings that are taking place that we're not at.
And we're here at this meeting, in fact.
And there is likely to be a very similar meeting happening somewhere else against holding rentals.
So we need to be there.
I'll give a really good example, actually.
I was speaking to a guy called John from Hawaii, and he was telling me when he was starting his business, he was so confident there was no legislation coming in it was all equal.
Everybody was super happy.
And then the legislation came in and now he's properly fighting for his business.
2. Build your toolbox.
That brings me on to my second point.
I always talk about toolboxes in marketing, the tools and the skills that you have to be able to attract new guests or attract a new market.
But what was very clear when I was over there, where we were talking about building a toolbox in a very different way, so we were thinking about the voices that are against you.
So what you put in your toolbox depends on where you are and what people are saying about your particular industry.
Well, whatever those things are, you need to be listening and build up your evidence.
And these are your tools that you can use when you're looking at your licensing, when you're looking at the legislation.
So the tools that were recommended to me were these.
Be proactive
Join local associations
Learn from others
Build neighbourly relations
Take evidence with tech tools
Follow rules: taxes, waste
Work with your community
So the first one is to be proactive, kind of covered that.The second one is to join local associations.
This is a big thing.
There's a couple of associations over there who are putting a lot of energy and effort into defending the industry.
And we know over here we've got Fiona, who has spent sleepless years trying to help with this particular problem.
So if you are not a member of the ASIC, but you are here in Scotland, Fiona is your woman because she's defending and looking after your business.
The second part to this was actually about learning from others, because a lot of other countries have gone through this process before and there are things that we can learn from them.
Rent responsibly have a lot of information on property managers who have gone through this experience.
https://www.rentresponsibly.org/
And there's a lot of advice on how to create your own advocacy campaign, because Fiona cannot be there, everywhere and she doesn't necessarily know what people in your street, your community, are saying.
But you can work together as a community to have meetings to discuss, to share ideas and policies.
So again, this is one of the reasons why tonight after this, we're having drinks here because we want you to be able to share your information, share what you're doing and learn from each other.
The next point was about building neighbourly relations.
That's a big thing in the States.
They have a lot of neighbours who are complaining about vacation rentals and closing those businesses down, and we can see that's happening here.
So their advice was to build neighbourly relations.
Even if you don't think you're going to be affected by that legislation, build your neighbourly relations.
Because the better that relationship is, the better it's going to go in the longer term when it comes to your property.
The next point was about taking evidence with tech tools, and I'm going to come back to this anyway, but if you have a neighbour or an individual who's complaining that your properties are being used for parties and there's late nights coming and going or people are smoking.
You are just one person and one voice against another person.
The recommendation is that you're using and taking evidence using technology, impartial technology.
So you can actually refute these arguments.
And there was a lot of people who were saying this is exactly what they were doing and that's how they were winning and keeping their business, following rules.
So I actually wasn't going to put this one in,but about two weeks ago I saw an interesting poston one of the Facebook pages for Edinburgh.
So by following rules, people were talking about taxes,waste disposal, just how you run your business according to the rules in your local area.
The reason I've put it in is because I saw a post from a lady who was saying a neighbour had made a complaint against her property, if I remember this correctly.
And it was because of the way that the waste was being disposed of from the property as a result.
The council then asked how she disposed of her waste and that's going to have a detrimental effect on whether or not she can continue working.
The recommendation from the US is check out what your local rules are and make sure you're following them.
That means your taxes, that means your waste means looking after your cleaners.
And the last one here is working with your community.
And this is another big thing there in theStates, getting together, working together, making sure that you're showing that you're actually having a positive effect on your community, not a negative effect.
Talk to the restaurants and the cafesand the local businesses around you.
Look at how you're supporting their business by encouraging your guests to go to those cafes.
And that way you can actually demonstrate, no, actually you're having a positive effect, not a detrimental effect on your community.
3. Automation for vacation rentals is the answer.
Automation is very much a hot topic.
The reason is because in America and well, North America generally, they have a real staff shortage issue.
So the property managers that I spoke with had this huge array of different types of software and different types of solutions that would help them carry on their business at this time.
And the reason why I'm mentioning it here is because I know I have clients who can't get cleaners and who are having to have their cleaners drive for hours at a time just to go to the properties, because they can't get cleaners in that local area.
So there are staffing issues here and well, we're not going to automate the actual cleaning, but you might want to be thinking about cleaning technology so that you can monitor your cleans, you can track your cleans, you can have checklists for your cleaners, whatever it might be.
So I have an interesting slide.
On the last day of the VRMA, there was a very interesting presentation by a few different property managers.
On average, they were working with 20 to 25 different softwares to make sure that they had as much of their work automated as possible.
This particular property manager was using Hostfully, another great PMS, that showed me that if you're thinking about staff shortages, you're thinking about high costs, what you're going to do to be able to keep your business going during this process.
So you might want to look at how you can automate some of those tasks, which are very time consuming or repetitive.
4. Home tech is the future now.
Okay, this one was really interesting.
Home tech was the second most popular topic in the States.
Everybody was talking about it, and I think it's down to two reasons.
Firstly, down to security and safety of your properties and of your guests, but also legislation over there.
When we're thinking about home tech, we've got noise there, but you've got noise awareness.
You've got the technology for your keys so you can track who's coming and going and when they're coming and going.
You've got technology to look at your smoking, the heating...
Any kind of smart tech is recommended for your particular properties.
It feeds into the idea of making your life easier because ultimately that's what we want.
But also, you have got the technology, you've got that evidence to be able to fight any complaints against you.
5. Run your business, your way.
This is my last one and my favourite one actually,because this is all about marketing, and I love marketing.
So at both events, there was a really heavy focus on how you can manage your business and do it the way that you want it to.
At the Book Direct Show there was a lot of talk there about how you're going to get your bookings through your own website, whether it's through branding your website, whether it's through SEO, but also the VRMA.
Very similar themes.
One of my favourite sessions, and this is what I'll end on, was looking at lead magnets.
This was at the Book Direct Show.
I don't know if anybody here uses lead magnets.
Can you put your hand up? If you do? No one's putting their hand up.
Lead magnets are essentially the way that you will encourage somebody to give you their email address, which is hugely personal, but very valuable for our businesses.
Your businesses, in exchange for an item that you have created.
And the item that you can create could be anything as good as your imagination.
Because really, it's about something that you know that your guests would love when they come to stay in your properties, in your area.
There were lots of great examples.
It could be a PDF of things to do in your local area.My favourite was the idea of having a playlist of bagpipe music.
Because what, tourists coming to Scotland wouldn't love to hear some bagpipe music when they're on the plane on the way over?
This definitely, by far, was my favourite session.
And it just showed how marketing isn't static.
It's not just about waiting for people to come to your website.
It's about being creative.
It's about thinking about your guests and trying new techniques and not being scared to put yourself out there to attract new guests.
So, in summary, I hope you found it useful.
I was absolutely blown away by just the honesty of the property managers that I spoke to.
Legislation is coming.
It's here, it's there.
Fill your toolbox with evidence because that's what's going to help you fight legislation where possible, because that's going to help you save your resources and help you work on a budget which we may all be on.
Investigate home tech because it is phenomenal.
And do it your way.
Don't be afraid to try something new.
Don't be afraid to be adventurous because it's your business.
So put your heart and soul into it, and I hope it goes well.
Thank you.
---
The Book Direct Show and the VRMA 2022 were essential events of 2022, with a lot of learning points.
Frequently Asked Questions
Who are the VRMA?

The Vacation Rental Management Association - a USA based industry body for holiday home operators