5 ways to influence direct bookings in 2023
Key Takeaways
Watch the video from live event: Short Term Rentals: Planning for 2023
Display the benefits of booking directly with you
The Trust Factor - demonstrate how guests can trust your business
The Billboard effect - direct bookings from guests who search on OTAs eg Airbnb
Video reviews from guests - Add these to your website
Inclusivity - Be inclusive to benefit those who suffer prejudice.
5 ways to influence direct bookings in 2023
Damian Sheridan of Scale Rentals covers 5 ways to influence direct bookings for short term rentals in 2023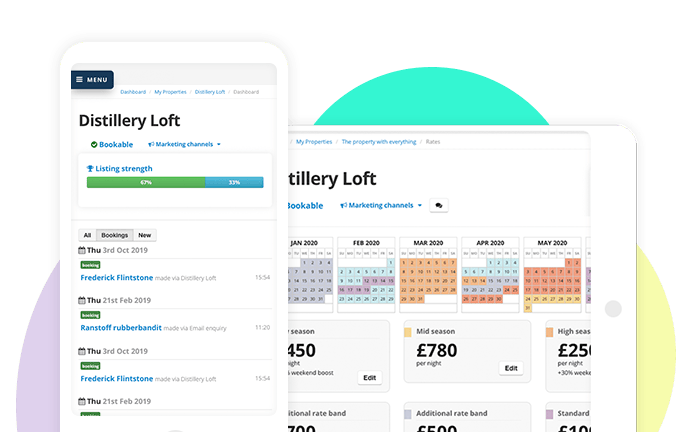 ---
Damian Sheridan presents at the Scale Rentals and Bookster collaboration held live in Edinburgh in November 2023. Watch the video as Damian covers 5 ways to influence direct bookings for short term rentals.
---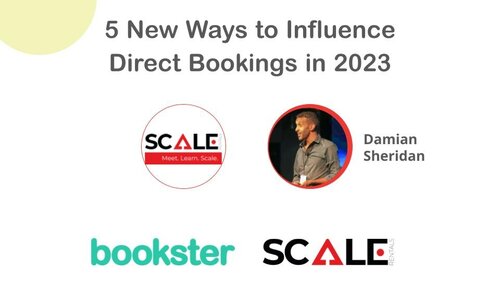 We all have something that we can offer as an incentive to ask one of our repeat guests to do a video testimonial for us.
5 ways to influence direct bookings for short term rentals in 2023
Damian Sheridan presents his advice on influencing direct bookings for your business.
This presentation is part of 3 live presentations at the Short Term Rentals: Planning for 2023 event.
Other presentations from this event:
Script:
5 New Ways to Influence Direct Bookings in 2023
I'm the founder of The Book Direct Show which some of you were at in London last year.
Which is an event for property managers to learn to write booking strategies.
And also the founder of Scale Rentals event which is in Barcelona for professional property managers in our short-term rental industry.
So today I'm just going to talk about a few ways to generate more and to influence guests to book more directly in 2023.
We all know that we need more direct bookings but are we actually displaying or telling our guests why, and the benefits of getting more direct bookings?
So one thing I guess a lot of you will tell your guests is that, hey are we the best price, this is the best price you're going to get.
But, that is not good enough because everyone who hits your website they're going to expect the best price.
They're not going to think yeah they can probably get the best price elsewhere.
So I want to just give you some examples of some direct booking benefits for your guests that you should be telling them on your home page and on a specific trust page on your website why you should book with us.
Here's some benefits that I tell my clients: I'm an SEO strategist with property management companies and I just I implore you all if direct bookings strategies and if you want your guests to book direct one to hit your side make sure they they are aware of some of these things as to why they should book direct.
So for example:
no traveller booking fees apply on many websites still or
can you offer early check-in or late checkout
can you give them a more flexible cancellation priority requests upgrades etc etc
and my favourite is the Direct Customer Service they're going to get with you if they have any issues and need to contact you straight away they don't have to go via Airbnb or a secondary third party they can just reach you directly.
We should all be telling them this on our home page but also on a separate page saying why Book Direct with us.
1. Trust Factor
Trust is a really big issue in terms of, we spend a lot of time trying to get guests to come to our websites then what?
Do they trust us to actually Book Direct?
We know we're trustworthy but do our guests know?
Chances are they probably don't and they may well go back to Airbnb, Booking.com, VRBO wtc to book and we all know that's really frustrating.
So we want to just look at the trust factor and building that bridge of trust and getting our guests to just understand that we are a legitimate Operation.
So here's a couple of things that I've just identified and which I work on with my clients in terms of building that bridge of trust.
So at very least things on the left so I'd say:
You must have a secure website in this day and age that's that's been essential for many years anyway but just we need to have that https security certificate
Displaying your phone number and address it's something that really does get across the fact that you're a very real company and a legitimate operation
Tell them that you accept secure payments and that you accept credit cards for their additional security
And go through your website and check grammar and spelling there's nothing worse when you've got typos across your website people will leave straight away and probably never come back.
So they're the basic things that I would ask you all if direct bookings are important to make sure you get across on your site for that level of trust.
2. Guest reviews
Then we move on to building up our guest reviews and our testimonials which I'm sure many of you do anyway and displaying them on your website.
uh there's some great aggregators out there like Reyvoos I recommend you all check that out really good way of displaying all of your reviews across multiple channels all in the one site.
Having a Trust Us page that I spoke about earlier on: Telling people why they should trust You and just spell it out in checklist format if you need.
And another thing that I think we all need to be doing is having an About Us or Team page.
And don't be afraid of having your pictures on on your websites and a little bio about each of you and because we can't you you need to be less Anonymous, you need people to understand who you are and really get some empathy with you, your company and your your team Members.
And then finally, it's a constant developing process, but some of the things then as you get more evolved in your business, the high SERP organic ranking, that's just where you're positioning on the likes of Google and search ranking and just trying to get higher up there because that instils trust for guests when they see your brand.
Social media presence obviously the more you engage with people on Facebook and Linkedin, Instagram, Tick Tock all of all of those social media platforms people will see how you're engaging with them and it again helps with your trust Factor.
Are you a verified business?
There's some great tools out there to show that you are verified and that you're real, iprac is one, Superhog is another, really great tools out there.
If you've got local accreditations um like ASSC and Chamber of Commerce Etc just to show that you're a member of those and just to help your guests understand that uh that you are Legitimate.
3. The Billboard Effect
Does anybody know what the billboard effect is?
Essentially this is something that guests are becoming a lot more discerning about and becoming a lot more savvy.
When they go on to your Airbnb listing, for example, I know Airbnb has a tough time but I'm just going to use them as an example, if you have your bio in your bio, your company name, what guests are doing a lot more regularly now is actually checking that brand name on search engines like Google to see if they can get a better deal or just understand something a bit more about you, your brand or even other listing and properties that you might have.
So they go off that platform and then go to search for you on them on search engines.
So are you there for them when they do that search?
These are a couple of ways you can get in front of them.
By obviously your website if your website has some decent SEO to start off with with your brand name it's right up at the top if they've searched for your business name, you know that's essential.
Google ads Google my business or Google business profile and two really good ways of of getting instantly there in front of them Google business profile rather is a is a free tool anyone can ask me about it but do check that out.
And then your social media platforms as well.
Check your reviews as well. Reputation management is just so important and make sure those particular four in the corners; (Google, Trustpilot, Facebook and TripAdvisor) that you're collecting reviews and most importantly responding to them as well and making sure that your guests are seeing how you engage with those with those reviews.
4. Video Reviews
Does anybody look at video reviews and ask their guests for video reviews?
Nope okay well this is a tactic that I would ask you all just to look at because engagement of video reviews are so much more effective than normal text reviews.
I've got one here. I I did a talk in Valencia a couple of months ago and a lady wrote back to me a week or two later saying we did this and instantly they've noticed a difference in their engagement and bookings off the back of the one particular property.
So I think this is going to play so this is what she sent me that something that they did a couple of days after.
"Hi there my name's Jeremy I've been standing at the Atlanta apartments on the ponyante beach for about five weeks now, 50 meters from the sea there, 100 meters from the town.
Two young ladies on reception there, was now very very helpful, whether we want to buy a cheap loaf of bread or find the best place at the square there on the night out, very very helpful.
You've got fridge freezers, cookers there, the whole lot and I'm definitely going to recommend it to friends and I should definitely be returning cheers."
So they have this on their home page, they have this on the particular property listing page you know how that resonates with someone who's found that web page as opposed to just a simple block of text?
Something that really engages your website visitor more, it keeps them on the page for longer, that dwell time which is great for your SEO and just something that I think everybody should be looking at for the future and in 2023.
So just a couple of points on that traditional text reviews versus these user generated reviews and why should we do them?
Much higher engagement than the textreviews!
Who should we ask for them?
Repeat guests are by far the most likely to do it and to offer favourable feedback which makes sense
When get them to do it?
During this day like the one we just saw, you could see the person doing it within the property and it helps your prospective guest to be able to see themselves in that property.
Where?
Again we're inside one of your properties
Can you offer them an incentive to do this?
Now obviously this is entirely up to you but whether that's a financial one or a gift cards complimentary items late checkouts Etc.
We all have something that we can offer as an incentive to ask one of our repeat guests to do a video testimonial for us.
And it can be really easy for them to send it to you as well you know WhatsApp makes things so simple but you can use we transfer as well uh and
Where should you place it?
I mentioned this before, on the website home page or on your individual property pages and also on your review pages.
A lot of you may not even know, but your Travellers who find your brand, they're probably checking your Brand + Reviews.
So you can just make sure you are aware of that and you're have your own page dedicated to reviews, because that's really easy to rank that high and higher than some of those other Platforms that can sometimes be a lead for negative reviews.
And the result, and I've seen this, it can be up to 25% more in direct booking so just check it out and see if it's something that's realistic for you, your repeat guests and for what you do on your website.
5. Inclusivity for holiday rentals
The last thing I'd say is just have a think about inclusivity.
You probably all consider yourself to have a very inclusive nature and business but are you telling your guests this?
Chances are you're probably not.
Something that is becoming a little bit more prevalent especially in the US is having a mission statement or a page dedicated to inclusivity on your site.
Myself have have suffered from from Prejudice on trying to book properties and this was in the day when Airbnb showed a picture of your prospective guests.
You might think that's shocking but it's still prevalent in this day it could be age, could be your name, or anything, so make sure anyone who hits your website can see very visibly that you're welcoming and embracing of anyone regardless of who they are.
And here are some demographics of society who could benefit from a mission statement or or a message on your website.
Check out booking.com they did a great survey recently on the lgbtq community, again I'll have this on the slides anyway.
There's a few ideas about how to drive a few more direct bookings and influence your website visitor to actually Book Direct and thank you very much.
This is a couple of shows that we're running in May next year; The Book Direct Show as I mentioned is dedicated to the right bookings and we've also in the same week got our Scale Rentals show which is dedicated to professional property managers and we can have about three or four days of amazing events in Barcelona so please do join, thank you.
---
At the Scale Rentals + Bookster event in November 2022, Damian Sheridan of the Book Direct Show and Scale Rentals covered 5 ways to influence direct bookings for your business in 2023.