Self-catering Property Listings Strength tool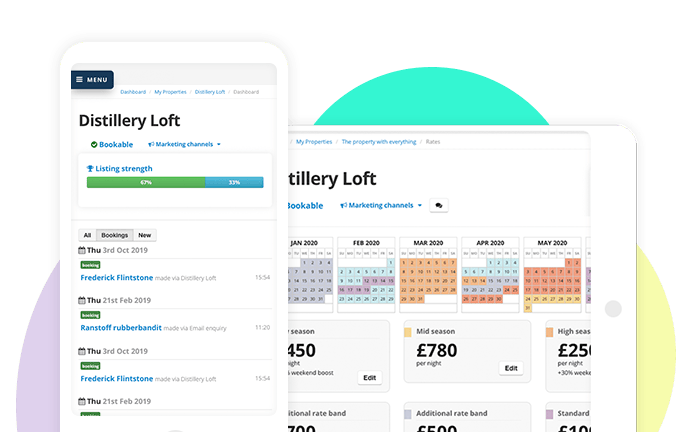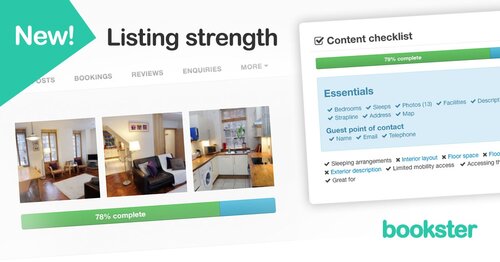 Have you seen the latest feature in our self-catering management software: the Listings Strength?
We recently launched the Listings Strength feature - a powerful management tool to help you boost holiday lettings bookings through fully completing your property listings.
Benefits of the Property Listings Strength
Adding all the important aspects of your property listing can make a significant difference to your bookings, so it's key to complete this within your Bookster holiday home software.
This management tool can help you whether you promote our your own website or through the Channel Manager on portals like Airbnb.
On your own website - your properties are more bookable:
Web browsers can search for the perfect self-catering property quickly and easily using the search filters.
And once they've found a suitable holiday home, you can provide reassurance that they've made the right decision by showing all the important information they need.
Your website will rank higher in the search engines because you're providing more SEO friendly keywords about your property, helping with Search Engine Optimisation.
On the Channels - your properties will be seen more:
You'll be seen by more potential leisure guests and business guests as you'll enjoy higher ranking in the marketing channel web pages! A raise in the listings simply through including more property information.
Your guests enjoy a better experience after booking:
Guests will have a quality experience, as they will access all the property information they need in the secure guest area.
How to use the Listings Strength
This tool is fast and smart, yet beautifully simple to use.
A snapshot view of the strength of the listing!
The tool is a simple two tone bar with a '% completed' figure.
When you view all your properties, you can see at a glance which of your properties need more attention.
And it's also visible within each property listing, so you can see the health of your listing while you are working on it.
Clickable bar
This tool is fully interactive, simply by clicking on the tool will open up a detailed Content Checklist. This area is filled with a handy list of the features which have and haven't been fully completed.
And the nicest bit, is that each of these features is a quick link, so you can hop right to the place you need to go, and get that aspect completed.
See your results in an instant
Once you've made your changes, the Listings Strength is instantly updated - for immediate results!
---
The Listings Strength was one of the final launches of last year, included as a development of 2018.
If you need any further information on this, or any other aspect of our self-catering management tools for the UK and the rest of the world, please don't hesitate to contact us.