Case Study: Jules Gozo Holidays
Key Takeaways
Julia and Chris manage stunning holiday accommodation in Gozo, Malta
They have worked with Bookster since 2018
They wanted a transparent, honest & flexible service with a clear guest journey
They created their two custom websites with Bookster
Julia & Chris focus on attracting direct bookings using Bookster SEO services
They are committed to building guest trust, and Bookster supports that ambition.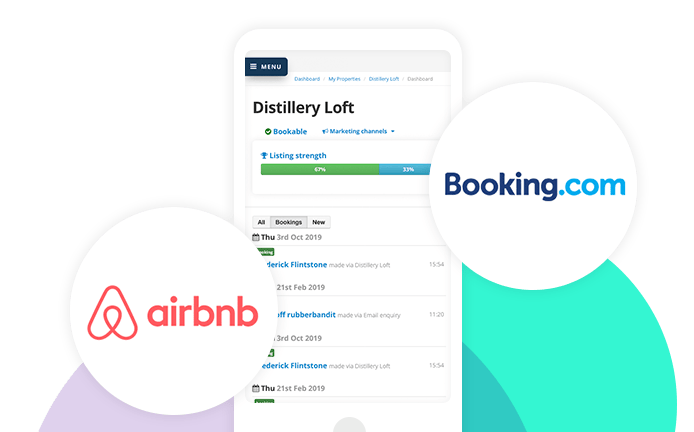 ---
We talked with Julia and Chris about how they got started, and their experiences of working with Bookster, managing the bookings for their large farmhouses and holiday homes in Gozo.
---
We remain committed to building customer trust in us as a business though continued high standards of service, both on and offline.  Bookster supports us well in this ambition.
Case Study: Jules Gozo Holidays
Julia and Chris manage Jules Gozo Holidays and Gozo Villas, with stunning holiday villas and farmhouses on the island of Gozo.
They use Bookster to attract bookings, manage their guests needs and manage their bookings, using Bookster Property Management System.
1. Tell us about Jules Gozo Holidays
We're not like other holiday home companies
We know where our specialities lie: in this one perfect spot in the Mediterranean.
To the guests who choose self-catering holiday homes in Gozo with us, that makes a big difference.
2. And what makes you different?
Whatever Gozo holiday experience you want, whatever time of year you want to visit, we can find a stunning property perfect for you, and help you choose and book the activities you want to do.
Whether you're a fun-seeking family, a couple in search of the perfect spot to unwind, you're a group looking for scuba diving or snorkelling boat trips, or you have a request that's a little more out of the ordinary (weddings on Gozo are something of a speciality!), we'll be able to plan it with you.
Every one of our Gozo holiday homes is either owned or handpicked by us – and what we're looking for in every property is something distinctive, exciting; the daring mix of traditional and contemporary.
We search for the Gozo holiday cottages, villas and farmhouses you'll fall in love with at first sight and will be remembering fondly long after the holiday's over.
From the moment we pick you up to the moment you arrive back home – easy. It is a holiday, after all.
We have great local knowledge and contacts. Years of experience. And a real love of creating holiday experiences guests will cherish.
3. How long have you worked with Bookster?
We first started working with Bookster in February 2018.
From the outset, Bookster gave us confidence in the team's expertise (not just the accent!).
4. What did Jules Gozo Holidays need when you were getting started?
Some magic!
In the form of a capable online booking solution that actually works.
One that will drive sales and clearly 'does what it says on the tin' (cuts out the typical 'dark art').
Our first meeting with Robin is memorable.
It's worth mentioning, at this time, we were at the end of the road (code for, very cynical).
Our website was generating good traffic, lengthy onscreen user time and sessions via Google Analytics.
Presented with a large visual of Jules Gozo Holidays home page, Robin was pragmatic and started to identify why we weren't closing the user journey with a booking.
Jules was selling the destination and experience, but it was easier for the user to leave and jump to another online channel such as Airbnb or Booking.com.
Our website wasn't sales orientated with too much bias toward informational content.
The challenge was to reinvent the site to prevent the loss of prospective guests and convert these to bookings.
We had a weak search bar with no immediate prompt to action.
Ah, the light was beginning to dawn.
We clearly needed a hassle-free, seamless route for a user to select a villa, pick dates, add the number of guests and book.
At the same time, paying a deposit and once booked, to be able to return to the booking, change details and pay the balance.
Simplicity, combined with sophistication.
Previously changing software supplier was a bad experience; a lengthy drawn-out process with unnecessary delays.
We needed speed to migrate our existing website over to Bookster.
3 weeks was Bookster's estimate. Our response was "no way".
However, we liked Bookster's constructive approach which gave us hope, so we agreed to go with them.
This was 'last chance saloon'.
The team went on to deliver this functionality and changeover on time with a website to address underperformance and layout we chose.
5. What features of our product have helped Jules Gozo Holidays?
Hard to list them all but one key feature shines.
Most of our owners work in different ways when setting prices.
Bookster gives us flexibility here.
We can set various price breaks for each property, depending on period, the minimum number of nights stay (important for minimum 7 nights from UK), adding damage deposits if required, an additional charge per person over a minimum we set, check-in/ checkout dates and weekend price uplifts.
The last feature was invaluable as we had a major headache with one owner (30 properties) who changes every property arrival day once the first Peak customer booking is made.
This then dictates the villas cleaning schedule.
The facility to add ICAL codes to link our properties with the owners has meant direct bookings are possible without duplication and with an arrival day as the rule, the functionality is reliable and facilitates valid bookings.
6. What have you been most impressed with?
A lot so will try to keep it brief.

The ability of Bookster to keep abreast of the marketplace for online holiday rentals has led to the management software evolving to reflect this.
This enables us to be proactive when an owner chooses to take advantage of these technological changes.

The company is a pragmatic, transparent and problem-solving team with integrity. This has built our trust.
Each team player brings complementary skills.

Understanding the intricacies of our overseas business is key as well as excellent customer support.
We've spoken to various software providers and are pleasantly surprised by the
value for money and competitive charges.
We can absorb these as a small business, as we become more successful.
It was also key in supporting us through the tumultuous Covid period with borders being shut to Malta for 2 years.
Flexibility and ability to understand our needs and adapt to deliver bespoke projects outside of the normal pricing framework.
One good example is Adams creation of a tailored solution when we were faced with an owner (the same one) who introduced new charges for weekend and weekday stays.
This was complicated as they applied different rates to subset groups of properties.
To save us valuable time, Adam replicated these subsets and applied the relevant rules per group.
A life saver.
7. So what's next for Jules Gozo Holidays?
To continue focusing on growing the business with more bookings and happy customers
(and reviews). Particularly, 'direct' bookings.
These are always a delight as we have confidence in the systems capability to function within the parameters we set.
Already we are experiencing returning customers – another important goal.
We will work worth with Kelly and the technical team to enhance our marketing capability and improve our SEO expertise.

We remain committed to building customer loyalty by continued high standards of service.

Bookster are a key partner, integral to achieving this.

We always take the opportunity to recommend Bookster to other property owners on Gozo when the opportunity arises.
We'd like to see Bookster continue to grow in the way it has helped Jules Gozo Holidays to do the same. 😊
---
Julia & Chris chose to work with Bookster Property Management Software to manage bookings for their stunning Gozo holiday homes and farmhouses in Malta.