Airbnb & holiday let pricing
Key Takeaways
There are a number of pricing strategies to help you find the best prices
Each strategy will achieve different results for your holiday let business
There are tools available: Bookster has fully integrated AirDNA in all accounts
Manual options can be time-consuming.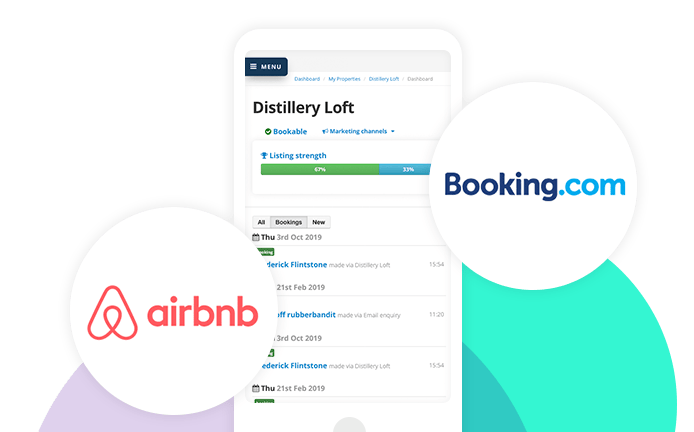 ---
Setting the right pricing for your holiday lets and Airbnb is essential for attracting guests. Depending on your time, budget and priorities there are different strategies to get the optimum pricing for you.
---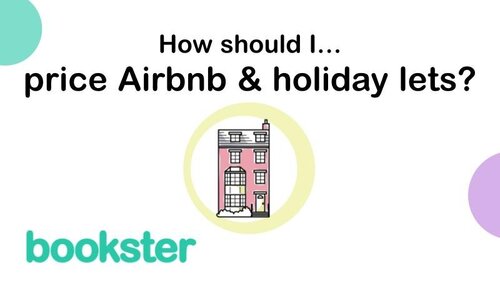 The fundamental element of pricing is to create the best results for your holiday homes.
Once you are ready to list your holiday rentals, you'll need to consider your pricing to enable you to attract bookings.
There are different options available, each with benefits and drawbacks.
Check out our guide to pricing below.
What's the right Airbnb and holiday pricing strategy?
I recently spoke with a holiday cabin owner about using different pricing in high-demand periods of their season.
They responded to say that it didn't fit with their company ethos to increase charges simply because there was higher demand.
If this sounds like you, then that's absolutely fine.
Some holiday rental owners want to maximise revenue during the high demand seasons, to compensate for reduced income opportunities during the shoulder season or low season and that's fine too.
If this sounds like your strategy, you'll look for a different approach.
Let's start with the basics.
How to price a holiday let
When you're planning how to price your holiday let, there are a number of different strategies that you can use, just as in other industries.
The fundamental element of pricing is to create the best results for your holiday homes.
So yes, the fundamentals are simple. But let's dig a little deeper.
What makes it the best result will depend on you, your business, your ethos, and your resources.
In some instances, the best may be the highest profit.
It could be the most attractive to the market.
It may be to maximise opportunities for repeat sales.
It could be to attract your ideal client.
It could also be to create an impression of the value that you offer.
It may be to undercut your competition.
And there is a bundle of other reasons.
So let's look at some options available to you.
---
1. Dynamic Pricing Strategy: The Shortcut to Pricing
Let's start with Dynamic Pricing Strategies.
What is the meaning of Dynamic Pricing?
Dynamic Pricing is a strategy that varies prices throughout the year to achieve optimum results, based on your individual property features and location, competition, and your business goals.
Can I use Dynamic Pricing software for my holiday let?
Yes, you absolutely can, and it will save you so much time.
Dynamic Pricing Software options have entered the market, that automatically generate the best price for your Short Term Rental to achieve your goals.
It achieves this by automatically researching the market to produce prices that fluctuate over time in response to market changes.
This can be done manually, but Dynamic Pricing Software does all the hard work for you.
Prices could be lowered when there is low demand with a lot of competitive products available, or raised when there are lots of guests searching for properties, but your competition is already booked out.
If you're interested in using Dynamic Prices to adjust your prices automatically, then you could use a tool such as AirDNA Smart Rates, which is fully integrated into Bookster software.
But what if you don't want to use a Dynamic Pricing tool or you're not interested in fluctuating prices according to demand?
Not a problem.
Let's start with some manual pricing strategies.
---
2. Cost-Plus Pricing for Airbnb rental homes
The essence of Cost-Plus Pricing is understanding the costs of running your holiday homes.
How to do it
The first step is to research your fixed and variable costs.
What are the costs of running a holiday let?
Fixed costs
Fixed costs are costs to your business that you'll pay no matter what.
This could include:
Monthly Mortgage
Insurance
Council tax fees
License fees
The easiest way to look at your fixed costs is to add them together to create your annual fixed costs.
Then you can break this figure down into 1 week, 2 weeks, etc when analysing your costs per booking.
Variable costs
Costs that change include:
Cleaning: there is a cost per changeover.
Commission: if the booking comes via a Marketing Channel (usually a percentage)
Consumables: e.g. cleaning products, linen cleaning or welcome baskets
So if your fixed + variable cost for a weekly stay is £250 and you wanted a profit of £150 per booking:
Price = £250 + £150 = £400
If you wanted to earn 30% profits, based on your revenue:
Price = £250 + £75 = £325
Benefits
This provides a clear picture of the costs to run your holiday let.
Drawbacks
This doesn't take into account the prices of your competition.
You charge a significantly higher or lower price than the rest of the market.
This doesn't consider high or low-demand periods where you may need to charge less in order to attract bookings or take advantage of opportunities to charge more due to high demand.
---
3. Penetration Pricing Strategy for Short Term Rentals
The basics of Penetration Pricing Strategy is to offer your holiday lets at a lower rate than your competition.
How to do it
The most significant element here is your competitors.
If your strategy is to undercut the competition, then you are going to need to understand how your competition is pricing their holiday lets.
If you're using a Dynamic Pricing tool, then this is all done for you.
Sit back, and enjoy.
But if you have chosen to do this manually, then you're going to need to roll up your sleeves, and put the hours in.
Identify who your competitors are
At this moment, Google is your friend, as are the Marketing Channels (sometimes known as OTAs) such as Airbnb or Booking.com.
Search for properties that your target guest would choose.

Start with your area, but remember guests may be looking in more than one neighbourhood or towns, so research other areas too.


Narrow down the search for properties with a similar look and feel to your holiday homes.

These would be the property attributes, such as the number of bedrooms, and bathrooms.

It would include the features, such as UV Charger, dogs allowed, a garden, or pool.

You may also want to consider the nearby options, such as proximity to public transport, airport, or cultural hotspots.


For each of these properties, you need to get an idea of their pricing strategy.

Choose multiple periods of time in the future covering different seasons, when they are likely to have availability, and thus prices.


For each property, identify the price per night, per week, and per fortnight.


Note if they offer discounts for long stays, price increases for cots, dogs or additional people, and their cleaning fees.
What you're left with is a document demonstrating the prices that you want to undercut, varying over seasons.
Does it sound like a lot of work?
It is.
If you want to make life much easier, consider a tool like Smart Rates, a tool in Bookster powered by the fine folks at AirDNA.
Benefits
Your holiday lets will attract more attention and bring in a surge of price-sensitive guests.
Your holiday home will have higher occupancy rates.
More clients open opportunities for more guest reviews, which in turn can lead to more bookings.
Drawbacks
The income may greatly reduce the profit per booking.
The variable costs per booking increase as the occupancy rates increase. Eg, you'll have to pay your cleaner for each changeover.
You won't make many friends with other property managers in your area.
There is a phrase that springs to mind, that is worth considering here.
In 1933 Justice Louis Brandeis coined the phrase, 'It's a fast race to the bottom'.
This is essential knowledge when considering attracting guests by cutting prices. It can attract a Tit-for-Tat competition between Property Managers based on price, and there is no winner in that game.
---
4. Premium Pricing Strategy for Airbnb and holiday lets
The essence of the Premium Pricing Strategy is to charge a higher price, to create the impression of a higher value or luxury.
How to do it
The key here is to understand your target guest.
What is your target guest willing to pay for a premium product?


Review if that price covers your costs (See above)


Present your properties to your target guests in a way that creates that premium or exclusive value.

This can be through images, videos, or marketing channels.


Using influencers and working with the press can create demand for your holiday home, and present it in a manner that secures that exclusive feel.

Reach out to influential figures in your industry, and look for ways that you can work together for a mutual benefit.
Benefits
Earning a high value per booking can maximise profits, whilst reducing the need for high occupancy.
Drawbacks
When clients pay a premium price, they expect a premium product.
If your Short Term Rental doesn't match the guest's expectations, bad reviews and complaints will follow.
It can be difficult to find influential figures for your market and to reach agreeable terms.
---
5. Value-based Pricing (or manually creating Dynamic Pricing)
Value-based Pricing looks at the price your target guest is willing to pay in return for the product you are offering.
How to do it
Again this will require research, and you're going to work your way through the data to find the optimum prices for your holiday lets.
These prices will vary from day to day or month to month.
Your research will look at the following areas:
Demand for your neighbourhood, or town, and how that changes throughout the year.
Your costs (Covered above)
How your competitors price their holiday lets (Covered above)
Your target guests and their willingness to pay.
Remember you may have multiple target groups throughout the years, attracting families during the summer, but business travellers in the winter season.
Plan your business strategy:

Do you want 100% occupancy?
Do you want to earn maximum revenue?
Or something in between?
Benefits
This strategy optimises your prices so you can best achieve your business results and Airbnb income potential.
Drawbacks
This is a time-consuming activity, which needs to be undertaken regularly.
---
When deciding on the Airbnb pricing strategy for your business, there are a number of factors to take into account.
Dynamic Pricing Software does the hard work for you, but there are methods to manually identify the best pricing strategy yourself.