Short Stay Week 2021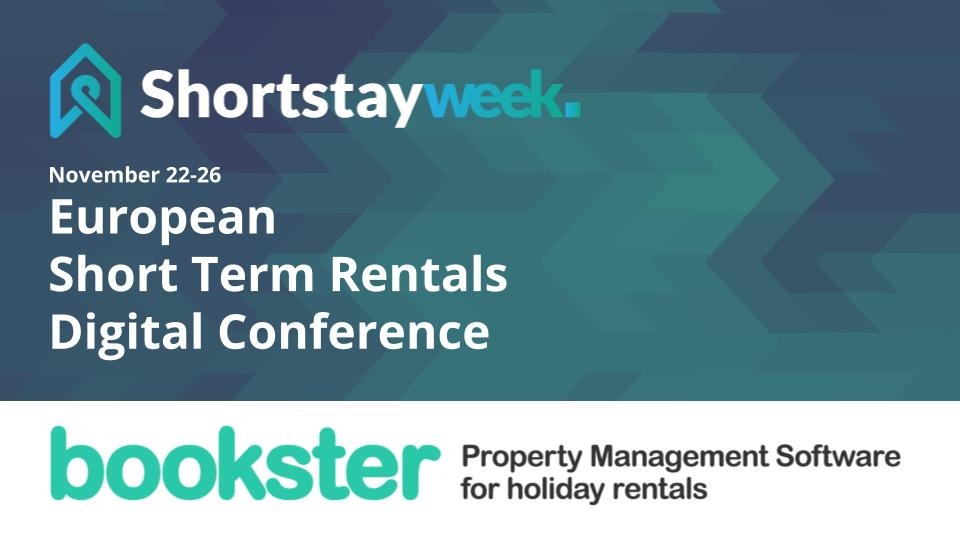 The Short Stay Week begins on 22 November until 26 November, with 150+ speakers covering every aspect of the holiday bookings industry. Join us!
What is Short Stay Week 2021?
Short Stay Week 2021 is a fully digital conference dedicated to the most important issues for the holiday rental industry to help optimise and grow your business.
Short Stay Week is a full week with over 150 speakers providing their expertise of training conferences producing actionable informative content.
Presentations will last around 45 minutes each.
Ticket options for this event are a free ticket which gains you access to all market focuses and 50% of the main conference content.
Full access gives you access to all Short Stay Week content and recordings.
Who will be presenting at Short Stay Week 2021?
The schedule has been announced! Check out the schedule for full details.
We'll be particularly interested in:
Using Technology to Scale your STR business effectively.
Humphrey Bowles, Co-founder SUPERHOG
Optimize your processes: From the big picture to the smallest details.
Juan Fajardo Trigueros, Product Manager Alterhome
Choosing Metrics and Creating Your Plan.
Maeva Cifuentes, Founder Flying Cat Marketing
Building Your Hospitality Brand on Stories.
Neely Khan, Writer and Storyteller, founder of Neelythere
More direct traffic and better conversion on your website: the real power of your reviews unveiled.
Christophe Salmon, Co-founder at Revyoos
Planning your social media content to attract more direct bookings.
Jenn Boyles, Short term rental strategist, marketer, designer and coach
Why leaning into technology will help you delight owners and guests.
Mike Ortegon, Vacation Rental Advisor
The future of STR is professionalism which comes in forms of trust, safety, guest care, accreditation.
Chris Maughan, CEO and Founder I-Prac
Everything you need to grow your holiday rental business.
Setup a demo
Bookster at Short Stay Week 2021
We are honoured to be presenting at this year's Short Stay Week alongside other experts in the holiday bookings industry.
What the PMS/Tech companies don't talk about.
Thursday 25 November 2021, 10:00AM–10:45AM
Kelly and Robin discuss:
What doesn't your technology partner like to talk about?
From uptime to connection quality, we'll dig into what is essential for you to know, that no one tells you
Book Direct Day - Use your technology partner(s) to maximise direct bookings.
Friday 26 November 2021, 10:00AM–10:45AM
Kelly and Robin discuss:
Don't struggle alone. Work together with your PMS and Website providers to best drive direct bookings through your own website.
Inclusivity and Unconscious Biases in Short-Term Rentals.
Friday 26 November 2021, 2:00PM–2:45PM
Kelly is joined by Damian Sheridan, Srin Madipalli and Mike Ortegon to discuss;
Could you be losing revenue because of decisions you're not even aware of making?
Unconscious biases influence our decisions on a daily basis, without us even realizing it.
In this session, we'll be investigating the unconscious and conscious biases that we all have, and planning what actions to take to ensure they don't affect your short-term rental business.
Bookster Mini-Series in conjunction with Short Stay Week
Throughout 2021 the team at Bookster have been creating Mini-series for you to learn and enjoy more about holiday rental industry.
We've invited a number of special guests to join us as we delved into hot topics. You can register and watch these at any time:
Content Marketing expert Maeva Cifuentes of Flying Cat Marketing
A Developers insight into attracting direct bookings on your website with Lyle Markle, Art Director of Bookster.
Using a Floorplan
Introduction to SEO and SEM
More information about Short Stay Week
You can find out more by visiting the Short Stay Week website.
What other events are coming up in 2021?
We are participating in more events this month!
For full details of all the events from 2021, with replays and notes, check out our summary of Events 2021.
Get in touch with us!
If you'd like more information about Bookster and how we can work together, just drop us a note.