SUPERHOG partnership with Bookster, the holiday booking system
Key Takeaways
Bookster and SUPERHOG have launched a full integration
This offers convenience for Property Owners needing protection and support
It Reduces bad guests & damage, Saves money, Protects your business & properties
SUPERHOG is available on Bookster Pro and Max packages.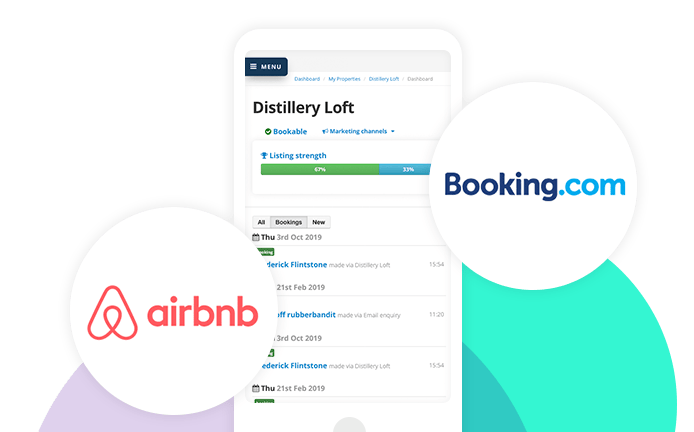 ---
SUPERHOG technology complements Bookster as it aids in attracting bookings and supports guest management.

Read more, and try it today.
---
We're excited to announce this integration with SUPERHOG, supporting our clients in attracting legitimate, trusted guests whilst protecting their bookings. (Robin Morris, Director)
Protect self-catering bookings through SUPERHOG and Bookster
Bookster is delighted to announce the integration between SUPERHOG and Bookster, the UK-based holiday booking system.
This collaboration will support self-catering property managers in all important areas of their business, from attracting bookings to your holiday lets, managing guests and managing bookings.
Bookster is the first (and only) property management software to have SUPERHOG integrated directly into the software 😊
Collaboration is key in building trust between the self-catering industry guests, and their property manager hosts.
SUPERHOG together with Bookster benefits your business:
Reduce bad guests: Tools and data to approve your guests before their booking starts.
Reduce damage: Working with SUPERHOG reduces guest damage by up to 30%.
Save money: A virtual damage deposit means no more collection and refund fees.
Protect your business: If a guest suffers an injury, SUPERHOG protects costs up to £5 million.
Protect your properties: If a guest damages the property, SUPERHOG will guarantee up to £5 million.
Read more details about how SUPERHOG benefits you on our SUPERHOG Features page.
---
Available on Pro and Max packages
To turn on SUPERHOG protection, go to Bookster: Settings: Damage Deposit: SUPERHOG
---
Kamila Miller, Marketing Lead of SUPERHOG shared details on how this integration can help your self-catering business.
So Kamila, tell us more about SUPERHOG.
SUPERHOG is the leading global digital trust platform for the vacation and short-term rental industry.
SUPERHOG enables a growing ecosystem of Hosts, Operators, and Guests to make their online activity safer, providing a globally accessible tech-based AI-supported toolkit including biometric recognition, ID verification, screening technology, and protection unmatched in the industry.
As trailblazers in the UK short-term rental insurance market, Humphrey Bowles and Andrew Bolt live and breathe short-term rentals.
Both are experienced rental hosts, with SUPERHOG being born from the realisation that there was a protection gap that needed to be filled and could be done so through the implementation and development of technology to help make short-term rentals a safer and more trusted environment.
And what's the goal for SUPERHOG?
SUPERHOG's mission as the leading digital trust platform is to solve the trust and protection gap for millions of global short-term rental Hosts, operators, and guests.
It provides a tech-based AI-supported toolkit that offers true clarity increases booking confidence and a protection unmatched in the STR industry.
What's the biggest problem in the industry that you're working to resolve?
The STR industry is one of the fastest-growing sectors, with a valuation of around $169 billion in 2018, a figure that continues to grow year on year with its increasing popularity amongst travellers.
As short-term rental popularity increases, so do the associated risks.
SUPERHOG is helping to de-risk online interactions, by providing Hosts and Operators with the appropriate tools and comprehensive protection to keep them safe before, during, and after each and every booking.
So how does SUPERHOG work to resolve this?
We identify the review gap across all short-term rental platforms, acting as your guardian angel, by analysing each Guest's rental history against our proprietary data lake.
SUPERHOG's AI integrated toolkit provides ID verification and biometric checks as part of its digital toolkit for Hosts and Operators that helps protect them and help them assess the Guest's risk level before the booking starts.
If something does go wrong, SUPERHOG steps in to help pick up the pieces with its £5M property damage and public liability guarantee.
Do you think that there is going to be a change now that the bookings for 2021 have restarted?
After being stuck in our homes for longer than we care to remember, there is definitely a serious hunger for travel.
We're seeing new traveller types, with slow travel, staycations, and last-minute stays becoming hugely popular amongst travellers, who are also choosing short-term and vacation rentals over hotels.
What do you think will be the biggest challenge post-COVID?
With the travel status of countries constantly changing, the biggest challenge for the STR sector post-covid will be foreign travel.
With the uneasy feeling in the back of many travellers' minds that the situation could change at any point, there will be hesitation to book.
The stance that certain platforms took in regards to cancellation policies will also be remembered and be a deciding factor.
However it's not all doom and gloom because there will be plenty of people looking to travel domestically, so we should all still have an enjoyable summer doing what we love!
---
Thanks to Kamila for sharing these details with us.
If you're interested in finding out more about how the integration between Bookster and SUPERHOG will save you time, resources and finances, simply drop us a message.
Available on Pro and Max packagesTo turn on SUPERHOG protection, go to Bookster: Settings: Damage Deposit: SUPERHOG