Flexible rate management
Introducing our new look for the Rates Management Calendar, with a truly flexible option to add daily/weekly ad-hoc rates whenever you choose.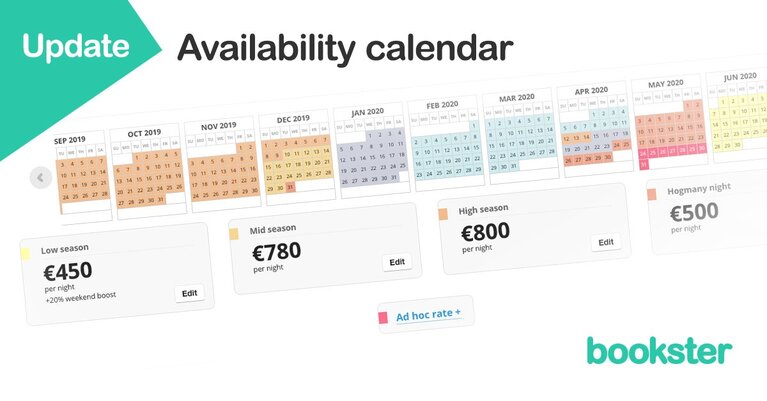 Our rates management got even better
At Bookster we like to keep things simple.
That's why property rates are added in 8 rate bands, letting you quickly and easily add your rates in bulk for each holiday rental.
But life isn't always so simple. And we know that.
In response to client feedback, we've made two big changes in our rates management section.
Ad-hoc additional rates
1. Firstly we added more flexibility to add additional rates for special occasions. This could be a concert or special event happening close-by.
So from now onwards, to add more rates, you can use the Ad-hoc prices to:
Adjust Daily and Weekly rates directly in the calendar.
Tweak your price strategy: Add different prices for individual days or weeks
Enjoy full flexibility: Add different prices for every day of the year
Increase business revenue: Reduce prices during low seasons
Real-time rates: Push new rates to your website and sales channels
Maximise profits: Drive profitable bookings in periods of high demand
The new daily rate options offer ultimate flexibility for all Bookster clients using the Property Management System.
Even more control, at your fingertips.
Online Rates Calendar
2. And you also asked the calendar to be easier to view, with a more colourful view of the rates in the online bookings calendar. So we've done that too.
---
Control profits through rates management
Bookster provide a host of other intuitive techniques to automatically alter prices:
Weekend boost - increase your prices by a % on the weekend
Minimum stay - the minimum number of nights the guest can book (cover your costs)
Minimum price - the minimum revenue you receive no matter how short the stay (cover your costs)
Long stay discounts - reduce prices on longer stays across all your properties
Yield Management - gradually reduce prices on empty property slots as the check-in date approaches.
Discount codes and special offers - incentivise repeat bookers and price sensitive stays
Extra person charges - make extra revenue from that sofa-bed or trundle by charging extra for each additional guest per night or per stay.
For further information on how Bookster bookings software can support your holiday rental business grow, please don't hesitate to contact us.
These Ad-hoc prices are included as standard in our Online Booking System for holiday rentals.