Holiday home tips to maximise business results
Key Takeaways
Making small changes can build up to big improvements
Check out 8 tips to help you with your holiday home business.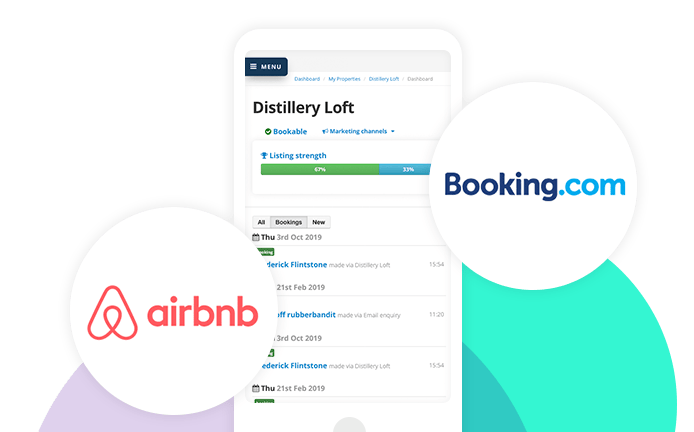 ---
During the Summer, we challenged ourselves to send out a weekly tip to help holiday home property owners to improve their business. Check them out.
---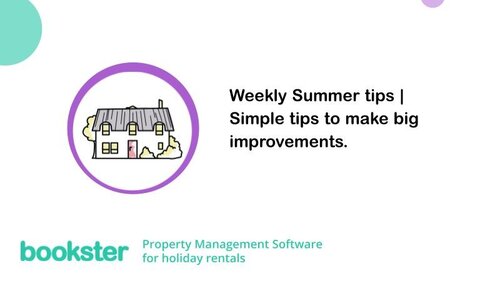 If you have enjoyed these tips, why not work with Bookster for non-stop support?!
Bookster provides software to help property owners and managers in three significant areas; attracting guest bookings, managing guests needs, and managing bookings.
But our service is more than software.
With 10+ years of building software that supports property owners and agencies, you can take advantage of our expertise in the strategies and techniques for holiday rental management, that we'd like to share that with you.
Holiday home tips to help improve your business
There was a great response to our May Challenge, where we created a tip every day of May (and a little longer). Thank you to everyone who got in touch.
To help boost bookings throughout summer and into the next year, we've created our Summer series of weekly tips.
Here are our Summer holiday home tips:
TIP1: Social media page links
Check all your social media pages include a link back to your website.
If they don't, fix it.
TIP2: Spelling errors
Check your website for spelling and grammar errors. This will help to make a great first impression.
I always use https://languagetool.org to check what I've written.
TIP3: Google Business Profile
Update your Google Business Profile with eye-catching photos and your correct details.
I know it's not a sexy, exciting or particularly interesting task, however potential guests may check you're a real business - so your Google Business Profile is an important place to keep up to date.
TIP4: 1st photo
Check your 1st photo for your property.
Your 1st photo needs to work hard.
It is usually the thumbnail image shown on the channel listings and often the first image on your website.
Does your 1st photo give the best impression of your property?
Would potential guests look at that photo and want to book with you?
Here are our recommendations for your 1st photo:
Show the part of your property that guests love
Help guests see what they can enjoy while at your home
High quality
Good lighting
Create a wow moment.
TIP5: Floor plans
Add a floor plan.
It's so small, and yet so important.
Let me tell you a quick story.
Recently I was checking out a gorgeous holiday home. It had a detailed description but no floor plan.
I spent a good 10 minutes looking at photos and re-checking the description to work out where the rooms were and how my family could comfortably stay there.
In the end, hugely frustrated, I contacted the agency to ask them to send me a floor plan.
They told me they couldn't, as the property owner hadn't provided one.
*Sigh*
I didn't book that property.
Here are my recommendations for your floor plan:
Make it simple or detailed, colour or b&w, 2d or 3d; what's important is that you have one.
Check out this short video series on your options.
TIP6: Welcome Packs
Create a Welcome Pack to remind guests of you long after departure.
In 2021, I took my family on a weekend break, staying in a gorgeous coastal holiday home.
When we stepped in, I knew the kids had found the welcome pack by the sounds of excitement from the living room.
The welcome pack was simple, but tailored to our family, including colouring activities for the kids, and a box of Lindor chocolates.
Fast-forward to 2023.
Every time we have Lindor chocolates, the kids talk about THAT holiday home. They associate the packaging with their happiness on that holiday.
My view is that a carefully considered Welcome Pack is a fantastic way to infinitely remind guests of your home, without having to write anything, send anything, do anything.
Here are 10 tips for making an appealing and memorable welcome pack.
Could your business benefit from our tips?
There will be 2 more tips coming, so watch this space.
If you have enjoyed these tips, why not work with Bookster for non-stop support?!
Do you have tasks that take more time than you'd like?
Complex paperwork that ties up your weekends?
Find yourself doing the same jobs, over and over again?
Try using a software that provides big improvements for running your holiday rentals, is simple to use, all wrapped up with customer support that you can rely on.
Do you have time for a call with our team?
You'll finish the call knowing whether our services can get you the results you deserve.
Book in time to talk about your business needs, and let's see if we can help.
---
Bookster provide techniques and tips to help you manage your holiday home business.
Follow these tips to save your time and maximise your bookings.