Floor Plans for Short Let properties
Key Takeaways
Floor plans are essential to attract guests
Floor plans are under-used in the short let industry
A floor plan can be 2D or 3D image or video
Styling your floor plan can add value to your brand
Share your floor plan journey on your social media channels
Think about what information your guests need and want.
Floor Plans for Short Let properties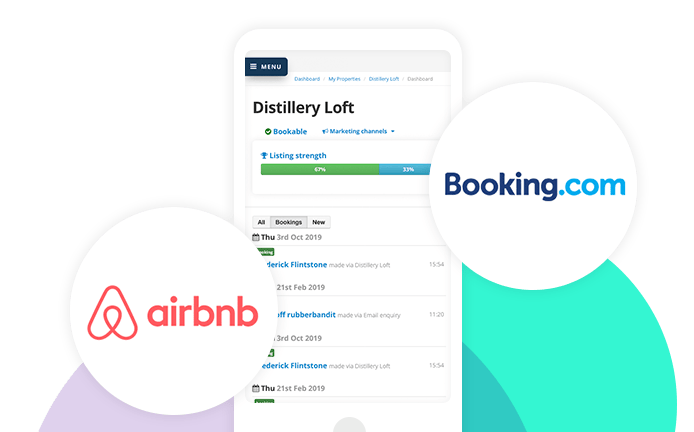 ---
Welcome to our introduction to Floor Plans, with details on why you need one if you want to have a competitive edge when attracting guests to your holiday home properties.
---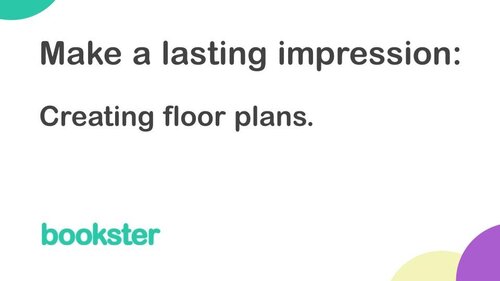 They've been commonly used in the long-term rental and property sale market, but vacation rentals or self-catering properties haven't yet picked this up as the norm - so companies that use them are at an advantage.
A Floor Plan is an underused yet highly valuable tool to attract bookings to your self-catering properties, whether the guest books directly through your website or through a channel like Booking.com
At Bookster we focus on providing tools and support to help you through 3 important aspects of running short let homes; attracting bookings, managing bookings and managing guests' needs.
In this video series we cover why you should have floor plans, your options when making a floor plan, and how to make one as part of your strategy to attract bookings to your short let homes.
Floor Plan Video Script
Session 1
Hello and welcome to this short video series on floor plans.
My name is Kelly Odor, and I am the Marketing Director for a software platform called Bookster.
I'm going to cover the topic of floor plans to help you attract direct bookings.
This topic is a real bugbear for me - I believe these are a heavily undervalued tool and heavily underused for communicating with your guests, in a visual format.
They've been commonly used in the long-term rental and property sale market, but vacation rentals or self-catering properties haven't yet picked this up as the norm - so companies that use them are at an advantage.
In the next few videos I'll be covering the following points:
Why you should use a floor plan.
Choosing the best floor plan for your business.
How to make floor plans
So lets get started.
Today's session is why you should use a floor plan.
Let's start with an introduction to floor plans.
What are they and where are they used?
A floor plan is an image, preferably drawn to scale which shows the layout of a building or a property, and it's surrounding area.
It can display the layout from above, like this one, or present it in a more 3d style.
There are lots of different formats and varying degrees of content that you can include in yours, and we'll come back to that in our next video.
So this brings me to where are they used?
If you produce your floor plan as an image, you're free to put your floor plan wherever you think it will most help your guests.
As I'm interested in direct bookings, I would definitely include it in the listing description on your website, but consider where else it could add value.
Could you include it in your social media, for example?
Certainly as part of your social story, it's good to include it there while you're making it, and ask your followers what they think?
Once you're happy with it, use it on your social media to talk about your properties, especially focusing on your guests needs and how your properties are suited to them.
Although we are talking today about direct bookings, it's not exclusively so, and you should also add your floor plans to your channels, either as part of your photo gallery or as part of your listings.
Now the main point that I would like you to remember from today's video it is this - floor plans are not about floor plans.
Floor plans are about your guests.
Really understanding, what are your guest needs.
It's about providing your guests with the information they need that will help them feel confident to book with you rather than a competitor.
Floor plans will allow your guests to visualise themselves at your property.
By providing a layout, it will help them to plan where they will sleep, who will get the en-suite and which will be the rooms for the other guests. So they're already in your property, within their mind.
They'll get a feel for the suitability of the space for their loved ones.
Is the small bedroom secure for their child?
Is it close enough to hear when the child is crying?
Or which is further away because they don't want the child disturbed by the noise from the living space.
Could granny climb up the two steps to the home entrance?
Is there enough space for the pram?
Digital nomads
Digital nomads have always been a thing, but thanks to COVID we'll hear more and more about the needs of this group.
With a floor plan they will see the office space that you have allocated for them with table and chairs and plan how they will be able to work in that space, and how will that fit with their family.
Outdoor space
Right now in particular, outdoor space can command a premium.
Using a floorplan demonstrating your outdoor areas will allow your guests to understand how the garden or terrace offers a space for outdoor dining, a secure space for their children, a location for morning coffee and they can start making plans for that.
Facilities
And I can guarantee that although you will have put that you have a washing machine in your description, your guests are unlikely to have really taken in that information.
But by including it in your floor plan, they'll see that facility in the space and understand that you are providing that service that will make life easier during their stay.
So there are lots of different ways that your guests will benefit from seeing your plan, that will lead to more bookings.
That's all for today's session, we'll be back next time with choosing the best floor plan for your business. Thanks for watching.
Session 2
In our last episode, we looked at Why you should use a floor plan, and we saw how they are being used well across other industries, but not well enough in vacation rentals.
This episode we'll be looking at choosing the best floor plan for your business.
So let's cover what you can include in a floor plan.
As you'll remember, a floor plan is a 2D or 3D image which details the layout of your vacation rental or self-catering property to scale.
You can set it up in different ways, you can show the basics, such as room layout and just name the room.
You could add furniture to show seating and sleeping arrangements.
The level of detail that you go into is up to you, from naming the rooms, to labelling the number of wall sockets.
It really depends on the needs of your guests, you'll know them better than I will.
It includes the windows to show natural light, and doorways to show entrances and exits to the drive, the patio, the garden, or the pool.
And ensure that you show the outdoor space, as well as the indoor areas.
What you provide really depends on what you think will be most beneficial for your guests.
2D Floor Plans for short let homes
This first floor plan is a 2d image, and you can see that it is really quite interesting because they have put in that there are outdoor spaces, but they haven't detailed what they are in the image, you don't get a feeling of scale in those outdoor spaces.
But they have put in the balcony which i think is really useful as you can see how you can enter that space from the living area. Thanks to covid this is more important than it has ever been!
So what you provide really does depend on what is most beneficial for your guests.
Branded and styled Floor Plans for short let homes
The next image here is an artist version, and I've chosen it because I want to show you how you can use a floor plan to demonstrate some of your values as a company.
You can create floor plans with a style, be it modern, arty, technical, whatever it is that best represents your company, and reinforces your brand.
Perhaps your property is in a gothic or art deco building, you could incorporate that style into your design.
If you're in a farmhouse, you could give it a farm style.
Don't be afraid to use your imagination.
3 Floor Plans for short let homes
And the final image I've chosen today is this 3d image.
This is becoming increasingly popular, as it can be created as a stand-alone image, or it can be included as part of a 3d tour, using software like Matterport.
What adds value the most, is that you can move in and out of these floor plans, check out the multi-layers if your property spans multiple floors, it provides measurements for distances in doorways if that's important for access.
Generally, I think they really help your guest get a feel for your property in a way that no photo will ever manage.
Most important missing content
In my experience, this is the most important piece of content that is missing from the majority of property profiles.
I think in part it's because they can be seen as hard to make - and I hope to change that opinion.
And in part people don't see the value to their guests.
And I think they just don't get prioritised, you know, property managers need to get their photos done, they get their descriptions, and floor plans just work down the list that they just get forgotten.
They look more professional - as soon as you are compared to a company that has floorplans, the value that you offer drops.
Provides a fuller picture of information that can't be expressed in photos or text It gives an idea of distance from one area to another, of access points, views to the garden, the proximity of bedrooms to the living area.
Increases bookings as guests have confidence in you as a professional business, and are really going to see how suitable your property is for you and their needs.
I'll finish today's session there, and look forward to covering our final video next time on how you can create a floor plan that really works well for your business. Thanks for watching.
Session 3
In our last episode we looked at choosing a style for the best floor plan for your business.
And today in our final session I'll cover how you can make floor plans for your business.
There are different techniques to making yours, and part of this will depend on who you are as a business, what services you offer, your property's style and who your guests are.
One option is to do it by hand. Speak to a friend with a talent for drawing or find a local artist, because a beautifully drawn layout can really add value to your guests.
And me being me, I am really drawn to this style, a hand-drawn image really appeals to me.
How - DIY Apps
Now there are a plethora of diy software apps that will allow you to create your own.
We Used an App called Magicplan to produce perfectly adequate plans yourself.
It took me about 3 minutes to make a plan this one!
I chose to add the measurements, but i haven't put in the furniture and so on.
That's all an option as well.
There are lots of them out there, some include tools for measuring the space from your Smart Phone, others you'll input your dimensions manually.
Magicplan
Smartdraw
Planner5d
Floorplanner
LucidChart
Roomsketcher
Sweethome 3D
You can add lots of features to it.
Some are free, and some have a cost applied to it, so again, this comes down to your budget.
How - Specialist company
Use a specialist company who will come to your property and create it for you, or you can send photos and dimensions to them.
Now this in part comes down to your budget.
And in part it comes down to the ability to someone coming to your property and taking the measurements.
So there are lots of companies out there who do this, and they do a beautiful job.
How - 3d company
And the final option for today is to use a company like Matterport, who will create the 3d tour for you, incorporating a birds eye floor plan.
They'll arrange a time to come to your property to take the photos needed, and put it together.
There are other companies that provide 3d tours, some of them you hire the camera and you take the pictures yourself and others will involve someone coming to your property and doing it on your behalf.
Which you choose depends on your budget, and what's available in your area.
For all options, you'll need the measurements of your rooms to help them draw it to scale.
So I hope that you find this useful, and you're inspired to look at floorplans for your properties, give yourself a competitive boost, and provide more helpful information for your guests.
We have covered:
Why you should use a floor plan.
Choosing the best floor plan for your business.
How to make floor plans
If you'd like any more information, or if you'd like me to give you feedback on your floor plans, you're more than welcome just to get in touch, my details are here.
Thank you for joining me on this journey into floor plans, and I look forward to talking with you soon. Bye for now.
---
Floor plans are essential for the short let industry.
if you haven't created your floor plans yet, now is the time to start, and give yourself a competitive advantage, and a better guest experience.