Inclusive holiday let websites: Creating better guest experiences
Key Takeaways
Bookster has begun the first stages of an Inclusivity Project
The project reviews our brand and services so it reflects our company values
We now create more inclusive images, have improved our websites, and run events
Inclusive websites help users with additional movement, vision or hearing needs
Providing you with inclusive websites helps you attract more guests
Bookster follows the Web Content Accessibility Guidelines (WCAG).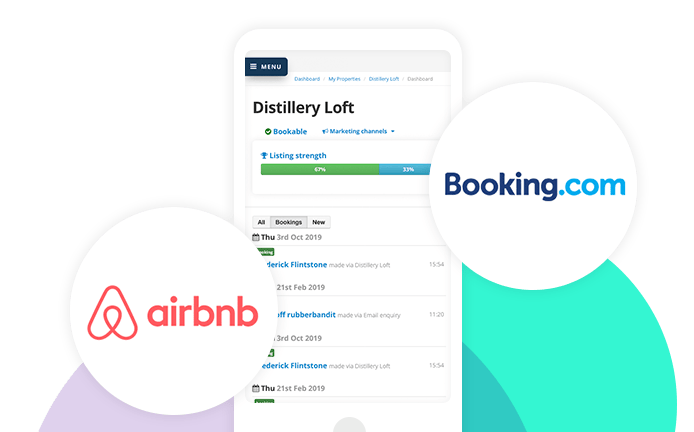 ---
We're here to support you to attract guests, and believe your website should be as inclusive to maximise your opportunities.

Check out our latest changes to help you attract more guests.
---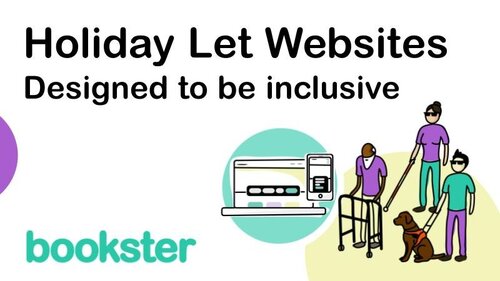 Meeting the needs of guests with movement, sight and hearing loss opens up opportunities for a better guest experience with your brand.
In our Inclusivity Project, we have been reviewing our brand and services to ensure it reflects our values as a company to support individuals, no matter of age, race/ethnicity, gender identity, sexual orientation, background, or ability.
This project has led us down three avenues:
What are inclusive websites?
Inclusive websites provide support for people with visual or hearing impairments.
Inclusive designs are easy-to-use, following guidelines that enable web users to navigate and interact with the website.
For example, a person with a visual impairment may need to increase the font size to make it easier to read.
It's a simple requirement, which may make the difference between the user reading the text, or giving up and leaving.
Why do we need inclusive websites?
We need inclusive websites to support website users who may have movement, vision or hearing difficulties.
The World Health Organisation estimates there are 285 million people with some form of visual impairment worldwide and 430 million people have a form of hearing loss.
Meeting the needs of guests with sight and hearing loss opens up opportunities for a better guest experience with your brand.
Why is Bookster creating inclusive websites for holiday rentals?
As website designers, we have a responsibility to the community to provide short let and self-catering websites that are accessible and usable.
Added to this, we're dedicated to supporting your business and helping you attract bookings to your holiday lets via your website.
We specialise in Direct Bookings, which are guest bookings taken directly on your website, on the phone or by email.
It's in your interest that your website can be used by as many people as possible and that potential guests don't leave your website because they can't use it.
Inclusive design in Bookster websites
We create holiday let websites that are designed for a great user experience (UX).
We follow Web Content Accessibility Guidelines (WCAG), which clearly break down how web design can be inclusive.
What we currently do in our web design
We design our websites with inclusivity in mind:
Buttons
Buttons with a clear contrast colour.
Buttons that are easy to locate.
Button sizes that are easy to click on when using mobile or touch screen.
Images
We recommend clients add Alt tags and Descriptions to their images, making it easy for people who rely on screen readers.
We do not use images of text in the websites and recommend clients don't do this.
There are no flashing images to prevent seizures or physical reactions.
Content
Flexible font sizes (no stripped fonts or explicit fonts) - which means that the user can scale up the fonts themselves.
Font size accessibility tool, which will boost the font size, and remember this for future visits (begin including in all our sites in near future)
Text contrast is in high contrast colours so it is easier to read.
We present content without requiring scrolling in two dimensions to enable an easier understanding of the content.
Letter spacing, word spacing, line height spacing, and spacing following paragraphs are at the recommended distances to make it easier to read.
Each page has page titles to describe the purpose or topic.
The web pages are designed to be read sequentially, with a focused order for easy viewing.
The purpose of links can be determined from the link name alone.
Headings, section headings, and labels are added to each section of the property listings to provide clear comprehension.
Breadcrumbs are added in blogs and on property listings to provide a clear path through the website.
The language of the pages is written by humans and is readable.
The flow of the pages is predictable and consistent across the page content.
Videos
Scripts for video content - where possible we add the script for people who cannot use the video content.
Interactions
Forms are keyboard accessible for people who rely on using the keyboard to move from one field to another (room for improvement for sure).
There are no time restrictions that would restrict use due to time limits.
There is no moving, blinking, scrolling, or auto-updating information which can affect usability.
Interactions with buttons, navigation, and form inputs have predictable outcomes
Navigation mechanisms are consistent from page to page.
Labels are concise and clearly visible for user inputs
Form inputs are validated. If errors are detected, they are communicated clearly to the user. (room for improvement here e.g. newsletter sign up forms, date selects)
Videos and Media
Scripts for video content - where possible we add the script. We haven't found a reliable way to do this yet.
Videos do not autoplay and are equipped with controls to allow users to pause, play, and rewind content
Controls are in place to allow users to adjust or mute in-page audio.
Are we perfect?
No.
But we're trying our best.
This project has highlighted some areas where we can make improvements to our websites, to make them easier to use. We'll be working on these and will update you with our changes.
---
If you'd like to know more about our Inclusivity Project or any other aspect of our property management software and services, drop us an email!