Key Takeaways
igloo.scot needed a custom website, PMS and Channel connections
Bookster listened to Nick and Erin to build a customwebsite that fit their needs
igloo have sustainability at their core, fitting with Bookster's green ethos
igloo were attracted to Bookster for its Channel Manager features
igloo liked that Bookster had fully integrated tool that grow with their needs
Igloo were most impresed with the team and their can-do attitude.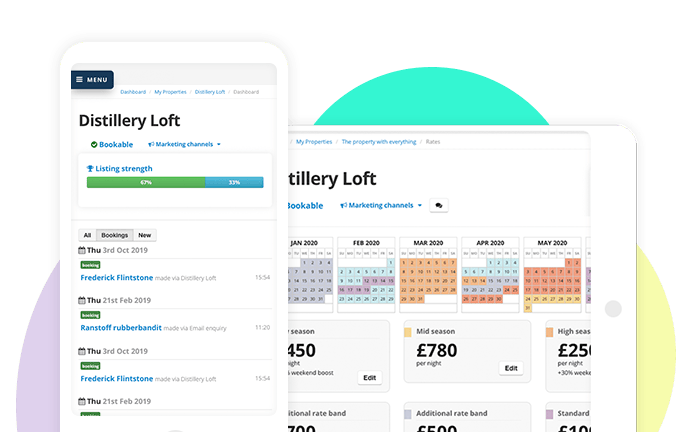 ---
We discussed with Erin and Nick how igloo was conceived, and their experiences of working with Bookster, building a custom website, connecting channels, and integrated tools.
---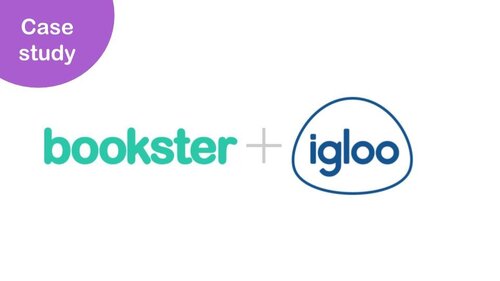 As a small team, we don't want to be spending time on pointless admin and there are some great features of Bookster that mean we can focus on growing our business and serving our customers.
Case Study: igloo with Bookster Website
Erin and Nick from igloo joined us in September 2020 with a clear vision of what they wanted to achieve, and how.
As a property management system that supports property managers to attract guests, manage bookings and manage guests, igloo felt Bookster was right for them.
They were keen to use the property management and channel manager services, integrated with their own custom website.
We spoke with Erin and Nick to discuss how they're getting on.
Who is igloo?
"We are a self-catering agency in the Scottish Highlands. Igloo is a team of two - Erin & Nick.
We met through a local campaign group 7 years ago.
We've actually worked together a lot on different projects since then and have created some great content over the years.
With all the changes in 2020, we decided it was the perfect time for us to take the leap and set up igloo.
We knew by working together and combining our skills we could really do something different both for guests and property owners.
Igloo is currently the two of us, but we hope to have a bigger team as we grow.
We are based in Aviemore and Inverness and both live with our long-term partners.
Erin's partner Mitch maintains our properties and Nick's partner Jo is a vet.
Our agency currently has self-catering properties in Aviemore - we are still small but are looking to grow our range of properties both in the Cairngorm National Park and Inverness area."
And what makes you different?
"We feel that our approach really sets us apart - we have set out to put fairness at the heart of everything we do.
We all know the market has changed and we wanted to lead by example and best practice.
It was clear to us that customers need flexibility and security when planning their holidays, and receiving refunds if plans change is a key part of that.
Our commitment to the environment is an emotional pull for us and our guests.
Living and working in the Cairngorm National Park and experiencing a really busy and controversial summer, we felt we should take a fresh approach and put something back.
We know there is a lot to do but as a new company, we think sustainability should be there from the start.
We plant a tree for every booking and are keen to involve our guests in this - they can play their part by adding extra trees at checkout.
We have some more exciting plans for the near future which will involve close partnerships with local suppliers and businesses."
How did you first hear about our service?
"We spent a long time researching various different platforms and felt Bookster was the best for our new forward-thinking brand - it really chimed with our own ethos.
We liked the fact the Bookster team kept industry and potential customers in the loop on updates - this forward-thinking attitude was refreshing to see.
We particularly liked the new covid functionality that was added in the early stages of reopening.
This really gave us confidence that Bookster would always be ahead of the curve and responsive to an ever-changing world and industry."
"We were keen that we needed a slick, easy-to-use website with conversion and usability built-in from day one.
As a small team, we don't want to be spending time on pointless admin and there are some great features of Bookster that mean we can focus on growing our business and serving our customers.
Channel management was a big attraction of using Bookster and something we are keen to highlight to our owners.
The Cairngorms and The Highlands are massively competitive for self-catering and we want to help our owners reach their full potential with every tool possible."
What features of our product were most appealing?
"Everything being integrated was a big draw for us along with the ability to scale up as we grow.
Everything all being in one place is a real plus - property details, bookings, updating blogs, and mailing lists are accessed through the same site which means everything we need is at our fingertips.
The ability for guests to be able to login into a guest area is a great feature and something we hope will make their experience better and more user-friendly."
What have you been most impressed with?
"The team! Everyone we have dealt with has been really proactive and any suggestions have been met with enthusiasm and a real can-do attitude.
We now feel like we can contribute towards the development of Bookster positively.
We all want the same thing, which is the best and most functional product.
There is no delay on calls or emails despite everyone working from home. This is a breath of fresh air compared to previous platforms we have used.
What was your experience of the web design process for igloo.scot?
Nick has a background in design and marketing so naturally wanted to be involved in the site design.
From the first call, it was clear Lyle understood what we were looking for. We already had our logo and ideas of our branding - we sent Lyle some guidelines ideas and vision and he really took it and ran with it.
We were blown away by the design mockups and it was both exactly what we wanted and better than we could have imagined.
We appreciated the collaborative approach Lyle took and we felt involved all the way through.
He took our suggestions on board and was happy to create some bespoke solutions for us. With all this hard work by the Bookster team, the site going live went without issue.
We are looking forward to getting to grips with SEO with Booksters Book Direct tool."
So what's next for igloo?
"We have some environmental pledges and commitments which we will be shouting about over the next few weeks.
We have some competitions lined up with local businesses to build our audience and start some local collaborations.
Since our launch we have been overwhelmed with the response to the press coverage and social media shares - we think our fresh approach to Highland self-catering has really captured people's imaginations.
We are keen to make the most of all the goodwill we have been shown by growing partnerships that complement other local businesses.
We are actively recruiting owners who are looking for a change or have already purchased a holiday home and are looking forward to meeting a few owners over the coming weeks.
We are using a lot of our real-life experiences for our holiday guides to keep information for our visitors authentic.
The next holiday guide is all about the best places for prams and babies in the park, as Erin is having a baby any day now."
Is there anything else we should add?
"It was a huge leap for us to give up our jobs to create igloo at a time of massive uncertainty. I think we have followed our hearts and gut feeling along the way which made the decision processes really easy.
Don't be afraid to make mistakes as you can learn a lot from them."
The Bookster view
Lyle Markle, our Art Director was in charge of Erin and Nicks project, so we asked for his views on the project.
Lyle, how did you achieve their goals?
"As with any creative brief - the first step was to understand Erin and Nick's vision for their brand. We had a few initial discussions over the phone and email (Thanks to Covid!) to help get the creative juices flowing and spark some ideas for visual style and tone.
I was so impressed with the clarity of their collective vision for igloo - I was more than ready to get started with the design phase!
Once a few initial creative directions had been conceived, we reviewed them together and discussed the strengths and weaknesses of each visual direction. After settling on a clear visual style and content map for the website, we proceeded with the site build.
Erin and Nick began creating content for the site immediately which was amazing! Nick was able to add his content to the site as it was being developed - this not only accelerated the development process but made it far more collaborative and efficient."
Were there any hurdles that you had to overcome together?
"Because of the current pandemic, a big challenge is the communication of creative ideas without face-to-face meetings.
It can be difficult to ensure everyone is on board with the subtleties of creative executions and that all feedback is validated and addressed.
Erin and Nick were thorough and clear right from the start - which made this process very natural and smooth!"
Was there anything about the implementation that positively surprised you?
"I love the end product and I love the ethos of the brand. Community and sustainability - we can all get behind that!
The site design is fresh and new with playful elements and animations that enhance the user experience without hurting the user journey. I look forward to watching it take off!"
---
igloo is working with Bookster to grow their business through building a strong brand and a unique guest experience.