Automate Your Owner Statements with Bookster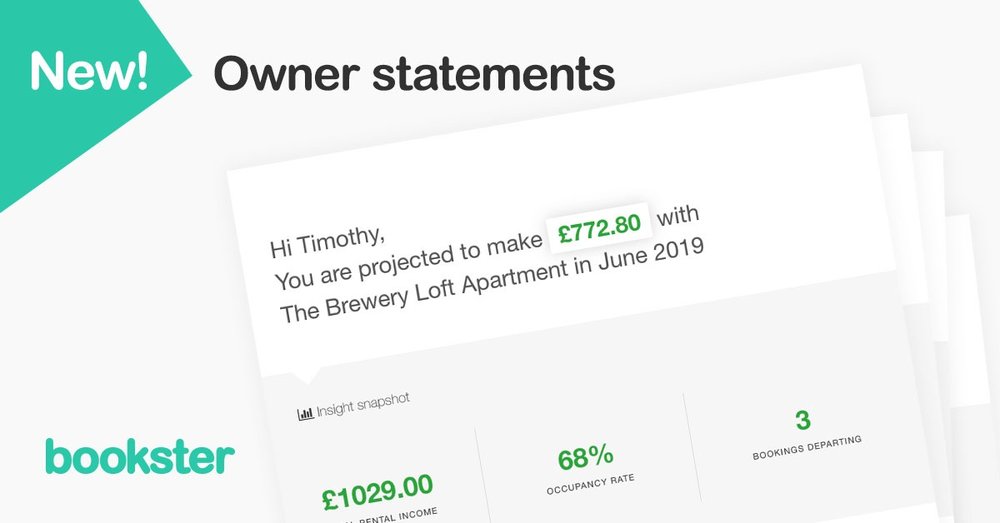 What are Owner Statements & invoices?
Owner statements and invoices are reports for property owners, which show the final amounts due to property owners for their rented accommodation for each month.
These can be detailed for both the past, present and predicted future income and broken down to show deductions for incidental repairs and charges.
Bookster Owner Statements
In addition to showing the figure of total money due to the owner, we also include insights data which shows:
The value of the reservations made (minus any channel fees applicable)
Occupancy percentage
Number of departures applicable for that statement
Bookster owner statements are flexible reports. They include uplift data from the channels, and all individual owner commission levels. This is to ensure that all commission paid is the correct amount due.
Owner Invoices
For a further breakdown of the data which makes up the figures in the statement, there is an Owner Invoice: Agencies and Owners will have different views based on their needs.
The Owner Invoice details rental payments, VAT, deductions due and additional charges added.
These can be accessed by the owners, to keep them fully informed of all financial data for their accounts, broken down by property.
As part of this development especially for holiday rental managers, we have also launched the updated Accounting Data Export.
This uses the data from the Owner Statements and invoices, and with a single click, exports it into a flexible file. Perfect for using with your Accountant or Accounting software, such as Xero.
---
In the first phase of this new development, owners will be able to view the statements within the Owner Login area of the Bookster holiday rental management software.
These new Owner Statements and are fully included for all clients using the Agency package.
If you are interested in using this feature, please contact our customer service area to find out more.
If you'd like to know more in person, come along to one of our planned events, just email us for an appointment, or come along and meet us there:
Everything you need to grow your holiday rental business.
Setup a demo