Case Study: Voila Villas Dordogne
We've built our software to help property managers like Joni and Ross build their business through attracting more bookings.

Read on...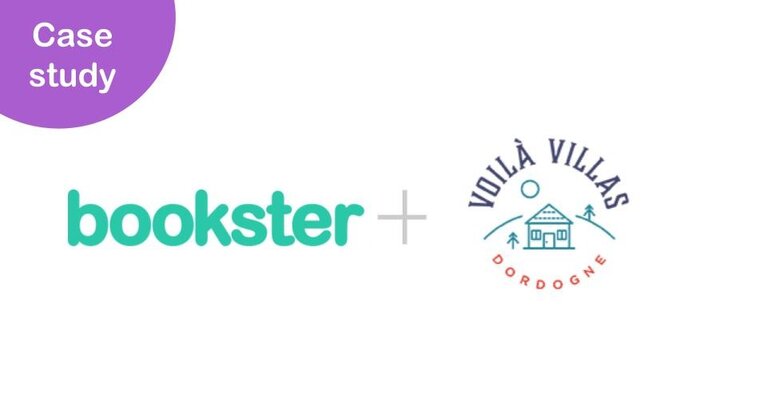 Case Study: Voila Villas Dordogne with Bookster Website
Joni and Ross are long-term clients of Bookster, using many of the features in the Bookster property management and channel manager services, which is fully integrated with their custom website to attract bookings to their holiday lets.
Who is Voilà Villas Dordogne?
Voilà Villas Dordogne is a Property Management and Holiday Rental Company based in the North Dordogne region of South West France.
Run by the two of us, a husband and wife team!
And what makes you different?
We think what makes us unique and successful is that believe it or not we are one of the very few companies in this very touristic area of France that offer the services that we do.
In addition, we are definitely the only business which has its own website with a booking system, making us very unique here in rural France!
How long have you worked with Bookster?
Voilà Villas Dordogne has been working with Bookster for 2 years now.
In my previous job I, (Joni!) also worked with Bookster when I was Office Manager of Edinburgh Flats, so in total probably 5 or six years!
When you joined us, what did you need?
We needed help, guidance and a website to get our new business venture started! The team at Bookster were there for us and supported us all through the set-up process, and ready to take bookings!
What features of our product are most useful?
The ability to easily link with channels has most helped attract bookings to our business.
We also love having our own website, so we can attract direct bookings and repeat guests can book online.
What have you been most impressed with?
We appreciate the speedy replies and no end of help from all the Bookster team when needed.
Additionally, the ease of the system when adding new properties makes life much easier.
What was your experience of the web design process?
Quick and easy and helpful with advice regards to design.
So what's next for Voilà Villas Dordogne?
We are in the process of updating the content of our website with Bookster, in preparation for what we think will be a very busy 2021.
We have also added a second language option too, which we are thrilled about as we hope we will be attracting many more French guests this year due to Covid and travel restrictions, although we very much hope we can welcome lots of Brits to our holiday rentals really soon.
Lyle Markle, our Art Director was in charge of this project, so he gave us his experience of working on the website.
Lyle, how did you achieve their goals?
"It's exciting to work on a new business, brand and website.
Having worked closely with Joni previously - I knew her experience in the holiday rental industry would bring new and exciting insights to the project.
Joni and Ross are passionate about holiday rentals and guest experiences which was a major source of inspiration for visuals, tone, mood and style.
The goal was to design and build a website that captures and communicates Voila Villas ethos while making it easy for visitors to search, browse and book their stay in Dordogne."
Were there any hurdles that you had to overcome together?
"Ensuring Voila Villas website was multilingual was really important - making it easier for all visitors to browse and book online.
Continual collaboration with Joni and Ross has led to various improvements to the user journey, how guests browse properties and view properties by location."
Was there anything about the implementation that positively surprised you?
"It's not a surprise at all - but it's great to see Voila Villas grow and evolve. We hope to be there every step of the way - and help in any way we can."
---
Register for a free account and contact us for a demo to see how Bookster could help your business.
Whether you're new to the business, or been running holiday homes for years, our team has the skills and knowledge to help your business grow.
And if you're planning your next stay in a stunning holiday home in France, check out Voilà Villas Dordogne.