How to take action using market data
Key Takeaways
Watch the replay!
Florian Stich shares market data, and actions to take with it
Learn how data leads to informed decisions
Grow your business through acquisition, new owners, new properties, pricing
Increase profits through upgrades, photos, reviews, strategies and adding value
Work with Bookster and AirDNA for maximum results.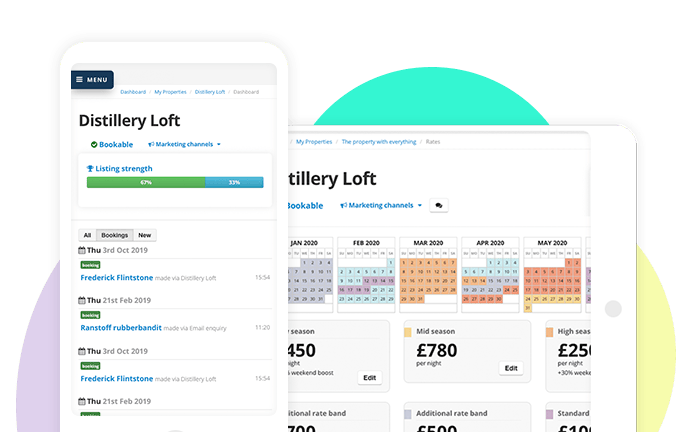 ---
Ever wonder what you should do with the pricing and competitor data for your holiday rentals?

Florian Stich of AirDNA joined Kelly Odor to understand how to take action using market data.
---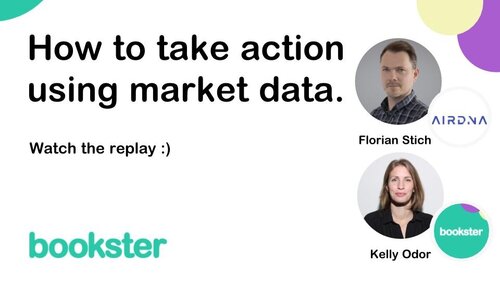 From owner acquisition to daily operations: a data-driven approach to managing short-term rentals.
Do you find yourself looking at graphs of data but not knowing what to do next?
Me too.
So we asked Florian Stich, Director of Partnerships of AirDNA to join us to explain the options you should consider when looking at your market data.
What you'll learn in this webinar
Choose which markets to target, and which to avoid.
Drives decision-making for purchasing new properties or finding new owners in attractive areas.
Identify demand fluctuations
Decide if you need to increase or reduce prices to reflect the demand.
Identify if there are amenities eg AirCon or Hot-tub of competitive properties which are leading to a higher profit, revenue or occupancy.
Choose if upgrades are required, or if you should recommend them to your property owners.
Compare yourself to your competition.
Decide if you should adjust cleaning or deposit amounts, adjust first photos, add or promote minor amenities, request more reviews.
Compare your results with your direct competition.
If required make adjustments to your property, marketing strategies and pricing decisions.
Identify if your business results are comparable to what's happening in the industry.
Use this to demonstrate the value of your business to your property owners.
---
Taking action in your holiday rentals using market data
Market Data provides us with information about what's happening in your local area.
It can include local prices, numbers of bookings being made, and competitor behaviour.
But what should you do with this information?
Florian breaks down actions you should consider when looking at your market data, with real examples.
From owner acquisition to daily operations: a data-driven approach to managing short-term rentals
Do you use Market Data?
As part of our commitment to support our holiday rental clients, Bookster includes Market Data in all our contracts, AT NO EXTRA COST.
We launched our Market Data tool in March 2020. This provides tools and information to make business decisions and changes in your business strategy to attract more guests, and regain some of the missing revenue from this year.
Who is AirDNA?
Data is essential for valuable insights into holiday rental performance.
AirDNA is a market leader in data collection and analysis, which collects extensive holiday rentals data from across the globe, analyses it and produces reports which are essential for any holiday rental business.
AirDNA provides this data to property managers across the world, to help them make business decisions and improve revenue and income. Contact them directly for more information.
---
Do you want to grow your holiday lets business?
Work with Bookster and AirDNA!
Together we provide first-class service for self-catering professionals across the globe.
Get in touch to discuss how we can work together.